The first of the keelboat club Saturday races began with a backdrop of clear blue skies and warmer than forcasted temperatures, allowing the crews on board Puppeteers, Howth Seventeens and the Non-Spinnaker Classes to get a flavour of what might this series is all about.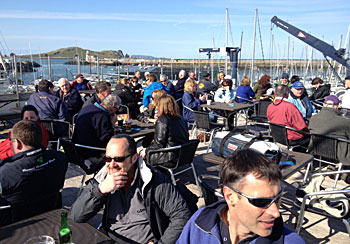 Enjoying the sunshine on the balcony
 
Whilst the Puppeteers and Seventeens are only beginning to gather numbers at this early stage, the newly formed Non-Spinnaker Class provided spectators on the East Pier with a reminder of the excitement of a 'big boat start' in the Sound.

Colm Bermingham's 'Bite the Bullet' took the honours at the top of the 12-boat fleet and with entry numbers already at 31, this fleet should provide club members and their families and guests with a great reason to participate and enjoy Saturday racing in Howth! Andrew and Robin Hegarty's Puppeteer 'Eclipse' also emerged victorious in the beautiful conditions, as did Ian Malcolm and crew on the ageless Seventeen 'Aura'.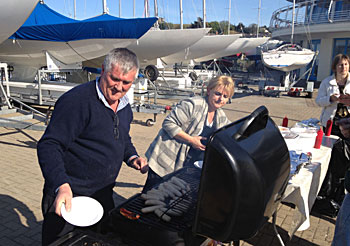 Dermot and Liz Skehan running the barbeque
 
The crews and guests enjoyed a great barbeque afterwards, generously run by Dermot and Liz Skehan - a feature that will become a popular attraction every week in the club.