The Christmas competition belatedly reached the final on Friday 28th January with

Fred Connolly

and

Peter Culleton

contesting. After an enthralling three frames Fred emerged victorious by two frames to one, winning on the pink ball.

Frame scores:- 57-29; 67-15; 42-24. Best break 25 (P.Culleton). The game was refereed by a suitably attired

Ronny Dalglish

. The prizes were presented by Bryan Lynch, Rear Commodore.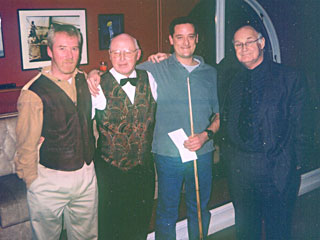 Peter Culleton, (Referee) Ronny Dalglish, Fred Connolly
and Rear Commodore, Bryan Lynch