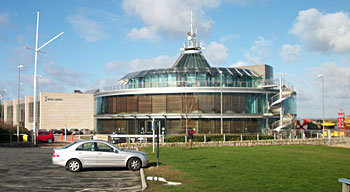 The home of Irish Lights
Over thirty of Gerry O'Neill's ROMEOs (Retired Old Men Eating Out) made the arduous journey across Dublin Bay, albeit by public transport, to the Headquarters of Irish Lights in Dun Laoghaire on Thursday 14th February. On arrival in the magnificent reception area the group were signed in and met by Nigel Teggin, Northern Area Operations Manager. Since our visit Nigel has retired and we hope the light of happiness shines on his retirement.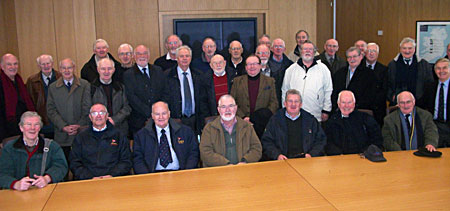 The ROMEOs Group
Nigel led all to the Board Room where he gave a most interesting and informative talk on the history and workings of the organisation.

The oldest operational lighthouse in Ireland and the British Isles is at Hook Head. With additions and modifications, it dates from the Norman times, 12th century, and is reputed to be built on the site where monks established a fire beacon in the 5th century.

The Commissioners of Irish Lights are the statutory Lighthouse Authority for all of Ireland. Originally lighthouses were in private hands and in 1665 King Charles II granted letters patent to Sir Robert Reading to erect six lighthouses on the coast of Ireland, two of which were placed on Howth, one to mark the land, the other to lead over the bar.

Note; for a brief history of Irish Lights go to, Irish Lights - History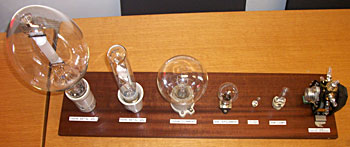 A display of old lights
From the Board Room Nigel led us to the Training Room where he explained the major development in the illumination of navigation lights with the introduction of light-emitting diodes (LEDs). The many working displays, in the Training Room, of old and new technology clearly demonstrated the enormous benefits achieved with the LEDs in both energy saving and reduction in size.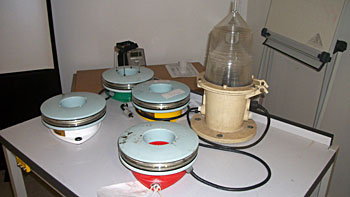 A display of the new LED lights
Nigel also pointed out the various navigation lights and bouys currently being serviced in the work yard.

The outing concluded with a lunch in the National Yacht Club during which Nigel was a guest and to whom Gerry presented him with a Howth Yacht Club burgee.

Finally, our thanks to David Delamer, a member of HYC, and a Commissioner of Irish Lights who arranged the visit.

Photo opposite:
Gerry presenting Nigel Teggin with HYC burgee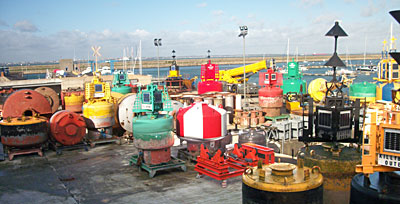 The Work Yard