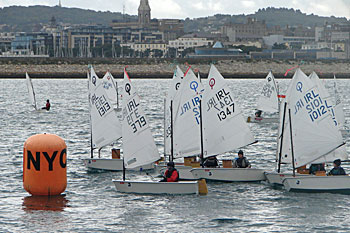 HYC were noticeable for their presence at the 'End of Season' regatta held in the National Yacht Club last weekend, 2nd/3rd October. 14 members made the trip to Dun Laoghaire and if it had been a Ryder Cup team event HYC would have won handsomely. See results below.

Sean Donnelly (NYC) won convincingly with 4 wins out of the 6 races. Sean Waddilove sailed very consistently to place 2nd overall with Adam Hyland (RStGYC) in 3rd.

Under the stewardship of Con Murphy the first race for the 66 competitors was held inside the harbour due to the forecasted heavy winds. However, as the southerly forecast did not fully transpire, a decision was made to sail the remaining races at Seapoint. 6 very competitive races were held over the Saturday and Sunday. Racing was so close that frequently up to 10 boats all abreast of each other would arrive at the leeward mark. Great for the spectators.

There was also a smaller Regatta fleet with 15 entries who were coached by Katie Malcolm and Katie White.
 
The End of Seasons is also a great social event to catch up with friends not seen since the Nationals for both sailors and parents. Indeed, it is the last opportunity before boats are put away to concentrate on other sports or indeed before some winter training begins.

Thank you to the NYC who made us all most welcome and for organizing again another great regatta.



HYC prize winners were:




| | |
| --- | --- |
| Sean Waddilove | 2nd overall, 2nd Senior Gold |
| Fergus Flood | 4th overall, 1st Junior Gold |
| Aoife Hopkins | 5th overall, 2nd Junior Gold, 1st Girl |
| Robert Dickson | 6th overall, 3rd Junior Gold |
| Ewan McMahon | 1st Junior Silver |
| Alex O'Grady | 2nd Junior Silver |

HYC members who also travelled were: Richard Hogan, Isabelle Delamer, Jamie O'Grady, Daniel Hopkins, Anna Potterton, Nicole Hymerck, Alex Kavanagh, Max Kavanagh.

Well done to all our HYC sailors.

Full results at www.iodai.com in the results section.

More photos at www.nyc.ie