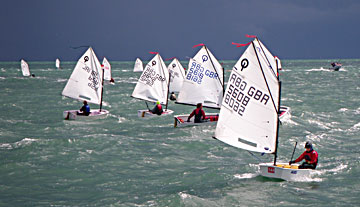 The fleet during a 25kt squall   (Photo: Judith Malcolm)
 
On 19th-22nd August 14 HYC sailors travelled to the RStGYC for the Optimist National Championships. Success came in the shape of Tara Flood, Aoife Hopkins and Richard Hogan who brought home some silverware.

In a superbly well organised event both on and off the water 249 sailors competed in the largest ever Optimist event seen to date. David Lovegrove (PRO) and his team which included Judith Malcom, delivered high quality racing in what would generally be described as a moderate to strong airs event. Indeed, the wind speed towards the end of the last day was exceeding 25 knots at times which together with the short chop made downwind sailing very exciting for both sailors and spectators.

There were 178 sailors in the

Main fleet

which included sailors from Australia, India, UK and USA.

Seafra Guilfoyle (RCYC) won the

Senior fleet

(77 boats) from Colm O'Regan (KYC) with a very impressive string of results. Aodh Kennedy (KYC) was 3rd with our own Tara Flood finishing 4th overall and 1st Girl in the Senior fleet. Tara was very consistent throughout the series and indeed led the event after Day 1. She scored a 2nd and two 3rds out of the 11 races sailed. Cillian McGreer finished 17th with four top 10 results. William Potterton (20th) followed closely with a 5th in Race 6 and string of top 20 finishes. Craig Campbell finished a very commendable 30th in his first year in the Senior division.

In the

Junior fleet

of 100 boats there was a fierce battle for the overall Junior title.
This fleet was supplemented by a UK squad of 20 sailors. In the end Peter McCann (RCYC) took the Irish title from club mate Cian Byrne (RCYC) who had won the UK Junior title in Largs the week before. HYC was represented in the Gold fleet by Erica Ruigrok (26th) who had a string of low top 20 scores and by Fergus Flood (27th) who scored four times inside the top 20 but was unable to maintain the momentum through the regatta as the wind freshened. Indeed, the tough sailing conditions particularly over the last two days took its toll on many a good sailor as stamina became a key ingredient to success.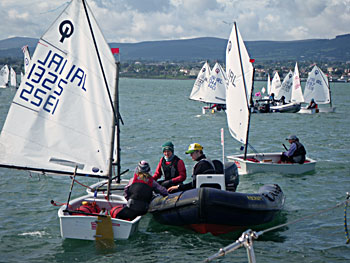 HYC coach Simon Rattigan with some of his charges   (Photo: Judith Malcolm)
 
In the

Junior Silver fleet

HYC sailors Aoife Hopkins and Nicholas Delamer had a great ding-dong swapping the lead on a few occasions. In the end Aoife (32nd) took the Junior Silver title and was also 1st Girl in the Silver fleet. Richard Hogan (38th) sailed himself into 5th Silver on the last day with an impressive 17th, 25th and 26th. Unfortunately Nicholas missed out on the prizes finishing 6th Silver as the conditions took their toll on the fleet. Nicholas had posted a fantastic 9th in the 5th race to take the lead after Day 2.

Isabel Delamer (69th), Anna Potterton (76th), Robbie Dix (79th) and Ben Jennings (91st) also competed in the Silver fleet. For some it was their first Nationals and probably the toughest sailing series they have had to compete in. No doubt a lot has been learnt from the 4 days of racing which will stand to our up and coming junior sailors in future events.

HYC sailor Daniel Hopkins was our only representative in the 69 strong

Regatta fleet

.
The Regatta fleet raced inside the harbour. Daniel finished 12th overall from 9 races and was the top U-9 sailor. Well done.

Full results can be seen at www.iodai.com

Indeed HYC should be very proud of the results achieved by these sailors. Some put in many hours of coaching with John White and Simon Rattigan prior to the event and the results are evidence of the preparation and effort put in. Simon Rattigan also acted as on the water coach and mentor and did an excellent job in keeping the troops focused on the job at hand. One of the key points learnt by all was not to give up and to keep going.

I would like to congratulate all our sailors on the great effort put in over the 4 days. Well done and get ready for the Leinsters.

Note:

Leinster Championships

to be held in HYC on 5th & 6th September. A late entry fee will apply from the 1st September. Enter online at www.hyc.ie