Frank Keane and William Nixon present the
'Club of the Year' trophy for 2009 to Peter McKenna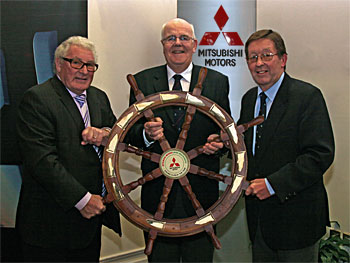 (L-R) Frank Keane, Chairman Mitsubishi Motors,
Peter McKenna, Commodore HYC,
William Nixon, Correspondent Irish Independent & Chairman of the Judging Panel
 
Howth Yacht Club is the Mitsubishi Motors / Irish Independent Sailing Club of the Year for 2009, on the strength of a remarkable year in 2008 in which the club's and its members' achievements on and off the water were both significant and numerous.

Commodore Peter McKenna received the much coveted ship's wheel trophy on behalf of the Club from Frank A. Keane, Chairman of Mitsubishi Motors Ireland, at a reception in the clubhouse.

2008 saw the Club's large membership of over 2,000 achieve sailing success at home and abroad in many classes. At the same time, the club ran a host of very successful local, regional and major national events, including the Irish Cruiser National Championships, Laser National Championships and the Irish Sailing Association All Ireland Championships.
Past HYC Commodores with the 2009 'Club of the Year' Trophy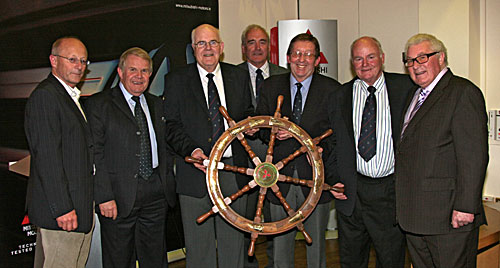 (L-R) Francis Ennis, David Lovegrove, Peter McKenna,
Robert Michael, William Nixon, Gerry O'Neill, Frank Keane

Peter McKenna: Commodore HYC
Past HYC Commodores: Francis Ennis, David Lovegrove, Robert Michael, Gerry O'Neill
William Nixon: Correspondent Irish Independent & Chairman of the Judging Panel
Frank Keane: Chairman Mitsubishi Motors
 
In addition to successfully managing a comprehensive sailing calendar, developments within the club continued with the extension of the boat park to facilitate additional activities now complete, at a cost of

1.5m, while dredging has commenced on the entrance to the marina to facilitate deeper draft boats.

"Yet despite the scale of the club and its activities," the citation said "it retains its community focus and strong tradition of voluntary effort from its membership."

The "Sailing Club of the Year" trophy was inaugurated in 1979 with Howth Yacht Club now joining a very distinguished set who have won the award three times, with the previous successes coming in 1987 and 1995.