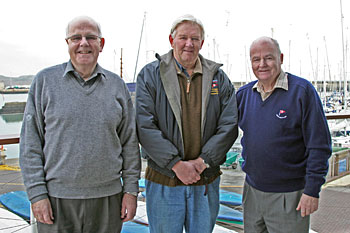 (L-R) HYC Vice-Commodore Peter McKenna, Derek Bothwell, Commodore Gerry O'Neill

In recognition of his work over many years in a range of functions in Howth Yacht Club, Derek Bothwell was awarded Honorary Membership of the club.

Derek joined HYC in 1972. He was on the General Committee in the mid '70s and looked after the harbour. Then he was Junior Organiser in the '80s. He returned to the General Committee in the '90s and was on the Sailing Committee.

After a year as Sailing Secretary in 1997 he held a series of positions as flag officer; Rear-Commodore - 2 years, Vice-Commodore - 1 year, Commodore - 2 years and Ex Officio - 2 years.

He was voted on the General Committee again in 2007 and spearheaded the development of the Boat Park extension and the Marina & Harbour facilities. In these functions he was HYC's main interface with the Harbour Master and the Department of Marine.

While Derek is no longer chairman of these developments he will continue to be an active member of that committee.

Over the years Derek has either competed in both Club and Open events or was Race Officer. He is a National Race Officer and as such has functioned as PRO both at HYC major events and elsewhere around the country.

With that impressive CV, both on and off the water, his Honorary Membership of HYC was well deserved.