Saturday 1st and Sunday 2nd September at HYC
PRO, Peter McKenna ran the full schedule of 5 races, 3 on Saturday and 2 on Sunday in 10 to 12 Kt NW'ly winds. Bright weather dominated both days, however during the last race on Sunday a shower swept across the area and reduced visibility somewhat.

In the first race on Saturday a few boats were late starters when the race started precisely on time. Everyone was a little over enthusiastic at the start of the 2nd and 3rd races, so the Black Flag was flown, which helped to settle the starts.

Sunday saw another good day's racing with 2 races. All 5 races were each about 1 hour duration.

The top 5 in each category are ...


Scratch
1
30 Something
Hall/McDonnell
NYC
2
Caesium
S & C Doran
BYC/RUYC
3
Tigger
Cassidy/Mulhall
HYC
4
After U too
M Blaney
RStGYC
5
Dies Irae
P Kirwan
RIYC
H'Cap
1
Wayfinder
J Reynolds
HYC
2
C'est la Vie
Flannelly/Others
HYC
3
Dies Irae
P Kirwan
RIYC
4
Caesium
S & C Doran
BYC/RUYC
5
Prima Nocte
Burke/Kennedy
RIYC

Results are in the Results Section, under Open Events.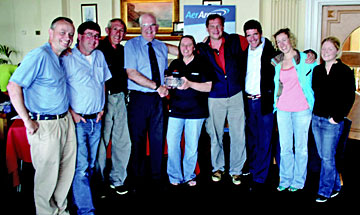 1st Scratch -

30 Something

- NYC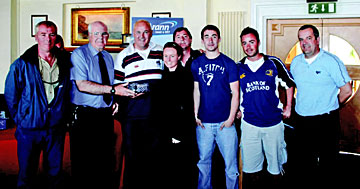 1st H'Cap -

Wayfinder

- HYC