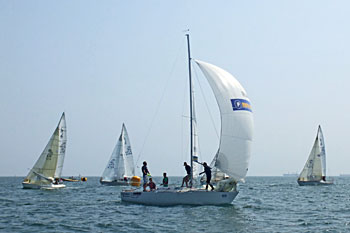 Euro Car Parks Kilcullen leading the way

Winning the J24 Easterns & finishing 2nd overall in IRC3, in a fleet of 33 boats at Dun Laoghaire Regatta proves to be a significant milestone in preparation for the upcoming J24 World Championships.

'It was our first time to sail in such a large fleet, which gave us a great opportunity to practice our starts and tactics. We are thrilled with the results' commented trimmer Harry O'Reilly.

Conditions were near ideal with winds in the 10 - 12 knots range for the weekend. Importantly the team were fairly consistent with results 2 - 8 - 1 - 1- 1 - 14. The J24 Eastern's title was won with a race to spare. The IRC3 title went down to a match race between 'Euro Car Parks' and 'Quest' in the last race. Unfortunately, 'Quest' had the advantage of a better discard, so they could afford to cover 'Euro Car Parks'. Ultimately both boats finished mid fleet with the IRC3 title going to 'Quest'.

We hope to build on these results through more practice and look forward to putting in a strong showing at our next event, the J24 Nationals.

We'd like to thank our manager: Fergus O'Kelly, our coach: Graeme Grant, Howth Yacht Club and our sponsors: Euro Car Parks, Masts & Rigging, Hyde Sails and the boat owner, Enda O'Coineen, for their continued support.