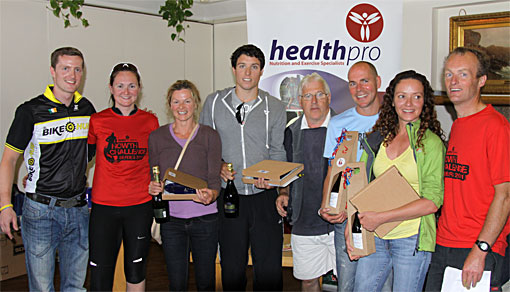 Commodore Roger Cagney with the Organisers and Winners
of the Olympic & Sprint categories of the Triathlon
 
(L-R) Paul Norton (Sponsor - The Bike Hub), Harriette Lynch (Event Organiser), Vanessa Fenton (1st Female - Olympic course), Kevin Thornton (1st Male - Olympic course),
Roger Cagney Commodore HYC, Eoin Brady (1st Male - Sprint course), Fionnuala Doherty (1st Female - Sprint Course), Paul Mahon (Multi Sport Adventure Ireland)
 
Howth Yacht Club were the proud hosts of the prizegiving for the first Howth Challenge Triathlon.

On Sunday morning at 7am, close to 200 athletes left Howth harbour by ferry to Ireland's Eye (1800m offshore) to begin the first Howth Challenge Olympic Plus Triathlon. Their race began at 8.40am and all athletes dived into the choppy sea and raced towards the Claremont Beach, Howth. There they exited to tackle 40km cycle (4 laps of Howth hill) and then a 10km run including Balscadden Hill and the East Pier.

The second race began at 9.55am off the Claremont beach. The beach start saw close to 200 competitors tackling the 750m swim, 20km cycle (2 laps of the hill) and the 5 km run. Both races inspired all abilities from keen athletes to complete beginners. For many the Howth Challenge Triathlon was also their very first.

Healthpro (Harriette Lynch) and Multi Sport Adventure Ireland (Paul Mahon) would like to thank our sponsors, helpers, marshals and competitors as without their continued support events like these would be impossible.

The Howth Challenge Triathlon saw close to 400 competitors and the event was won by Kevin Thornton (Olympic Plus Male) and Vanessa Fenton (Olympic Plus Female) and Eoin Brady (Male Sprint) and Fionnuala Doherty (Female Sprint).

Healthpro and Multi Sport Adventure Ireland would like to congratulate everyone who took part in the Howth Challenge Triathlon which was described by many as the toughest on the circuit.


At the Prize Giving