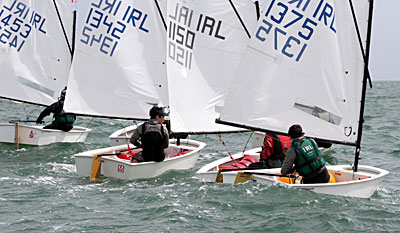 Richard Hogan (1375) and Darragh Kelly in the senior fleet
 
A fleet of 183 Optimists convened in Kinsale from 31st July to 4th August for the 2012 Optimist Nationals. 16 young sailors from HYC featured among the international fleet, with entries from Bermuda, France, Hong Kong, Spain, India, United States and a large contingent of over 40 boats from the UK.

Conditions were very tough for 4 out of the 5 days, with one day lost completely to strong winds. Principal race officer Alan Crosbie had the main senior and junior fleet outside the harbour, where a strong south westerly airflow kicked up large seas - challenging but fun sailing.

The senior National and Open titles were won by Dougie Elmes from Waterford Harbour SC and RCYC. Richard Hogan was best of the HYC entries in 7th, with Ewan McMahon 12th and Darragh Kelly 35th.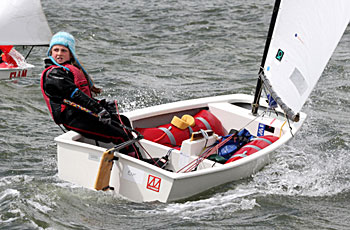 Eve McMahon in action in the regatta fleet
 
The junior fleet was dominated by the British squad, with Milo Gill-Taylor winning the Open title, and Loghlen Rickard from the National taking the Irish title as first Irish boat in 7th place. Jamie O'Grady was the best of the HYC squad finishing 19th (6th Irish), closely followed by Daniel Hopkins in 20th and Alex O'Grady in 21st. Jamie McMahon was 49th, Tim Farrelly 50th, Max Kavanagh 76th and Dylan O'Grady 87th.

In the regatta fleet Eve McMahon, Jack McMahon, William Lacy, Ruth Lacy, Aoife McMahon & Sadhbh Farrelly did brilliantly to survive the tough conditions and Eve took 4th place overall and first Under 8 prize.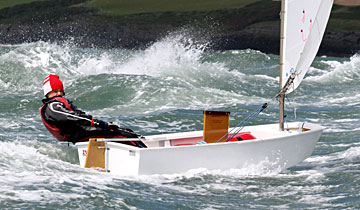 Alex O'Grady on a breezy downwind leg in the junior fleet.
 
Congratulations to all in Kinsale YC for running a superb event in difficult conditions.

There are two more regional events remaining in the calendar, with the "Connachts" being run out of Malahide YC on 8th & 9th September and the Munsters in RCYC on 22nd & 23rd September.

Good luck to Jamie, Alex, Dylan and Daniel Hopkins, heading to Pwelli next week to compete in the UK Nationals.