The ISA Youth Nationals & Junior Pathway Championship 2009 concluded in Schull, Co Cork on Friday 17th April after four days of exhilarating racing.

This followed the Easter weekend of racing for Lasers in Baltimore and 420's in Kinsale.

With large seas and windspeeds frequently over 20 knots and gusting to 30 knots at times in Roaring Water Bay, James O'Callaghan, ISA Performance Director commented: "I've been most impressed with the quality of boat handling and seamanship".

Several HYC sailors were in action between the two fleets.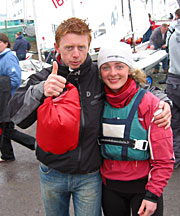 Coach Ger Owens & Diana Kissane