Wilson Trophy, 3-5 May 2013, West Kirby SC
Author: Simon Rattigan
Posted on: 11/5/13
Print Version
---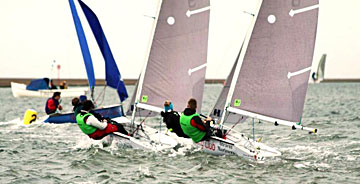 Howth Yacht Club were among a strong Irish representation at this year's Wilson Trophy. Lynn Reilly, Simon Rattigan, Geoff Tait, Freya Macken, Daragh O'Connor and Emma Geary represented HYC in what is widely held as the best, and toughest team racing event in the world. The Royal St George, RCYC and Schull Youth teams made up the Irish contingent. Having missed out on the quarter finals by the narrowest of margins last year, HYC were keen to make it to the knock-out stages this year.

Racing took place over 3 days from 3-5 May with the first gun at 12.57 on the Friday afternoon. Excitement and anticipation began to build on Friday morning as the full compliment of 34 teams had now arrived in West Kirby and all 204 competitors were summoned to the boat shed for a briefing by the organisers before the furious action could commence.



Conditions were extreme on Day 1, Friday,

and with gusts of 30 knots cut-down mainsails were used for the day. Save for a few dramatic capsizes and minor breakages, all teams completed 4 races unscathed. HYC got off to a very rocky start to the event, having only won 1 race from 4 on Friday. Nevertheless, spirits remained high and in true British fashion an evening of controlled and organised fun was had by all.



The first gun on Saturday

was 7.57 which meant a very early start for everyone. Conditions were much more conducive to team racing so full mainsails were used. Winds didn't drop below 15 knots and gusts were stronger, but generally this allowed for exciting team racing. Things didn't improve straight away as HYC lost the opening race on Saturday. A turnaround in fortunes was certainly due and the team was able to re-focus and put together a string 5-6 solid victories over the course of the day. Having lost the last race of the day to Oxford a slight bitter taste was left in our mouths, but it was a good day overall, and a top 8 placing was within touching distance and we lay in 11th overnight. At 5.30 the sailing was wrapped up and the teams had an hour to prepare for the formal dinner in "summer pavilion" - actually a boat shed with curtains, but the desired effect was achieved. We recently learned that every item of food was planned specifically so that nothing could be misconstrued as a missile and prompt an international food fight that has been know to spark off in the past. Thankfully these messy heights were not reached as Geoff was wearing a velvet blazer.



First gun on Sunday

was slightly later at 8.27 (still ridiculously early) due to the good progress of races on Saturday, and conditions were perfect. Desperate to reach the top 8, HYC needed more wins than losses on Sunday. However, things didn't go our way as only 2 wins from 5 races were secured, and while the quality of umpiring is second to none, we felt slightly aggrieved by some umpire decisions during the day. Additionally a crucial race was lost, as Wilson veterans Royal St George snatched a victory at the death when HYC had winning combinations for most of the race. This would prove to be pivotal as we finished the event on 10 wins, with 11 wins the requirement to reach the knock-out stages. While the Wilson is certainly the toughest arena in team racing, we were disappointed with not achieving our target of placing in the quarters by such a narrow margin, in similar fashion to last year.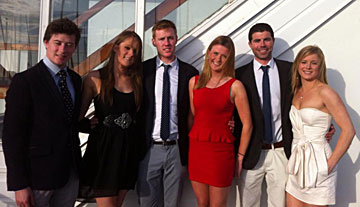 (L-R) Geoff Tait, Freya Macken, Simon Rattigan,
Emma Geary, Darragh O'Connor, Lynn Reilly
 
From the promenade which was only meters away from the course, hundreds of spectators watched the action and listened to the race commentary from nearby speakers. "Champagne sailing" was the buzz word of the afternoon, and the teams outside the cut and many other supporters were treated to a glorious spectacle. A rainbow of colour pirouetting aimlessly around the lake to the West Kirby layman, but the team racing world revelled as the "nautical game of chess" unfolded. Defending champions and bookies favourites the West Kirby Hawks were dismissed in the semi finals which blew the title race wide open. Wessex Exempt were the ultimate, and very deserving winners.

West Kirby Sailing Club once again ran a flawless event. HYC look forward to competing in The Wilson next year, having established the club as a good name in the top flight of team racing. We would like to thank Howth Yach Club for all their support.
Wilson Trophy - West Kirby SC >>
---