Albania to Spain - The Final Epic Voyage
Posted: 17/07/13

Yes! Its official - we are retiring from "epic voyages" and are set to become fair-weather sailors in the Western Med in, hopefully, a smaller, lighter boat suitable for pottering.

Safari is officially up for sale. She was built and is set up for blue water sailing-not for sitting around in marinas with an occasional foray out to drop the hook for lunch!

We are hoping a buyer will emerge during the winter who will appreciate all her sterling qualities and sail her on many more ocean voyages - if not, it will be no hardship to keep her as she has been a wonderful sailing companion for the last 11 years.



The final leg - Saranda to Sant Carles



Our last report came from Saranda, Albania where we spent 4 very interesting days. From there we crossed over to Santa Maria di Leuca some 74 m west on the heel of Italy.

We departed Albania at 05.00 in the hope of making it to Santa Maria in daylight. The wind was forecast from the northwest but for the first few hours there was no wind at all. Then, as we moved further away from Corfu, a bit of North-westerly arrived which enabled us to sail for about an hour. For the rest of the passage, the jib was in and out in light variable winds and of course the engine was running most of the time. As our average speed was 6.5 knots, we arrived off the entrance at 17.00 absolutely delighted with ourselves that we had made it across the Ionian in such good time.



Aground in Santa Maria di Leuca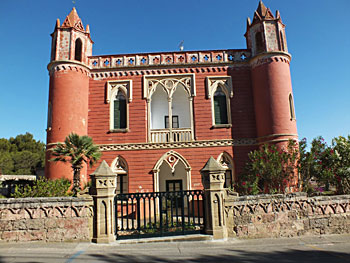 A beautiful holiday home in Santa Maria di Leuca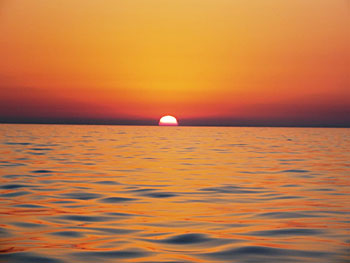 A spectular sunrise as we leave Santa Maria di Leuca

Our delight was extremely short-lived as we ran aground in the entrance to the marina in a charted depth of 8 meters!! We had been advised to favour the right hand side as we entered - which we did but not enough! The Guardia Costiera came to the rescue. No damage was done to Safari as the bottom was sand and mud.

We didn't feel so bad when we learned that the 3 boats ahead of us that day had also ran aground! There is a narrow channel with 5-6 meters very far over to the right - nearly on the rocks. In fact the rocks at the end of the breakwater extend under the hull as you pass - scary! When we discussed the situation with the marina authorities, we were informed that the channel would be marked from June 20 onwards.

We thought the whole thing was downright incredible. All they had to do was have the marina dinghy, which was hanging around anyway, escort the boats through the gap in the sand bar or at the very least indicate where to go using hand signals. Instead, the marinero just looked on as the boats ran aground one after the other- truly amazing!



Santa Maria di Leuca



The marina itself was fine and we met some really nice fellow sailors who came aboard for drinks and an exchange of information. All the running aground had precipitated the bonding process!

We learned that the next two obvious ports of call, Crotone and Roccella Ionica on the way to Syracuse in Sicily, where we were heading, also had problems with silting. We therefore decided to forgo the delights they no doubt had to offer and just head straight for Syracuse in one overnight.

Santa Maria di Leuca was not without its interests and charms. It takes its name from the white limestone cliffs along the coastline. Mussolini had a huge stone staircase built near the harbour as a symbolic gateway to Italy!

At the top of the hundreds of steps stands the Basilica of Santa Maria di Leuca which seems to be a popular place of pilgrimage. While we were visiting it, coach-loads of tourists arrived and assembled in the Basilica for prayer. The previous Pope also visited it in 2004. Unfortunately, his blessing of the marina had no effect on the silting problem!

It is basically a very upmarket and unspoilt holiday town for Italians. There were some magnificent palazzos hidden behind luscious hedgerows of bougainvillea. This lent an air of gentility and inconspicuous wealth to the town. Our 2 night stay turned out to be very pleasant indeed.



The first overnight of the season



On Sat June 8 we were up and away by 05.45. There were a few anxious moments as we slowly motored through the gap in the sandbar observing the rocks of the breakwater under the hull as we passed - real dry-mouth stuff!

However, we exited the harbour this time without incident and were met by 15-18 knots of wind from the northwest which was perfect. For the next 8 hours we had a wonderful sail across the Bay of Otranto covering 50 miles before the wind eased and changed direction to the south/southwest.

In came the jib and on came the engine and we struggled a bit to maintain a decent speed against 12 knots on the nose. By sunset the wind had died altogether and what little there was came from the south. Nevertheless, all was well on board as we entered into our first night at sea this year.



A ship passes in the night



Things were peaceful enough during most of the night with just a few targets moving up and down. But there was one particular target that caused some anxious moments.

At around 03.00 I woke the skipper as I felt most uncomfortable on my own after noticing a fairly large target on the radar (and not showing on the AIS) less than a mile away and showing no lights.

It could have been an innocent fishing trawler with electrical problems or, given the proximity to Tunisia, it could also have been a boatload of illegal immigrants hoping for a better life in Italy and of course the possibility also existed that it was a boat containing a consignment of illegal substances! This was Mafiosi country after all!

We were both extremely relieved when it glided past without interfering with us in any way.



The vagaries of the wind



The wind remained stubbornly on the nose. Nevertheless with the help of a south-going current we found ourselves crossing the entrance to the Strait of Messina by 06.00 the following morning with 60 miles to go to Syracuse.

As we neared our destination, a close watch had to be kept as we encountered large areas of lobster pots and tunny nets. The last thing we wanted was a fouled propeller!

With 25 miles to go and struggling against wind and current and poor visibility, conditions suddenly changed dramatically! The wind came up and veered to the west.

By 17.00 we found ourselves charging into Syracuse harbour with all sails flying after an exhilarating but tough beat in 25 knots of wind and a very lumpy sea!

However, once in the harbour, with the boat turned into the wind, the sails came down but not without a stark reminder of how the passing years play havoc with one's physical strength! We then headed across the bay to Marina Yachting where we had booked a berth.



Doing business with Sicilians



It was here that I negotiated a reduction in the price of a berth for the first time! We had been advised by one of our new-found sailing friends in Santa Maria di Leuca that it was always worth haggling and offering to pay in cash when in Sicily.

Using my very best Italian, I negotiated for a 5 night stay bringing the price down from

65 to

45 per night! I was thrilled with myself. In Italy rapacious prices are frequently charged for overnight stays in marinas regardless of how tatty the facilities might be.

90-

120 is the norm from May to October for a 42ft boat.



Syracuse - at the top of our "must see" list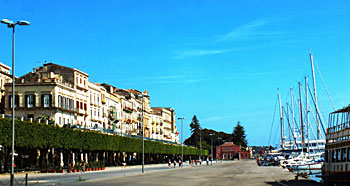 The town quay in Syracuse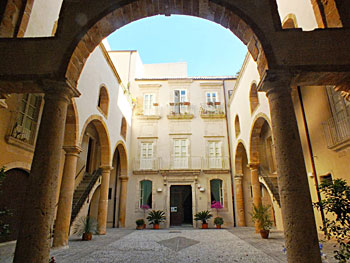 A peaceful courtyard in Syracuse

Syracuse is a remarkable city and we simply loved it. It can be divided into 3 parts. There is the vast Archaeological Park which is a testimony to the Greek and Roman influence on that city. Then there is the island of Ortigia joined by bridges to the mainland which is the location of the old town with many magnificent baroque buildings lining the narrow streets. The marina was in this section - an absolutely fantastic location. We could just hop off the boat and find ourselves roaming through these beautiful streets in a matter of seconds.

Finally there is the modern Syracuse with broad avenues and lovely seaside promenades.

There was the most wonderful fresh food market I had ever been to just a few hundred yards from the boat. Fresh fruit, vegetables, fish, cheeses, olives and of course fresh bread were available at incredibly low prices every morning except Sunday. The food was simply delicious.

Each day was filled with activity, visiting and admiring as many museums, galleries and ancient sites as possible. The Parco Archeologico and the Catacombs of San Giovanni were two highlights. As entry to all museums and Art galleries is free for over 65s in Italy, we had a great time popping in and out of countless museums and galleries as we wandered around.

Of course we also had to attend to practical matters like doing laundry, provisioning and having our bicycles repaired! So our 5 day holiday passed very quickly and for once we were enjoying an extended stay not caused by bad weather!



Sailing along the south coast of Sicily



We decided to head west along the south coast instead of going north through the Strait of Messina as that would be more favourable for going to Spain either via Cagliari in southern Sardinia or across to Tunisia and on to Spain via Majorca.

Our first port of call on Friday June 14 was marina Ragusa - a vast marina in a very sterile holiday resort. The main town of Ragusa is well inland. The marina lies 55 miles from Syracuse and just 50 miles from Malta.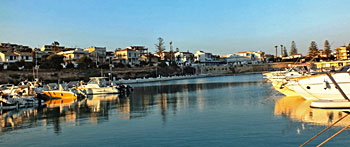 A quiet evening in Marina Ragusa

They offer excellent deals for over wintering a boat but I do not think it would be great for live-aboards as it is too isolated. Licata, also offering super deals, would be a much better option for overwintering.

We decided not to visit Malta as it is both crowded and expensive and would have involved going in the wrong direction. Once again there was silting at the entrance to Ragusa but this time a gommoni (see below) met us and escorted us to our berth. The loos and showers were so far away from the boat that we had to use our bikes to get to them! We decided to spend just one night there and head the 35 miles along the coast to Licata the following morning.



This sailing world is really very small



On our way out, a yacht Daq-Attak, who was on anchor, called us up on the VHF. We had last spoken to them in 2009 on the Intracoastal Waterway in Norfolk, Virginia!! They were on their way to Syracuse for an Ocean Cruising Club rally the following week and were disappointed we would not be joining them.



What or who is a gommoni man ?



A gommoni man is how we describe a man in a dinghy who helps boats to berth. Gommoni is the Italian word for dinghy and so those marina employees in dinghies have become known as "gommoni men" on board Safari! ( Imagine it pronounced with a Dublin accent!)



Licata and Agrigento - both famed for their graveyards



We continued on our way to Licata where we arrived without too much effort or excitement at 14.30. Once again, because of shallow patches, a welcoming gommoni man was awaiting us at the entrance.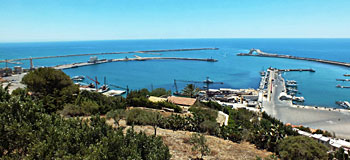 Part of the vast harbour of Licata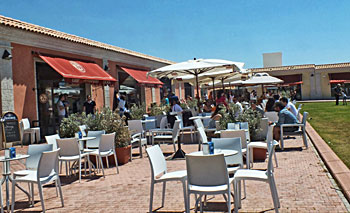 Cafe and shops at Marina Licata

We really enjoyed our 4 night stay here. The marina was offering great overwintering deals which were very tempting and we were even given a 15% reduction on the berthing cost because of our membership of the Irish Cruising Club. This brought the cost down to about

50 per night.

There is a holiday village built around the marina which is located in the corner of a huge harbour. It was a real family resort with no noisy discos to disturb one's sleep!

The great choice of restaurants and hand-craft shops and even a large shopping mall and supermarket within easy reach was most welcome. The old town with its Castle and enormous above-ground graveyard rises up behind the marina. The graveyard with its hundreds of very decorative tombs is a major tourist attraction!

On the Saturday night there was a free piano recital in the hall of the yacht club- all part of the summer cultural programme. It was most enjoyable and a welcome cultural change from visiting museums and archaeological sites!

Licata is also just a bus ride away from the famous Valley of the Temples in Agrigento which of course we visited.


A modest tomb in Licata cemetery !


A beautifully restored temple in the Valley of Temples, Agrigento

I have to admit that while walking around this absolutely wonderful site, I felt very tired and hot and for the first time wished we could arrive at our final destination in Spain the following day!

The skipper was of the same mind. So we decided to put an end to the short hops and the visits to yet more Temples of Apollo and focus on getting to Sant Carles in Spain as quickly as possible.



A 2 nighter to Cagliari



It would take us two nights to sail the 260 nm to Cagliari in southern Sardinia. After preparing a large pot of "de mammy's" Irish stew, we threw off the lines in Licata at 13.15 on Tues June 18 and once again headed northwest with a promise of wind from the west/southwest. If any difficulty arose, we had the option of either pulling into Sciacca or Trapani right on the northwest corner of the island before crossing over to Sardinia. As luck would have it, this wasn't necessary.



An uneventful but at times "creepy" trip



The wind strength and direction were a huge disappointment throughout the trip. Whereas there was a gale-warning in operation for the Sardinian channel, we experienced windless, hot and very humid conditions.

Apart from lots of "spooky" voices on Channel 16 in the middle of the night- meowing cats, barking dogs, creaking and groaning reminiscent of a scene from a Hammer film- all went smoothly on that first night!

The following day, the gale had moved away and a force 5 from the southeast was forecast which would be excellent!

By 07.00 with Sicily behind us and the Aeolian Islands to starboard, we hoisted the mainsail in anticipation of a good sail across to Sardinia. 10 hours later we were still waiting! Finally, just as we were giving up all hope at 21.30 the wind filled in from the southeast and away we went under full sail for what turned out to be a great sail through the night!

Once again, the" Creeps" took over the airwaves around midnight and entertained us for a few hours - quite an extraordinary misuse of channel 16! What with trimming the sails and keeping a look out for other vessels, the night passed very quickly. The wind died off eventually around daybreak but we had had a wonderful sail in 16-20 knots of wind.

At 9.30 on June 20 we swept majestically into Cagliari harbour where a warm welcome awaited from Marina del Sol. We had covered the 260 nm in 44 hours, disappointed that the engine was running for 75% of the time but delighted that we had actually sailed through most of the second night.



Cagliari and Marina del Sole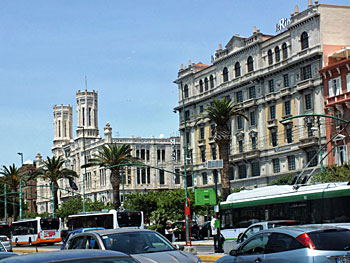 Via Roma in Cagliari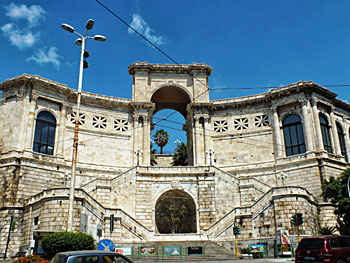 The entrance to Bastione San Remy in Cagliari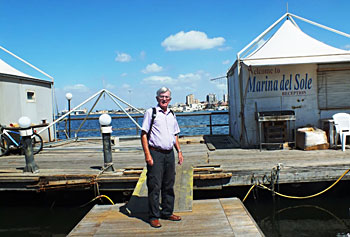 Ken heading for the Reception in Marina del Sole!

Marina del Sole consists of a few pontoons owned and run by 3 generations of a family, grandfather, father and son.

The pontoons were secure and safe but the area around the office (a tent-like structure) was pretty bockety with lots of loose planks. The showers and loos were in portacabins and didn't look too inviting initially. However, the family were such good fun and so helpful and friendly that we soon didn't notice the more quirky aspects of the marina and at

25 per night, we could forgive a lot!

By now, I had become quite proficient at negotiating prices and got us this great deal which was just as well because we ended up spending 11 nights in Cagliari due to bad weather!



A prolonged Mistral blows



It would be Monday, July 1 before we would exit Cagliari Harbour. We spent the first few days exploring Cagliari and its environs thinking we would be heading off again after 3 or 4 nights.

Then we learned that a strong Mistral was due to start blowing on Sunday night, June 23 with storm - force 10 winds forecast for many areas of the north - western Mediterranean. It soon became obvious that we would be unable to depart until the following Friday at the earliest. As Friday neared, yet another gale was forecast for the weekend so there was no question of us setting out until both wind and sea-state had calmed down.



Cagliari - a city to rival Syracuse



When we wintered in Alghero in 2010, we somehow formed the opinion that Cagliari was a large industrial city with little charm. This couldn't have been further from the truth.

It's a really beautiful old city which rivals Syracuse in terms of antiquity and culture. The old citadel of Castello is full of interest and charm. At the Bastione San Remy locals and tourists alike assemble to admire the magnificent views over the city at sunset and enjoy an aperitif. We loved the cafes in Piazza Yenne from where we took an open tour bus around Cagliari and out to the lovely beach and flamingo Park at Poetto.

There are lots of beautiful old churches, the most beautiful being the Cathedral of Santa Maria Assunta in Piazza Palazzo. We also came across a wonderful exhibition of Japanese Art in the nearby Cathedral museum - the list of wonderful places to visit is simply endless!

The shopping and restaurants were also fantastic. We also really enjoyed our visit to the covered market of San Benedetto which opens every morning except Sunday and sells food stuffs and household goods of every description.

Although the marina was a 20 minute walk into town, we really didn't mind as there were so many places of interest to see along the way and the option of taking the bus was always there!

Even though we would still probably prefer Syracuse, every time I looked upwards, yet another Ryanair flight was either taking off or landing at the nearby airport. So one huge advantage of Cagliari would be affordable and easy access!



A day trip to Villasimius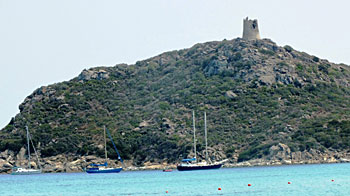 The well-protected anchorage beneath Capo Carbonara, Villasimius

We spent an enjoyable day taking the bus to Villasimius on the east coast. We wanted to check out the marina in case we would have to come up along the east coast if the strong north-westerly winds persisted in the Balearic sea area.

It is a very upmarket resort with lovely beaches. The anchorage under the protection of Capo Carbonara at the southeast corner is reputed to be excellent. This is just as well as we were quoted

90 per night for Safari in the marina and no amount of cajoling in Italian could persuade them to reduce that price!



Finally underway



On Sunday June 30 the gale warnings had finally gone from the Balearics and with a forecast of 3 days of light winds from the southeast, we could finally depart Cagliari.

We had decided that if the wind, the sea and we ourselves were up to it, we would sail directly for Sant Carles in Spain which was 445 miles away taking 3 nights if we opted for the most direct route between Majorca and Menorca instead of heading directly west for Palma in Majorca. At 12.30 on Monday July 1 we cast off and headed out to sea for what we hoped would be our last voyage of the season.



The relentless drone of the engine takes its toll



When we started up the engine at 12.30 in Cagliari, little did we realise that it wouldn't be switched off again for the next 71 hours as we motored our way across the Med to Sant Carles in near windless conditions!

Sails were hoisted each afternoon in the hope that some wind would fill in as it normally does at this time of day only to be bagged again before sunset so the noise of flapping sails would not interfere with our rest at night.

The nights were dark as the moon had long since waned and the days were hot with plenty of little annoying flies buzzing around the cockpit. There was very little traffic around - an occasional yacht passed in the distance bound for Sardinia or later in the trip bound for the Balearics. Even a creepy midnight transmission on the radio would have made a welcome break from the boredom!

As we passed through the Channel of Menorca after 2 nights at sea, we finally saw quite a number of yachts sailing around the islands. We thought briefly about stopping off at Pollensa on the northwest corner of Majorca for a rest but decided to soldier on to our destination. One more night wouldn't kill us!

And so after a fairly lonely, uneventful and super calm crossing, we arrived at Sant Carles marina at 08.30 on Thursday July 4. We were met by a lovely "gommoni man" who escorted us to our berth and helped us to tie up at our finger pontoon- absolute bliss ! Then we collapsed into our bunks and simply conked out for the next 6 hours! Our 2 month voyage of 1,680 miles from Didim in Turkey had come to a safe and rather quiet end.



Sant Carles de la Rapita and home!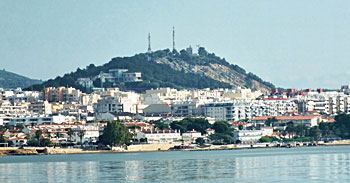 Finally arriving at Sant Carles de la Rapita!

We are delighted with Sant Carles marina and have booked a berth for the next 12 months. At the moment, I am struggling with the humidity, the heat and the language. All my recently relearned Italian has now to be flushed out of the system and replaced by Spanish -one of the trials of this Cruising life!

Our arrival in Sant Carles also marks the end of a major chapter in our cruising life. The last 7 years have been amongst the most enjoyable of our entire lives! There will be no more so called "epic voyages" to distant ports, just simple jaunts out to the islands and lots of anchoring in nearby locations!

In the meantime, we will be home in Sutton by this coming weekend. We are naturally looking forward to seeing our family and friends once again and with the wonderful weather Ireland is experiencing at the moment, this might even include some sailing in home waters for a change!
---