Safari makes an interesting detour to Albania
Posted: 22/06/13



The decision to go to Albania



It was on May 21st, while pinned up against the quay wall in Corinth that Ken first mooted the notion of going to Albania. We were discussing the next phase of our journey and wondering if we would cross to Italy from Cephalonia or from Corfu. It was then I realised that Albania was only 15 miles across the water from Corfu.

To be quite frank I thought he had gone mad. Since my schooldays, I had a very negative impression of Albania, associating it with the worst kind of oppression and tyranny. It certainly never featured on my list of "must see" countries.

However, the skipper had spoken and to placate him, we checked it out on Noonsite (an excellent website for cruising sailors) and discovered some very positive reports from yachts that had been there recently.



The town of Saranda became the obvious choice as it was the closest to Corfu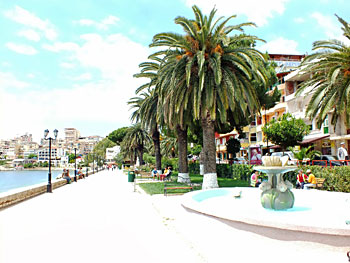 The attractive seafront in Saranda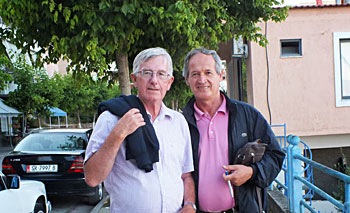 Ken and our very helpful Agim
We emailed the Port Agent for Saranda, Agim Zholi, (agimsholi@yahoo.com) and sat back to await his reply. It came the following day. The Port of Saranda would welcome us with open arms! For a fee of

50, Agim would look after the checking in/out with the authorities. Thereafter each night would cost

10 which would include electricity, water and the use of the showers and toilets in the Ferry Terminal just a few metres from the berths for the yachts. When we were assured that we could lie alongside the quay wall, Albania's time had come for Safari! Agim emailed us some charts of the Port as there was little or no information available either on our chart plotter or in our collection of Cruising Guides.



Our arrival in this former tyrannical state



At 13.30 on Sunday June 2nd, we departed Gouvia Marina in Corfu and by 15.15 were making our approach into Saranda. Agim had advised us to contact the Harbour Master on Channel 11 when we were 2 miles out.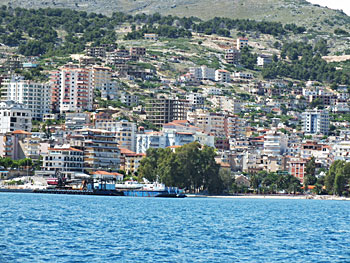 A first view of Saranda

This we did after hoisting the Albanian courtesy flag on the starboard spreader and the yellow flag requesting Custom Clearance on the port spreader. The Harbour master acknowledged immediately and advised us to proceed. Agim then took over as he was listening in by obvious agreement and he told us exactly where to go.



A small hiccup!



As there is only limited space for visiting boats at the quay wall it is advisable to book in advance. The space Agim had promised us was occupied by another yacht, Caladh, a British registered Victoria 34 which had extended its stay.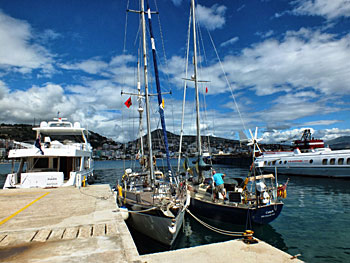 Rafted up in Saranda

However, the skipper, Simon and his wife Joanne kindly agreed to vacate the berth and raft up outside us as they were the smaller boat and were planning an early departure the following morning. We really appreciated their cooperation as did Agim who was directing operations from the quay and trying to please everyone. We took his advice to come in bow first and were very grateful when we saw the boulders below us!



It is less hassle to check into Albania than into most Greek ports!



Agim went off with our documents and checked us in with the Port Police and that was basically that. We were guests in the Port but had no trouble entering and exiting. The Port Police were friendly and helpful and some even spoke English. In fact we felt extremely safe as the Port is not open to the general public.



Saranda - a very safe but busy holiday port!



We soon discovered that day-trippers from Corfu are the bread and butter of the Sarandan economy. Small hydrofoil ferries arrived each day from Corfu, disgorged their passengers who went off in waiting coaches to the wonderful archaeological site at Butrint, returning a few hours later to return to Corfu and continue their holiday. The tourists themselves are probably unaware of the huge role these day trips play in the Albanian economy providing much needed revenue for the state and employment for the local Sarandans.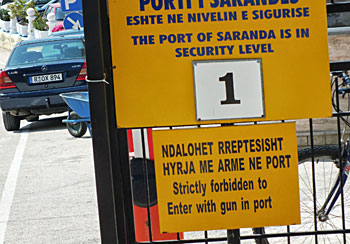 A really safe haven!!

The port was being extended during our stay. We were in awe at the speed and dedication of the workers who toiled from dawn till dusk. When we arrived, there was a mountain of rubble blocking the view. By the time we departed 4 days later, ferries were already docking there. We did feel there was a lesson somewhere in there for the Greeks!



Some positive first impressions



Agim and his assistant acted as mini tour operators and furnished us with a very detailed map of the town with all the relevant places clearly marked and hand-written in English. When we explained that we preferred to use public transport, a bus timetable was produced and there was no more talk of taxis and private tours!

Immediately outside the Ferry Port, there were souvenir shops and lots of Fast-Food outlets. Further along the quay there were some very fine fish restaurants. Fresh mussels are a particular speciality as they are farmed in huge quantities in nearby lake of Butrint. There was an excellent Fruit and Veg market and fresh fish could be purchased directly from the fishermen at the quay. A well-stocked supermarket was also located within walking distance. So we were well provided for and the prices were unbelievably cheap. The euro was accepted everywhere but it was even better value to use the local currency, the Lek. (

1 = 140 Lek)

The people were friendly and anxious to please. I noticed that Albanian was a kind of amalgam of Arabic and the Romance languages. Therefore to my utter delight, I could understand quite a lot of the written words based on my knowledge of Italian and Turkish. It made finding one's way around a lot easier!



Some negatives - Gambling and Mercs side by side with abject poverty



It wasn't long before we noticed lots of gambling establishments, both palatial Casinos and smaller slot-machine outlets. There were also an amazing number of high-end cars driving around - every second car on the road was either a Merc or an Alfa Romeo! We wondered how so many people could afford to buy such expensive wheels. Surely they couldn't all be wealthy gamblers!

All this was in sharp contrast with the blatant poverty we witnessed on the streets. We were shocked to see so many obviously hungry people rummaging in the bins near the market and asking for help outside food stores. Basic social services in Albania obviously still have a long way to go.



Albania has also been affected by "The Crisis"



Just as Albania was rebuilding its economy as an independent state after 50 years of tyranny and oppression under a communist regime, the crisis in Europe hit and has caused as much devastation here as in any other EU country.

Development has come to an abrupt standstill. In our travels we noticed vast numbers of both unfinished and unoccupied apartment blocks and hotels - entire holiday resorts seem to have been abandoned by the builders and the 2nd home owners. We also noticed a lot of younger men gathered in cafes and around the streets who surely would have been at work if they had jobs to go to.



Some very enjoyable experiences





Butrint
| | |
| --- | --- |
| Hand-crafted souvenirs on sale at Butrint | Remains of the Great Basilica of Butrint |

But all was far from doom and gloom! On our 2nd day we took the bus out to the National Archaeological Park of Butrint, just 18 km south of Saranda. It is a world Heritage Site of major importance and has been wonderfully preserved.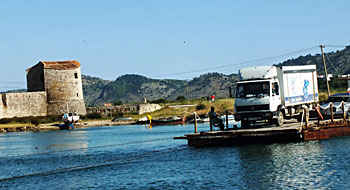 Chain ferry crossing the Vivari channel at Butrint

The huge Lake of Butrint which is connected to the Ionian Sea via the Vivari Channel is the source of delicious mussels and lots of other fresh fish. The ancient city itself dates from the seventh century BC and houses many great ancient and interesting buildings within its walls and many other castles and fortresses in the surrounding area. We really enjoyed our visit there but unfortunately had no time to cross the channel on the chain ferry to visit the Triangle Castle on the other side.



Gjirokaster



The following day we went on a longer bus journey through the mountains over towards the capital, Tirana. The passage through the Muzina Pass had some exciting moments as the road was both very steep and very narrow! The scenery along the way was simply stunning - majestic mountains, deep valleys, meandering rivers, and lots of green foliage and, of course, a clear blue sky.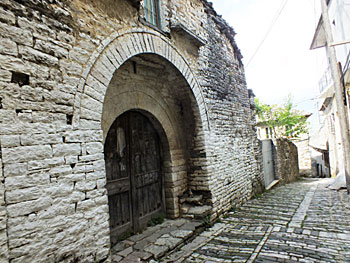 A typical street in the ancinet town of Gjirokaster

After 2 hours we descended at the town of Gjirokaster. Dominating the heights above the town was a huge fortress which we accessed by walking up through the narrow, cobbled streets of the Old Town. The exercise was good for us and the view over the area well worth the long walk!



The Blue Eye/Syri Kalter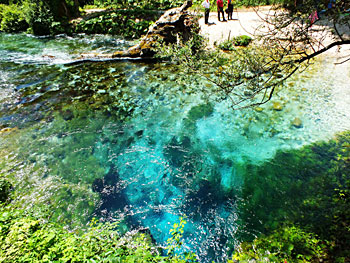 The blue water spring at Blue Eye

On our 3rd day we once again found ourselves on the bus, this time heading for "The Blue Eye" which is located just below the Muzina Pass. It is a unique spring which rises up into a small basin before flowing on into the river of Bistrica. The water in the basin is crystal clear and bright blue and shaped like an eye. It is located in an area of great natural beauty - a real hikers' paradise and we became hikers for the day! It was a mile long walk from the bus stop up to the spring where we paused for lunch at a small restaurant before going deeper into the forest. There were quite a number of visitors there when we arrived. Apart from a large group of American bikers, most tourists had arrived either by taxi or private coach.

Our journey home was not so great as we had to wait over an hour for a bus back to Saranda. As we sat on the roadside, we momentarily regretted not booking a private tour with Agim! But once we were safely on board the bus, we reflected back on the wonderful day we had just spent in the heart of one of Albania's most beautiful areas.



Time to say goodbye!



On Wednesday June 5th, we established that the weather the following day looked good for the 75 mile crossing to Santa Maria di Leuca on Italy's heel.

Agim checked us out and then invited us to join him for a drink in a local hotel. We had a wonderful chat with him about life in Albania before and after 1991 when they regained their freedom. He is working hard to develop the port of Saranda for yachting and is actively promoting the development of a marina there. There is currently only one marina in Albania - marina Orikum in Vlore which is about 30 miles north of Saranda. Agim hopes to change this situation sooner rather than later.

Albania could be a convenient stop-over for yachts en route to Croatia and also for boats required to leave the EU for short periods. We would have liked to have stayed longer and gone up to Vlore but as our visit to Albania was very much a last-minute inclusion, we felt it would be wiser to press on towards our final destination - Spain. By 05.05 on Thursday June 6, we were motoring out of the harbour after a really enjoyable diversion in this very new cruising destination, bound for Santa Maria di Leuca in Italy.
---