Ports of Entry in Bulgaria: Tsarevo, Burgas, Varna, Balchik
Marinas in Bulgaria: Sozopol, Nessebar, Sveti Vlas, Balchik



Varna:



On June 4th 2012, we arrived in Varna, Bulgaria after an overnight sail from Istanbul. The entry procedure was straightforward as described in our report on Romania..

We have to admit to an initial disappointment with our surroundings. We were tied up to a quay wall and were the only visiting yacht in what was described in the Cruising Guide as Varna Yacht Club. The toilets and showers were very, very basic and after 2 days completely ran out of water because of a general problem with the water supply to the whole region.

We came to remember these humble facilities with great affection as we did not see their like again until we reached Constanta in northern Romania!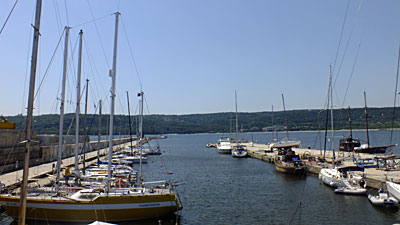 Berths at Varna Yacht Club

It was a 20 minute walk through a disused ferry terminal to the road and a further 20 minutes either way to a bus stop or to the town centre. The architecture was uninspiring - dull cement high rise blocks of flats from the Soviet era side by side with rather neglected-looking, crumbling older houses. The potholes and general bad repair of the footpaths made them very hazardous for walking.

There was no Tourist Information office or map of the city available so it was difficult to orientate oneself. This was further complicated by all road signs being written in Cyrillic script!

Given that Varna is the 3rd largest city in Bulgaria, we were expecting a more sophisticated tourist infrastructure. On that first day, we duly arrived in the pedestrianised town centre and were astonished to find shops selling the latest Paris Fashions - all the big Haute Couture names were represented. It was so at variance with the local surroundings and the dress of the people in the street that one wondered who on earth bought in these shops.

Then we began to notice all the huge red and yellow McDonald signs dominating the skyline - on the top of even the most historic building in the town square - all in the very worst possible taste!

As we enquired for directions along the way, our first impression of Bulgarians was formed. We found them to be overly sensitive and bordering on the unfriendly and I regret to say that our opinion of them has not really changed. There is a fortune awaiting the person who opens a chain of "Charm Schools" in Bulgaria!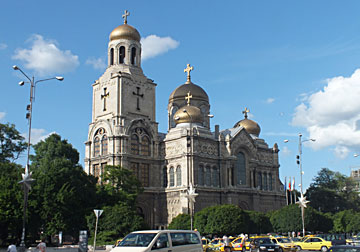 The Cathedral of the Assumption of the Virgin in Varna

When I asked one young man if he spoke English, he floored me with a truly withering look and replied "of course", then snapped an unintelligible answer before marching off down the street. I was only looking for the local supermarket!

We eventually did discover two excellent shopping Malls on the outskirts of town, "City Mall" and "Varna Mall" where all the big European outlets were represented and where there were great supermarkets which sold PORK CHOPS! Yes, as pork is not readily available in Turkey, we were absolutely thrilled to be reunited with the humble pork chop in Bulgaria!

Bad weather kept us in port for a week and so afforded us the opportunity to discover more positive aspects of Varna. The Archaeological Museum, housing as it does, one of the world's great collections of gold artefacts was a major highlight of our stay and we also enjoyed a visit to the Naval Museum which was located just outside the port area. Also the decor of the very sterile looking Varna Yacht Club was very stylish indeed and worthy of any 5 star establishment and as guests of the club, we had full access to it.

It was while sitting out the weather front in Varna, that we decided to download and re-read "Dracula" in preparation for our planned trip to Transylvania when we reached Romania. So I am somewhat embarrassed to admit that the most exciting aspect of Varna for us was that Bram Stoker had the ship containing the coffin of Count Dracula depart from Varna en route to Whitby in England!



Balchik:



Balchik was our second port of call in Bulgaria just 15 miles north of Varna. It is a picturesque town beloved by artists because of its location surrounded by a hilly landscape.

We were actually heading for Romania and decided to check out in Balchik rather than Varna just to add it to the list of places visited. As Balchik boasts a rather good marina with finger pontoons and plenty of water under the keel, we thought there would be the usual facilities. We were wrong! We were truly amazed to discover that this lovely marina lacked both toilets and showers. It is so difficult to understand why anyone would go to the huge expense of building a marina and leave out such basic requirements. However, the marina manager was really nice and allowed us to use his shower and toilet during office hours.

Balchik is a small holiday resort mainly frequented by Bulgarians and Romanians and has a nice seafront which unfortunately comes very much to life at night! During our 3 night stay, we were entertained by some pleasant Bulgarian folk music, Karaoke from a local bar and, for some extraordinary reason hourly renderings of The Chicken Song - a very eclectic musical mix!

A major tourist attraction is the Palace of Queen Marie of Romania (1857-1938) with its magnificent botanical gardens. We spent a delightful day visiting it.

Finally on June 17th, we checked out of Bulgaria to head further north to Romania. It was while checking out that we had an experience which was reminiscent of a scene from a "Carry On" film.
To check out, one first had to head over to the Commercial Harbour and tie up alongside a very high quay wall covered in huge black tyres, entirely suitable for tankers and cargo ships but most unsuitable for the average yacht. The Border policewoman who came to take our lines was wearing very high heeled shoes, a short tight skirt with a 9 inch split, sporting long red finger nails and a bouffant hair-do! When she bent down to take the lines and thread them through rings located about a foot down the side of the quay wall, Safari's skipper nearly had to be revived! The entire scene was absolutely hilarious even though we both had to keep straight faces and the camera in its case lest we ended up as unwilling guests of the Bulgarian police!



Varna (again):



On July 18th we returned to Bulgaria after our exploration of Romania. Once again, we opted to check in at Varna.

This time Varna was very crowded as all the local tourist Pirate ships were moored to the quay wall normally reserved for visiting yachts. 5 NATO warships were on exercise in the area and were due to visit Varna the following day so space was at a premium.

We were nevertheless made very welcome by the Yacht Club manager who remembered us from our previous visit and who kindly allowed us to raft up to one of the Pirate ships(free of charge) on condition we moved on by 0900 the following morning.

After our departure from Varna, we headed for Burgas Bay. We struggled against the current over the 28 mile stretch from Galata Head to Emenie Head. Our average speed was a mere 4.3 knots. So progress was slow.

The bay, with its 40 mile stretch across, is the largest in Bulgaria and is considered to be the main cruising ground for this region. There are a number of small islands in it and also a number of daytime anchoring possibilities. We had decided to spend a month exploring this area - keeping the best wine till last so to speak.



Sveti Vlas:



Our first port of call was the marina at Sveti Vlas which is considered to be an elite holiday resort.

We arrived off the marina entrance at 16.30 hours and were met by a welcoming rib. We had called them on channel 73 and for the first time in Bulgaria received an answer. On the way in, we passed over a 2.4 meter spot - nail-bitingly close to touching the bottom. As the first Irish-flagged yacht ever to call into this marina, the manager offered us a really good deal of

25 per night - very expensive for these parts.

After one night, we fled! Although the resort was really nice with an excellent beach nearby and excellent restaurants and there were toilets and showers at the marina, the disco in the marina started up at 22.00 hrs and continued unabated until 05.15 the following morning. The music was so loud that sleep was out of the question even with all the hatches closed. We both spent the night in the cockpit being blasted out of it!

So at 09.00 the following morning, we went to the office to settle the account. The manager explained unapologetically but kindly that this was a "Party Marina" and that things would not be changing! He didn't charge us for the night which was generous of him and advised us to head for Sozopol on the other side of the bay which might be more suited to our needs. (He really meant to our age-group!)



Nessebar:



We, however, decided to head for the famous town of Nessebar just 6 miles away. A slender isthmus connects the old town to the mainland. The 18th century wooden houses and the many mediaeval churches have helped it become a major tourist attraction. In Greek and Roman times it was a thriving port serving as a stopover for ships sailing between Constantinople and the Danube.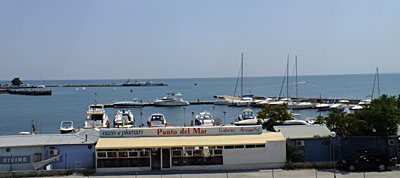 The new marina is Nessebar - with no room for Safari!

We departed with the intention of spending at least a week in the new marina in Nessebar. I had emailed them the previous week and was assured of a welcome.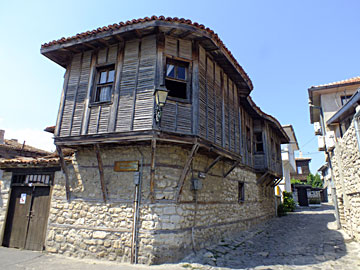 A typical Balck Sea house in the Old town of Nessebar

Upon our arrival, we had to tie up to an outer wall as no one answered our calls on radio. When we went ashore, we were informed rather brusquely that there was no room and we would have to leave. We also discovered that there were no showers but there was a toilet. What a bummer! Also after our sleepless night in Sveti-Vlas we were quite exhausted.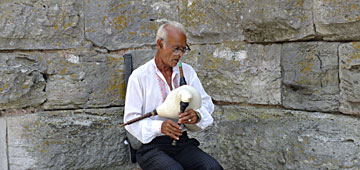 A  lone Bulgarian piper practises his craft in Sozopol



Burgas:



So off we headed across the bay to Sozopol, by-passing the city of Burgas, a dreary industrial town, which is also home to a major oil refinery and Bulgaria's largest fishing fleet. We had also heard dire reports of the facilities for private yachts in what is essentially a huge commercial harbour. Would Safari ever find a berth in Bulgaria?



Sozopol:



Sozopol was our last hope and it turned out to be a real gem! Without doubt it is the best marina in both Romania and Bulgaria. It is a proper marina with lots of boats of all shapes and sizes, wonderful facilities, even a laundry just outside the entrance and some workshops where repairs can be carried out. The cost of

250 for one month including water and electricity was brilliant. We finally had a home in Bulgaria. Apart from the marina, Sozopol is a major holiday town. Like Nessebar, the old town is joined to the mainland by an isthmus. In fact it is fast taking over from Nessebar as the more popular holiday resort.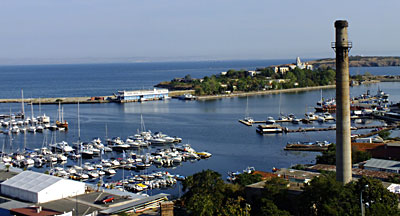 Harbour and marina at Sozopol

It has the added attraction of the small island of Sveti Ivan (St John) just a 20 minute boat ride from the mainland. Because of its wonderful location, it is the favoured resort of Buglaria's literary and artistic set and this is reflected in the quality of the art, music, theatre and museums around town and also in the Apollonia Arts festival which takes place there every September.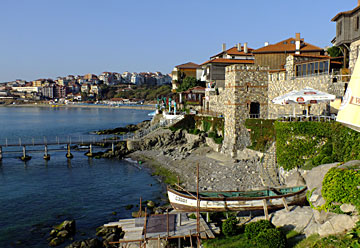 Old Town of Sozpopol with New Town in background

We thoroughly enjoyed our stay here and went to lots of musical evenings and spent many pleasant hours in the art galleries and archaeological museum. While there, we purchased a painting by a young artist from Burgas to commemorate our trip to the Black Sea.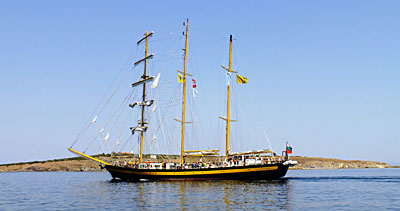 Bulgarian sail training vessel " Kaliakra" which berthed in the marina in Sozopol



Trips around Bulgaria:



During our month-long stay in Sozopol, we visited lots of other places by bus, car and boat including Burgas (it's dreariness was not exaggerated), Nessebar (old-world but overrun by many tacky souvenir shops), Veliko Turnovo (a magnificent mediaeval town in the Balkan mountains), a trip through the Strandja mountain range to the Turkish border town of Malko -Tarnevo and a boat trip over to Sveti.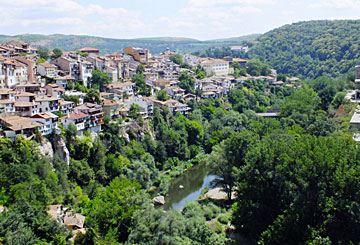 Medieval city of Veliko- Turnovo, ancient capital of Bulgaria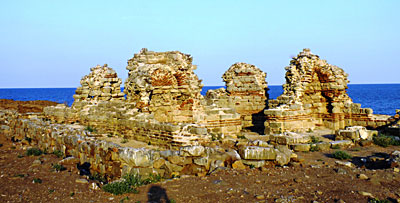 The remains of the Monaster of St John the Baptist from the 5th century AD
on island of Sveti Ivan

We also met up with a delightful English couple, Frank and Hilary Carden, who keep a boat in the marina. We went sailing with them in their Moody 31 around Burgas Bay on a number of occasions. Their friendliness and super company made up for the very reticent Bulgarians!

We never really sorted out the Bulgarians - were they just shy and reserved and unable to deal with English-speaking tourists or just downright unfriendly and not into customer service? They weren't all unfriendly of course as we were the recipients of many kind gestures from the people in the marinas and in particular the divers who organised to clean all the Black Sea marine life off Safari's hull prior to our departure!

Because the water in the Black Sea is less salty and a lot warmer then in the Med, there is a big problem with crustaceans and marine life in general attaching itself to the hull of the boats. Ours was in a particularly bad way so had to be cleaned before the 565 mile trip back to Didim in Turkey.



Tsavero:



Our final port of call in the Black Sea was Tsarevo, the last official port of entry/exit before crossing the border into Turkey. At 11.00 on August 20, we departed the marina in Sozopol and checked into Tsarevo 2 hours later after a pleasant sail down. A lovely warm welcome awaited us from the Border Police and Port Authorities.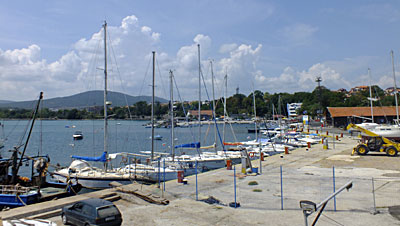 Tserevo harbour and quay wall

It is possible to spend a few nights here on the harbour wall and again unlike most other places in Bulgaria and Romania it has excellent showers, toilets and even a washing machine and dryer. The harbour master was very disappointed we wouldn't stay long enough to use the shower and the washing machine! There are no pontoons but there are some mooring balls in the harbour for visiting yachts.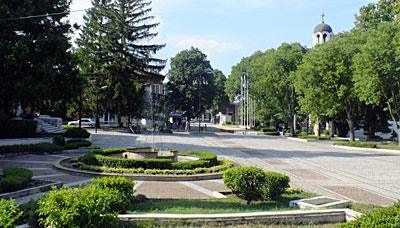 Peaceful town square of  Malko-Tarnevo, a major crossing point into Turkey

Had we known that, we would have included a few overnights here in our schedule but at this stage we were anxious to be on the move and get back down to Didim.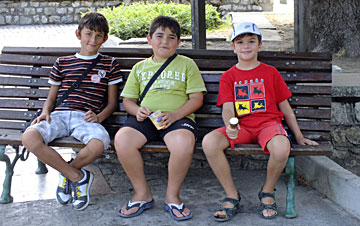 And for a change - 3 cheerful Bulgarians!

The checking-out procedure was uncomplicated and fast and by 16.45, after a stroll around the very pleasant town, we departed for Turkey and the Bosphorus. Our summer in the Black Sea was drawing to a close.



Tsavevo to Istanbul:



The overnight sail to the Bosphorus was not particularly pleasant. We rolled a lot in the lumpy sea caused by the famous Black Sea swell and both wind and current were against us. Our average speed was down to a little over 4 knots for most of the night.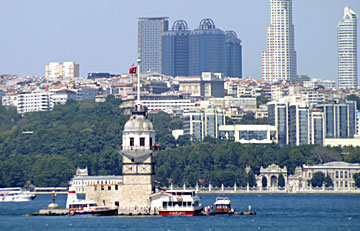 Finally back in Istanbul - The Maiden's Tower at the bottom of the Bosphorus

We were therefore quite delighted when we finally rounded the headland at Turkeli Feneri and entered the Bosphorus at 08.00 the following morning. Two and a half hours later we exited and headed for Fenerbache marina on the Asian side of Istanbul after a trouble-free and most enjoyable trip down the Bosphorus under engine.

The entire following day, August 22, was spent checking back into Turkey and acquiring a new Transit Log, a necessary document for all yachts cruising in Turkish waters.



South to Didim:



After spending 4 nights in Istanbul, we headed back across the Sea of Marmara, stopping once again on Avsa Adasi and Canakkale in the Dardenelles followed by stopovers in Ayvalik, Cesme and Kusadasi before finally arriving in Didim on Thursday, September 6. It was not all plain sailing due to the famous Meltemi which kept us in port for 5 days in Ayvalik and which gave rise to some other very anxious moments along the way.

The race to get into Canankkale ahead of a very nasty weather front was tight. It hit an hour after our arrival. We weren't so lucky on our trip down to Ayvalik. During the final 3 hours of a 13 hour sail, we battled against 35-38 knots of wind to reach the safety of the marina. However, that same wind also gave us some of the most exhilarating sailing we have ever experienced in this part of the world in particular from Ayvalik to Cesme and from Kusadasi to Didim when Safari hurtled along under sail recording average speeds of 7.5 knots.



In conclusion:



We spent a total of 10 weeks exploring Bulgaria and Romania, visiting most of their marinas. It was a fascinating voyage on many levels as both countries throw off the shackles of former dictatorships and become part of the expanded European Union.

During the communist era, owning a yacht was forbidden to most private citizens. Because of this, cruising for pleasure was virtually unknown. It is now emerging as an increasingly popular past-time with the infrastructure improving all the time. We heard many promises of showers and toilets to be built over the next year or two but there was little mention of improving refueling facilities in the very near future. So it is advisable to carry extra fuel in cans and top-up whenever and wherever possible.

Even Odessa in the Ukraine is opening up to pleasure craft. We heard, rather too late for our plans, that the entry formalities have been greatly simplified and that it is no longer necessary to pay extortionate fees to agents to check into the Ukraine.

Unfortunately, the southwest side of the Black Sea offers little in terms of anchorages as there are few suitable bays and only a couple of very small islands. The prevailing wind gives rise to a permanent lee-shore which would not encourage overnight anchoring. On the plus side, however, the winds are constant and much more predictable than in the Med, Aegean or Ionian Seas and there are few gales during the summer months. We experienced only 2 near-gales during our time there.

The passages through the Dardenelles and the Bosphorus should not deter others from venturing into this new and as yet very inexpensive cruising ground. As with so many other places with fearsome reputations, a combination of patience and the right weather are the key. We followed the advice given in the Cruising Guides and went north in May with the help of the southerly winds, returning in late August when the winds had switched to the northerly quadrant.

At present Turkish bureaucracy is a greater deterrent than either the winds or the currents, given that a day each has to be allowed in Istanbul for checking out and checking back into Turkey!

Nicky Allardice's "Cruising Bulgaria and Romania" was a great help (be sure to download and print off the latest supplement) as was the newly published "Black Sea Cruising Guide" by David Read Barker and Lisa Borre.

The article in the May edition of Yachting World "Beyond the Bosphorus to the Black Sea" (by Soo & Dave Young) was also particularly useful as it was based on recent experience. Up-to-date charts are hard to come by and much information on the electronic charts is out of date.

However, in spite of the very many challenges this trip presented, our summer in Romania and Bulgaria was a brilliant and truly memorable one and was well worth every second of time, effort and preparation that was required.