Since our last report from Varna on June 7th we have been exploring both Romania and Bulgaria.

As the distances between ports are pretty short - the longest about 55 miles - I thought it would be best to start the report in Port Tomis, Romania, our most northerly port and travel slowly down along the coasts of both countries to Tzarevo in southern Bulgaria which is the final and most southerly Port of Entry/ Exit before crossing the border into Turkey.



Romania:


There are 3 Ports of Entry/ Exit in Romania: Sulina, Port Tomis and Mangalia

There are also 3 marinas: Port Tomis, Eforie Nord, Mangalia



Entry/ Exit Procedures:



One first has to head for a Port of Entry, call the Border Police when about an hour away and ask for permission to enter the port.

You are then advised to call the Harbour Master when about a mile out from the harbour and also advised of the relevant VHF channel. The authorities inform the marina personnel and a welcoming committee awaits your arrival, generally consisting of the Border Police, Customs officials and Marina personnel.

In our experience no municipally owned marina in either

Romania

or

Bulgaria

had a radio !!

Sozopol (Bulgaria)

could hear you on Ch 88 but could not reply. The 2 privately owned marinas of

Sveti Vlas (Bulgaria)

and

Eforie Nord (Romania)

had radios.

The Border Police come aboard to do the paperwork but do not search the boat. They check passports, the ship's registration papers, a crew list and insurance documents. All documents are then signed and stamped with their stamp and the Boat's Stamp. You are then issued with a document which permits you to sail in Romanian/ Bulgarian waters.

This procedure was followed by a visit to the Harbour Master's office in Mangalia who also noted the boat's details.

When leaving each port, the Border Police has to be informed about an hour prior to departure and they once again came to the boat to complete the paperwork but do not search it. No money changes hands in either country.

They note your next port of call and obviously alert them of your impending arrival. The Border Police at Port Tomis (Constanta) were expecting us when we duly called to request permission to enter that port.

We were advised that all shipping including pleasure craft are monitored by video cameras as they ply their way up and down the Romanian and Bulgarian coast. Big Brother obviously still likes to maintain a presence in the Black Sea!

Although the process sounds cumbersome, it is child's play compared to the entry/exit procedures in neighbouring Turkey and it's all done quickly and with a smile!



Port Tomis (Constanta)



The port of Constanta is the largest port in Romania. It can berth up to 135 cargo vessels and tankers and has 28 kilometres of wharfs but does not welcome pleasure craft.

Port Tomis

which is a suburb of Constanta, is about 2 kilometres further north and is the designated area for pleasure craft.

Mooring is along the quay wall with electricity and water supplied. There is space for about half a dozen visiting yachts depending on their size. Toilets and showers are a 15 minute walk through 21 quayside cafes on the opposite side of the quay! Our bikes came in very handy indeed in times of dire emergency!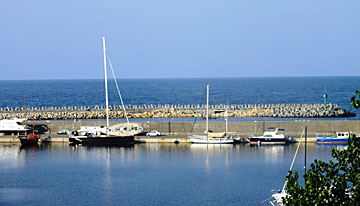 Safari alongside quay in Port Tomis with "Wolfhound" on the left

There was no laundry either at the marina or in town. Indeed, Laundromats are as yet unheard of in both Romania and Bulgaria and so my knuckles are worn to the bone from all the hand washing.

The charge of

115 per week including electricity and water was excellent value in our opinion.

18 per night was the standard charge for Safari throughout Romania.

Although the quay was open to the public, there was a security guard and barrier at one end and the Port Police were stationed at the other - so crime was non-existent!

In terms of the depth of the water, there was 4.00 metres at the harbour wall but some shallow patches in the middle meant that one had to keep close to the bows of the boats moored stern-to at the start of the pier while entering and exiting.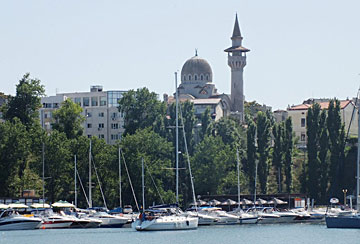 Pontoons in Port Tomis viewed from Safari

There was no room for visiting yachts on the pontoons which were located a lot nearer the office and facilities. Extra pontoons had been added a few years ago but in the dreadful storm of last February, some pontoons were blown away and have yet to be replaced.

As the entire operation was run by the Municipality, it was very much a Monday to Friday, 9 - 5 marina which was quite extraordinary.

In theory and in practise, you could arrive at 1715 on Friday, spend a delightful weekend and be gone by 0830 on Monday morning after spending 3 nights totally free of charge. If the ships' papers etc were in order, the Border Police were happy to let you depart. I kid you not! A security man held the key to the facilities when the office was closed. Finding him was sometimes a bit of a challenge and the cause of some discomfort from time to time!

One lovely aspect of staying in Port Tomis was the steady flow of visiting yachts which exited into the Black Sea at Constanta or Sulina (further north) having come down the Danube. We met about half a dozen wonderful sailors who entertained us over coffee and cakes with great tales of their exploits in the European waterway system - an entirely new territory for us.

The harbour was protected by a huge wall which gave a great sense of security to the place but which held in the heat and so created a sauna-like effect when it got very hot this summer. Temperatures rose to the high 30's during our stay there.

However it also failed to protect the boats that were on the hard along the quays last winter. As ice formed a slope on the outer side of the wall, the sea, instead of breaking against the wall, slid up and over it and broke on top of the boats below during one of the worst winters in living memory.

The water quickly turned to ice in the sub-zero temperatures that prevailed. Eventually, the boats became so iced-up that many of them toppled over and were seriously damaged. Unfortunately, one of them was an Irish Yacht "Wolfhound" which we were very sad to see over on its side upon our arrival there. It has since been taken care of and has moved on to a new home.



Port Tomis

itself is an attractive port in summer with a sandy beach and boasts a lovely promenade running along the coastline towards the Casino, one of the prettiest buildings in the area. It is a shame that no EU money has been made available for it's renovation as it is crumbling from lack of care.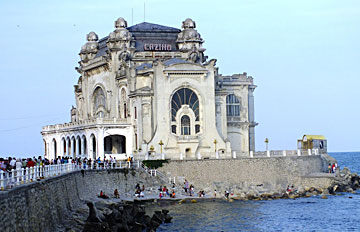 The magnificent but near derelict Casino on the promenade, Port Tomis

This promenade is very popular with visitors and locals alike who stroll along, enjoying the evening sea breezes, the wonderful view and the many talented musicians and artists who entertain them along the way. We joined them on many summer evenings. There is also an excellent National History Museum in Port Tomis where we whiled away a few interesting hours learning more about Romania and its past.



Constanta



Constanta was a 15 minute bus ride away on the number 2. At one stage, we were seriously in danger of becoming Mall Rats in our efforts to escape the suffocating heat of the marina!

We could choose from 3 ultra modern Malls in Constanta. All had the major European and American chains represented but also had wonderful air - conditioning which was the main attraction for us!

The biggest holiday resort in Romania,

Mamaia

, is also located just north of Constanta and attracts huge international crowds to its wonderful beaches and beachside hotels. We took the open-air bus out there on a number of occasions, once again to escape the intense heat of Port Tomis and Constanta.



Tulcea



Having heard so much about the natural beauty of the Danube Delta from other visiting yachts, we felt we simply had to see it for ourselves. We didn't feel like sailing up to Sulina where we could enter the Delta as Sulina is a commercial harbour with absolutely no facilities for pleasure craft.

So early one Saturday morning, we took the bus to Tulcea which is about 120 kilometres north of Constanta and located in the heart of the Delta. From there we went on a four hour boat trip through part of this natural wild-life wonderland. There were simply miles and miles of river and canals populated by many different species of birds and plants to hold our interest. It has to be a real paradise for ornithologists and lovers of flora and fauna.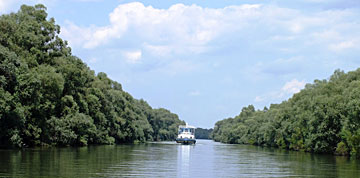 A view of the Delta taken from our river boat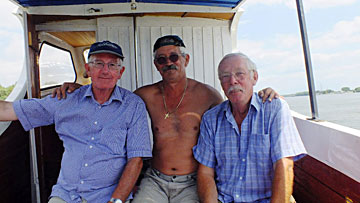 Three men in a boat enjoying a trip in the Danube Delta

After an extremely pleasant and fun afternoon on board a river boat skippered by an eccentric Romanian and his German friend, we returned to a very hot Port Tomis.

On Thursday July 5th we decided the time had come to head back down south towards the less intense heat of the marina in Mangalia, taking in Eforie Nord on the way.



Eforie Nord



10 miles due south of Port Tomis is the 2nd marina in Romania in a holiday town called Eforie Nord. Although there is a problem with silting at the entrance, we decided to go in and spend a night there. Because the marina is privately owned, they answer on VHF channel 16/73 and a rib comes out to escort you through the dredged channel.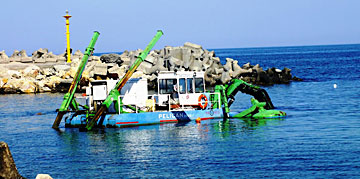 The dredger clearing a channel for Safari and others

The depth went down to 2.4 m which was nail-bitingly close for Safari which draws 2.1m ! Once inside the marina, there is 3.5 meters of water all round.

With clean showers and toilets, it is an attractive stop-over for yachts. The town itself is very much a holiday resort with a packed beach and souvenir shops side-by side with fast food outlets. It held little attraction for us, so after one night, we decided to push on to Mangalia which lay a mere 15 miles further south.



Mangalia



The 3rd marina in Romania is located in Mangalia which is also the most southerly Port of Entry/ Exit for Romania. As we had already spent a week here on entering Romania, we knew a real "Irish" welcome awaited us from Claudiu, the marina manager and the very friendly security staff upon our return and we were not disappointed!


The new marina in Mangalia overlooked by Soviet-era apartments

The port of Mangalia was once a thriving ship-building centre but this is no longer in great demand. So the town is developing tourism to try to counteract the high unemployment since the closure of many of the shipyards.

At first glance Mangalia town itself is downright ugly. Most of the buildings are from the Ceausescu school of architecture - plain square boxes devoid of any life or colour and with crumbling facades.

It is very much a family-holiday resort mostly frequented by Romanians.

It reminded me of Skerries just north of Dublin in the 50's and 60's with the candyfloss stalls and children's amusements, not forgetting the barrack-style building of the Red Island holiday camp overlooking the sea.

There are few hotels as people mostly opt for self-catering holidays. I loved the atmosphere of sheer simple delights and the absence of urban sophistication.

Apart from the fine beach, the major tourist attraction is the newly installed promenade alongside the marina and harbour.

There is lots of space in the harbour and some excellent pontoons were put in 2 years ago by the municipality. A huge draw-back is the absence of toilets and showers and laundry facilities but the manager assured us that building was scheduled to commence on a new block to include showers and toilets in October of this year.

We saw the plans but when we heard that EU money had been set side for the project, we became a little sceptical given the very precarious economic times we live in.! I have asked him to email photos when building commences. So watch this space!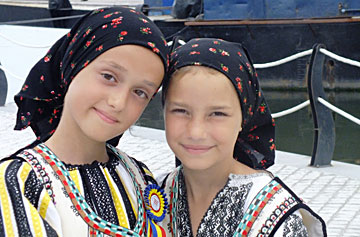 Two lovely young participants in the Mangalian Folk Festival

We found the Mangalians to be full of fun, friendly, warm -hearted and ever so helpful. One café owner opened up an entire section of his café and installed a TV set just for us so that we could watch Spain run rings around Ireland in Euro 2012 and we only bought 2 drinks! Later, we felt so guilty about that we returned to have a meal in his establishment by way of thanks but it was neither asked for nor expected though it was appreciated.

On our second weekend in Mangalia we were entertained by an open-air Folk Festival. The stage had been erected on the deck of an old barge moored about 20 metres out from the promenade and crowds sat and watched the free entertainment. It was a lovely experience.



Vama Veche



There was no tourist Information in Mangalia nor was it possible to buy picture postcards. When we enquired about nearby places of interest, we were told there were none!!! But we did discover

Vama Veche

all by ourselves! One day we spotted a small bus in town heading for a place called Vama Veche. So we hopped on and hopped off twenty minutes later into a brave new world far away in time and space from family-orientated Mangalia.

It turned out to be a "Hippy resort" - a left over from the Flower Power days of the 70's! Young people in near naked state and a little dazed looking were hanging out around their tents on the beach - all living in perfect peace and harmony with nature and one another!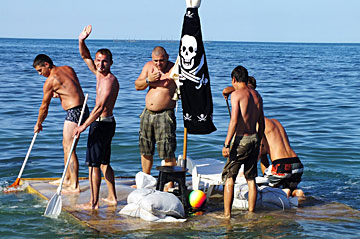 Setting sail from Vama Veche to God knows where

We had great fun strolling along the beach and watching the launch of a home-made ship! It was a quirky, fun place and a pair of ancient hippies like us were made to feel very welcome indeed by the newer, more modern versions!



Bucharest, Brasov and Transilvania



Because of the excellent security at the marina and along the promenade, we decided to leave Safari in Mangalia for a few days, hire a car and go exploring a little in Romania.

First we headed for Bucharest, capital of Romania.

Bucharest is a capital worthy of the title - a city full of life and culture, history and beautiful buildings. We were delighted with it in every way. While there, we went on the City Tour on an open bus - a great way of getting a sense of a place when time is of the essence. We spent 2 nights there in total.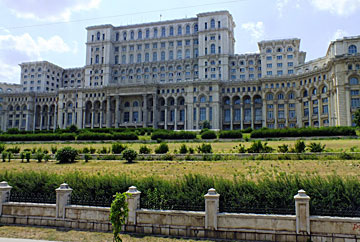 Ceaucescu's Folly -House of Parliament, Bucharest - the world's largest civilian building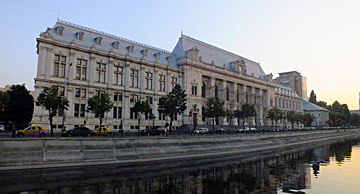 The Ministry of Justice, Bucharest on the banks of the Dambovita River

Then we drove to

Brasov

in the Carpathian Mountains via Ploiesti. The scenery along the way was simply exquisite. The villages of Sinaia, Predeal and Azuga were similar to Alpine villages with wooden houses and lots of colourful window boxes. There were high peaks and valleys with rivers flowing through them. It was a wonderful surprise!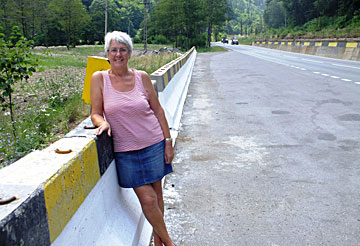 Carmel taking a break on the road to Brasov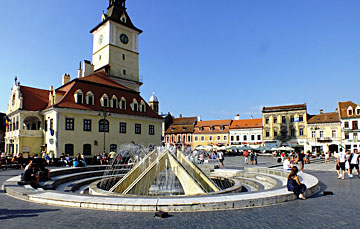 The very pretty Bavarian -style town square in Brasov

The town of Brasov is the most visited town in Romania. It has a very Germanic flavour with its Tudor style buildings in the town square and many castles in the region. During our 2 night stay there, we visited 3 of the major castles: at Rasnov, Bran and Peles.

Bran is marketed as the castle that most closely resembles the castle Bram Stoker describes in his novel "Dracula". We were thrilled to visit it as both of us are life-long fans of the Dracula legend. We had even downloaded the book onto our Kindles and re-read it in preparation for our trip to Transilvania!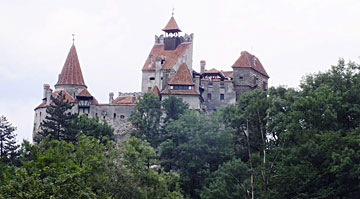 Bran Castle - country home of Count Dracula in Transilvania!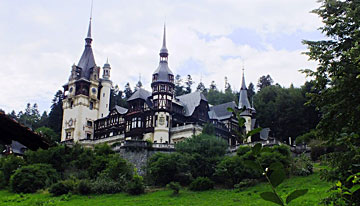 The fairy-tale castle of Peles in the Carpathians

I have to admit that we were reluctant to leave this part of Romania and our host, Daniel, who owned the superb Bed and Breakfast we stayed in while in Brasov. However Safari and Bulgaria were beckoning so off we headed in our" Dacia Logan" rented car back across the mountains to Bucharest and then on to Mangalia and to Safari.

Our five weeks in Romania were amongst the most enjoyable in a long time. We loved the country and it's friendly, good-humoured people. Even the language, which closely resembles Italian, was very manageable -a very far cry from the mysteries of the Cyrillic script in Bulgaria! I will tell you all about our adventures in Bulgaria in the next instalment!