From Sardinia to Turkey via Italy and Greece
May to July 2011
Posted: 02/08/11

By Wednesday May 25 we were ready to leave

Alghero, Sardinia

to begin the 1200 nm voyage to

Kusadasi in Turkey

.

At 1025 hrs we headed out past Capo Caccio, through the Fornelli Passage and along the north coast calling into Stintino and Castelsardo before arriving 2 days later in Santa Teresa di Gallura which would be our jump off point for Fiumicino on mainland Italy.
From May 27 to June 2 we were kept in port by nasty gales.



Santa Teresa di Gallura



Upon our arrival in

Sta Teresa di Gallura

, we were delighted to discover that the nightly charge for a berth during May was

10. This doubled on June 1 and again on July 1 before hitting the High Season price of

80 per night for August. While in port, we visited the

port of Olbia

on the East coast by bus, explored

Ste Teresa

on foot and had a great time with some friends from Alghero, Peter and Doreen who were also sitting out the bad weather in the marina.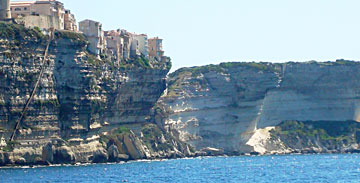 Bonifacio with it's cliff top dwellings

We also included a quick trip over to

Bonifacio in Corsica

, only 12 miles across from Sta Teresa. Its location on top of the cliff was pretty spectacular viewed from the sea but we did not linger too long as we found it very touristy and pricey.



Heading for Fiumicino



On June 1 we made our first attempt to head east for Fiumicino near Rome, an overnight trip of 137 nm but returned to port after 3 hours on foot of a new gale warning which was issued for the entire Western Mediterranean.

What a wise decision that turned out to be as one of the worst gales we have ever experienced hit Sta Teresa that afternoon. The downpour that accompanied the gale force winds was so dreadful that we thought the entire town and the marina along with it would be swept out into the Straits of Bonifacio!

By 0900 hrs the following morning, as if by magic, all was calm and sunny again and lots of yachts began putting to sea. After comparing a number of forecasts, we, too, decided to head off at 1200 hrs. Oddly enough it was as if the storm never happened. The sea conditions were fine.

In the early part of the trip we got a nice lift from a northwest 3-4. But by 1700 hrs the wind had died off altogether and the sails were back in their covers. We hoisted the sails later on when some wind returned and were at least able to motor sail through the night accompanied for a while by a very playful school of dolphins.



Automatic Identification System (AIS)



Our first night passage of the season was a most pleasant experience due mainly to the recently installed AIS. All commercial shipping is obliged to broadcast a range of information including the ship's name, its course and speed. A "black box" on our boat detects this information and displays it on our laptop. Most importantly it calculates how near or far the closest point of approach will be.

This has put an end to my fear of sailing in the dark and of crashing into targets which are, in fact, miles away. It also guarantees uninterrupted sleep for my skipper when I am on night watch!



Arriving in Fiumicino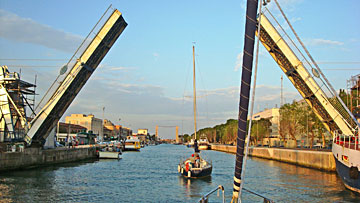 Entering the Fiumicino Canal

25 hours after leaving Santa Teresa, we were off the

entrance to the Fiumicino Canal

in perfect conditions. As Constellation Nautica lies up-river of the 2 lifting Bridges in the canal, we had to wait 7 hours for the next opening. There are only 2 openings each day at 0630 and 2000.Weekend times are different.

Luckily we had thought to book a berth in Darsena Traiano on the sea-side of the Bridges to await the opening. It was well worth the

20 they charged as we could now relax for the rest of the day and have a nap. We contacted Constellation Nautica and arranged for help to be on hand upon our arrival later that evening.

At 1950 sharp we excited the Darsena and in the company of another few boats transited both bridges and rafted up at Constellation Nautica in a very strong current without incident.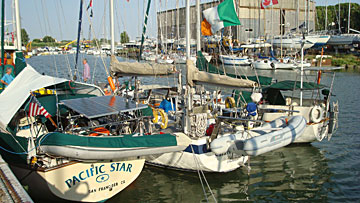 Rafted up in the Fiumicino Canal



Constellation Nautica - Fiumicino - Rome



We had decided to

spend the entire month of June at Constellation Nautica

so that we would have plenty of time to become acquainted with the delights of Rome. At

240 for the berth plus

80 for water and electricity for the month this represented excellent value for Italy which is famous for the outrageous prices charged by the marinas during the summer months.

Fiumicino itself could not be described as a Des Res district with its fish and flower markets and constant air traffic overhead but we loved it! It was quirky and real and had all the facilities cruising folk could wish for.

The staff in the Boatyard, headed up by the owner, Renzo, were super friendly. The facilities were more than adequate and included a washing machine for clients' use.

The busstop which serviced the airport and the metro into Rome was just outside the gate and a large supermarket, EMME PIU was literally across the road with the option of a Eurospin (a Lidl style supermarket chain) about a kilometre away. There was a choice of 2 chandleries but most satisfying of all was the collection of interesting cruising folk who were also there.

There were visiting yachts from Ireland, England, France, Spain, the Netherlands, Canada and the United States with a few Italian boats thrown in for good measure! A lovely atmosphere prevailed with lots of exchanges of information and hospitality. All were using Constellation Nautica like us as a base for exploring Rome.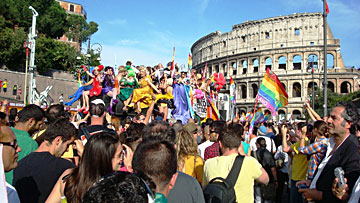 Some happy participants in the Gay Pride Parade

During the month we visited as many of the wonderful sights as possible which included an unexpected Euro Gay Pride Parade. A friend from Ireland and ourselves happened upon it while visiting Circus Maximus and the Colosseum. We didn't stay for Lady Gaga's free concert but we did enjoy the fun and madness of the parade itself.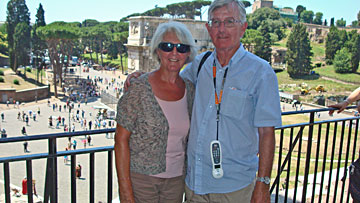 Skipper and First Mate explore ancient Rome

We also marvelled at the ruins of the

ancient port of Rome

in nearby Ostia Antica and took an overnight trip to

visit Vesuvius, Pompeii and Naples

.

Whereas Pompeii and Vesuvius most certainly impressed, we were delighted not to linger too long in the filth of Naples. Back at Constellation Nautica the month of June was coming to a close and the raft was breaking up with the boats all heading off in different directions.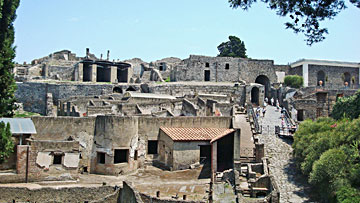 Main entrance to the ruined town of Pompeii



Our plan was to head for Turkey as fast as possible

because of the crowds that would abound in the marinas and anchorages during the high season months of July and August.



Fiumicino- Vibo Valentia



At 0900 hrs on Sat, July 2 we

departed Fiumicino

and headed back out to sea. A good 'ole swell was awaiting us with the wind unexpectedly from the southwest which ensured that we rocked 'n rolled our way down the coast towards our destination, Vibo Valentia some 255 nm away. We planned to position ourselves there for going through the Straits of Messina into the Ionian.

With the ever-changing winds, we soon found ourselves sailing along at 7 knots on a lovely broad-reach. It was delightful until a gale warning was issued at 1410 for the Central Tyrrhenian Sea, East Side which is exactly where we were!

Upon checking the Cruising Guide,

San Felice at Circeo

seemed like a reasonable option. We phoned to check if a berth would be available. One was and we proceeded to fork out

110 for a night in one of the worst marinas we have ever visited.

The wretched gale never materialised but our Dutch friends from Fiumicino did and we spent a pleasant evening in their company. We decided on a very early 0530hr departure the following morning because, weather and everything else permitting, we

wanted to reach Vibo Valentia

, which lay 195 miles further south, in one overnight.

The wind, when it did come up, was supposed to be from the north but was in fact right on our nose. Our speed of 4.8 knots was fairly miserable.
By 0900 hrs we were close-hauled and barrelling along at 6.3 knots in a very bumpy sea with lots of spray cooling us down! The forecast bore absolutely no resemblance to the reality of the conditions. It was so uncomfortable that we had doubts about going on through the night.

But by late afternoon conditions had greatly improved and we eschewed the option of another 100 night in an Italian marina!

We now know that Italian marinas cater mostly for the super-yacht, gin-palace class of boat and not for humble yachts like Safari of Howth.


Ken testing our new bow ladder
made entirely by himself!

That night turned out to be peaceful but we were kept busy with the many ferries that were plying their trade up and down the Italian coast. With the help of our trusty AIS, they posed no threat at all even when passing within a mile or so.

By 1600 hrs the following day we were making our approach into

Vibo Valentia

heading for marina Stella Del Sud which had come highly recommended. It was an affordable

40 per night with wonderful 5* facilities and the owners, Angela from Canada and her Italian husband, were an absolute joy to deal with. With Ryanair flying into Lemezia just 20 kilometres away, this is fast becoming a popular overwintering spot.



Vibo Valentia -Cephalonia



After 2 very enjoyable nights in the marina, it was time to stock up and fuel up once again and head for Greece. On Wednesday July 6 we did just that. Departing Vibo, we proceeded the 11 miles along the coast towards the

Straits of Messina

passing some amazing scenery along the way.

By 1600 we were well into the Straits, motoring along on the east side. This is a super busy corner of the world. At one point we had 2 of those amazing Swordfish boats off our port stern with a hydrofoil thundering northward along with a couple of cargo ships also passing to port, not to mention the ferries criss-crossing in front of us between Reggio di Calabria and Messina in Sicely. I was glad of the daylight! It was a strange feeling to find oneself literally sailing between Scilla and Charybdis - the Homeric equivalent of a rock and hard place.

Things remained pretty hectic and busy throughout that first night with lots of targets heading up and down to the Adriatic and back and forth to the Aegean.

It was during this time that we first picked up a transmission on channel 16 asking all vessels to respect the United Nations embargo on Libya. It brought that whole situation so much closer.

The passage passed quickly with some sailing and motor sailing and by 1115 hrs the following morning we found ourselves docking at the quay wall of

Argostoli, the main town on Cephalonia

- the island made famous by Captain Corelli and his mandolin. We duly reported to the Port Police and after signing in and paying a fee of

15 each for the transit log, our very own Greek Experience began!



Greece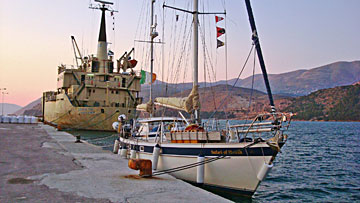 Alongside in Argostoli, Cephalonia

We spent 3 nights on the quay wall of Argostoli with no facilities, followed by 3 nights at the marina in

Mesolonghi

with wonderful facilities and a night on anchor at Mesolonghi, then 3 nights in the marina at

Itea near Delphi

once again with no facilities.

It was certainly cheap in Greece - about

9 per night in Argostoli and Itea, paid to the Port Police and just

22 per night in Mesolonghi marina. So cost was not an issue but the chaotic nature of the nautical facilities most certainly were. Calls on VHF mostly fell on deaf ears, even distress calls, as we were to discover.

There were no phone numbers to call and check if a berth would be available in a marina and if one was lucky enough to find a berth, there were no facilities or personnel on shore to take a line.

There seems to be lots of unfinished marinas. It would appear that when the money ran out so did the developers. It's a shame to have the basic infrastructure in place but have it all fall asunder because no-one will take responsibility. Such a waste of EU money!

The people themselves were welcoming and friendly but seemed much fed up with their situation. They were particularly sympathetic to us when they heard we were from Ireland- another sinking EU ship!



Argostoli- Mesolonghi - Itea



We enjoyed our stay in Argostoli which is a small tourist resort.

Mesolonghi was a huge delight situated as it on a lagoon surrounded by salt marshes. It is accessed from the sea via a buoyed channel and the many fishermens' houses on stilts create a very special landscape. We loved it and would definitely return and consider overwintering there.

The marina which is owned by a Dutch-Greek partnership was very much an exception to the general rule of marinas in Greece and is well on the way towards achieving excellence.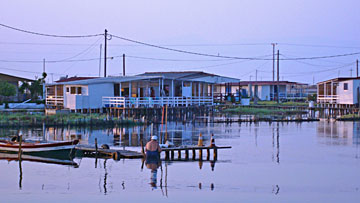 Fishermens' houses in Mesolonghi



We went to Itea in order to visit Delphi which was to be the highlight of our stay in Greece.



It was on our way up to Itea that we heard a pan-pan call on Channel 16. When it was repeated a few minutes later with greater urgency, we responded even though it was difficult to sort out what was being said. We soon established that it was a nearby French couple trying to speak English so I at least was able to communicate with them in French which was a great relief to them.

We motored across the bay to their aid. Their engine had failed and so had the wind so they were drifting fairly helplessly towards the cliffs. They had already launched the anchor in an effort to slow down the boat and were about to launch the dinghy to try and tow the boat away from danger when we appeared.

As luck would have it, they got the engine going again as we approached but we stayed with them until they had reached the safety of the harbour. The disturbing fact was that no-one but ourselves answered their call in spite of a large Port Police presence in nearby Itea and the presence of a very high- powered rib in the marina which had Port Police in large white lettering along both sides.

On Monday July 18, we planned to go to Port Corinth from where we would go by train into Athens to visit the Acropolis. We

departed Itea

at 1000 hrs and covered the 36 miles to

Port Corinth

which is at the entrance to the

Corinth Canal

by 1545 hrs. We heard on the VHF that a convoy was about to transit the canal from the Corinth side. We made a quick decision, called the Canal authorities on Channel 11, and before we knew what was happening we had paid the fee of

205 and were exiting into the Aegean Sea!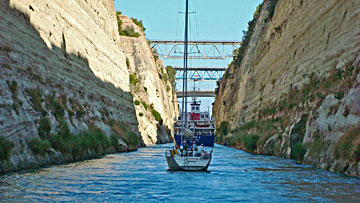 A tight squeeze in the Corinth Canal!

So off we headed for another night at sea. Athens would have to wait for another time. We planned to arrive at the island of Kythnos by early morning and spend a few days there in Loutra.

We were pretty busy dodging targets of all shapes and sizes because of the proximity of Athens in the early part of the night but soon we were free of traffic and the rest of the night passed peacefully.

Next morning we duly arrived at

Loutra on Kythnos

but finding it choc-a-bloc we quickly retreated and decided not to seek out an anchorage but rather

press on to Mikonos

which was about 45 miles away.

Upon our arrival there at around 1700 after the usual mixture of sailing and motor sailing, it, too, was full.

By now the Meltemi was blowing fairly fiercely - between 25-30 knots and we were pretty fed up with the whole situation. We knew Greece would be busy in July but not this busy and were taken by surprise with whole lack of communication problem.

We then decided to

continue on to Kusadasi

which was an overnight sail away with the help of the famous Meltemi!



Kusadasi



After passing through the straits between Mikonos and Tinos, the bumpy sea and really strong wind eased somewhat and Safari danced along through the night towards Kusadasi. After a fairly hectic night between strong winds and plenty of traffic, we arrived in the

Setur Kusadasi Marina

at 1100 hrs the following morning on Wednesday July 20.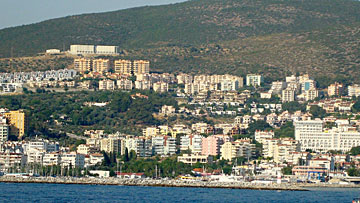 Kusadasi with the marina in the foreground

What a relief to arrive in a marina which answered on VHF, sent out a dinghy to meet and greet and had plenty of help on hand for berthing! We will have all the time in the world to revisit Greece as we have booked into this marina for a year. As many of the Greek islands are very close by, we are already looking forward to visiting them but definitely not during the High season!
---