A month in Cyprus with Ken and Carmel Kavanagh
February 2011
Posted: 26/02/11

We can't complain that our life isn't full of variety! Last year we spent the month of February exploring Cuba on board Safari of Howth, this February has been spent discovering Cyprus, not with Safari as our base but rather a lovely villa complete with pool high up in the hills above the town of

Pafos

in southern Cyprus.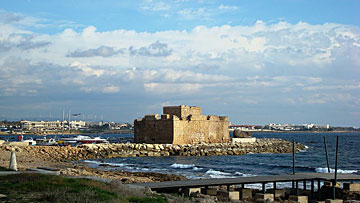 Pafos harbour and castle

While Safari copes all alone with the vagaries of the Sardinian winter in

Alghero

, we are enjoying the much more benign conditions of a Cypriot winter. Although not warm enough to go swimming in the pool, the days are reminiscent of the balmy summer days of yore in Ireland before the effects of global climate change brought so much wind and rain to Irish summers.

My memory of Cyprus before arriving here was very much tied in with pictures of sun-tanned Irish soldiers sporting the blue beret of the UN peace-keeping force, arriving back in Dublin airport after a tour of duty in a place called Nicosia! It sounded exotic and very far away at that time but has now become nearly as familiar to us as Dublin.



History and Archaeology


Ken and I have spent the last month marvelling at the wealth of history and archaeology that abound literally in every tiny village and hamlet of this island. The smallest village boasts at least one archaeological site of note and an ancient monastery or two. The first Greek word you learn is Ayios/ Agios meaning holy or sacred because it appears with such frequency on the brown signposts directing you to yet another monastery or holy place. The archaeological sites are in pristine condition which is a testament to the respect the Cypriots have for their history and many of the monasteries and churches, although dating from early Christian times, are still in daily use today.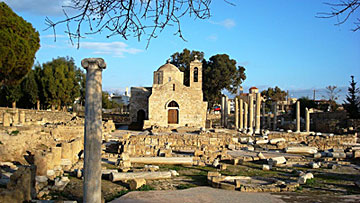 Agia Kyriaki in Pafos

An example of this is the

Ayia Kryiaki in Pafos

which dates back to the Byzantine era and where we attend Sunday mass in Latin. Both of us had great fun recalling the Latin responses we had learnt at school! I have decided I would like to revert back to the Latin mass - its much more mysterious and reverential.

The beautiful and famous

monastery of Ayios Neofytos

which is very close to our house is also still in use, housing 10 monks at the moment. We recently went to visit the

hermitage of St Neofytos

there which he cut into the cliff-face in an attempt to safeguard his privacy at the height of his fame. It's rather reminiscent of

St Kevin's Bed in Glendalough

although in a much sunnier and warmer location.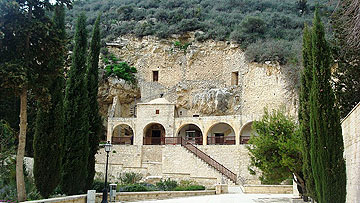 St Neofytos' dwelling in the cliff face

The

Roman mosaics in Pafos

are in stunning condition and are considered to be amongst the finest in the Eastern Mediterranean. The castle in the little port of Pafos dates from the Lusignan period and the Tombs of the Kings a little further along the main seafront road date from the Hellenistic period. The exploration of the historical and archaeological wealth in Pafos alone would keep us busy for a lot longer than a month! It is interesting to note that many of the excavations have been carried out by the University of Warsaw. This gives rise to an unexpectedly large Polish presence in and around Pafos which came as a surprise to us.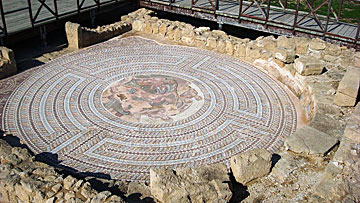 A fine example of the Roman mosaics in Pafos

When you take into account that there are 9,000 years of history on this island, that it is located at the crossroads to 3 continents, Europe, Asia and Africa and that it has been invaded and occupied at different stages by nearly everyone from the Egyptians in 750 BC right up to the Turks in 1974, then one can appreciate the variety and wealth of culture that have left their mark here.



Cyprus- a divided country


Sadly, Cyprus is a bitterly divided country and

Nicosia

(known locally as Lefkosia) is the last divided capital in Europe. When we did a bus tour to Nicosia, we didn't venture across into the occupied zone but chose to view it from the lookout tower which is located on the top of Debenhams.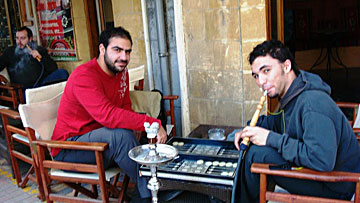 A smoke and a game of Backgammon in Nicosia

After quickly taking a look at the multitude of restaurants and souvenir shops which have taken over the lovely Old City of Nicosia inside the Venetian Walls, we actually spent most of our time in the

Cyprus Museum

which houses the best collection of archaeological artefacts on the island. It was well worth it as most of the original finds are here whereas imitations are in the less important museums around the country.

Since 1974, when mainland Turkey invaded and occupied the northern part of the island, it is known as "the occupied zone", never the Turkish zone. The Turks are the invaders and are despised by the Greek Cypriots but this intense dislike does not extend to actual Turkish Cypriots - just the Turks from the mainland.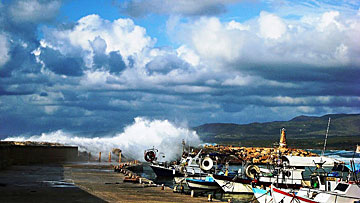 Rough seas in fishing harbour at Ayios Georgios northwest of Pafos

Now it would appear that the Turkish Cypriots themselves have become somewhat disillusioned with their champions and masters and in recent weeks have been demonstrating in Nicosia about living conditions under their rule.
It is gradually dawning on them that they are first and foremost Cypriots and might achieve greater prosperity living peacefully and equally side by side with their Greek Cypriot counterparts.
So hope and change is in the air as it is in this entire region. One can only hope that if and when the reunification of the island takes place that it will happen in a civilized and peaceful manner.



Some difficulties


Sorting out the complications that the invasion by Turkey caused will not be easy. As a result of the occupation, all Turkish Cypriots had to leave their homes in the south and become refugees in the north and any Greek Cypriots living in the north had to move to the southern part of the island, all becoming refugees in their own country.

This gives rise to a peculiar situation where whole cities like

Famagusta

which is in the occupied zone are like ghost towns today because there was a heavy concentration of Greek Cypriots living there prior to 1974. They had to abandon their homes and their jobs and move south into the Greek Cypriot zone. There is no easy solution to this very messy problem but we have been told that it is being worked on at the moment.



Kryenia


We did eventually cross the border to visit the beautiful town of

Kryenia

in the occupied zone. We decided to take a bus tour and thus avoid the complications of taking a car across the border as neither country recognizes the motor Insurance of the other.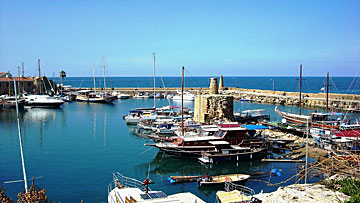 Kyrenia harbour in the occupied zone

The harbour with its

Shipwreck Museum

, the

old Byzantine Abbey

and

Basilica

are well worth seeing.
Since the invasion, Kryenia has been taken over by developers. Apartment blocks and very prosperous looking villas have sprung up all over the place. We were told that it was mostly Turks from the mainland who owned them and were therefore resented but we saw evidence of a strong British presence as well. The cost of living in the north is about half of that in the southern part of the island.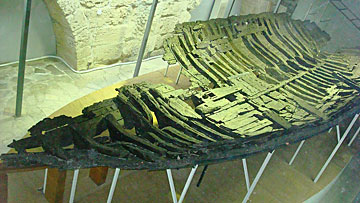 Remains of ship which sunk 2,300 years ago outside Kryenia harbour
The British in Cyprus

It is worth noting that the Cypriots really welcome the British and kind of look upon them as their saviour.

Whereas it is true that the huge number of British expats who have settled in southern Cyprus around

Pafos, Limassol

and

Larnaca

have saved the country from financial ruin, the many houses and apartment blocks which have been built to house them really destroy the heart of many small villages mainly around the coast and are a blight on the landscape of this beautiful country. But business is business, as they say!

However, all is excused and forgiven by the Cypriots who rather benignly refer to the 92 years of British occupation of the island as the "British Administration".

Coming from Ireland myself, I thought this was rather quaint!


Staue of the much loved
Archbishop Makarios
in Panayia, his birthplace

There is also a strong British military presence here - again something that surprised us. After the British withdrawal in 1960, it was arranged with the Cypriots to leave a garrison of British soldiers on the island. There are about 10,000 soldiers living with their families in

Episcobi, Moni and Lanarka

. They are a self-sufficient community in that they have their own schools and hospitals and supermarkets etc and are not in evidence amongst the general population at all. We haven't come across one single British soldier in uniform although we have been to both Episcobi and Larnaca.



Other places we have visited


There is a fantastic beach near

Episcobi

which is a rarity in Cyprus as most of the beaches have grey, gritty sand. We also spent some time in the justifiably famous

archaeological site at Kourion near Limassol

and spent a day exploring

Larnaca

which is the sailing centre of the island but more about that later!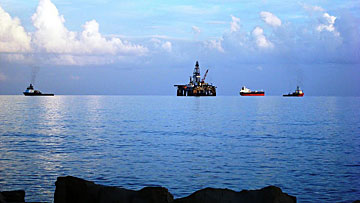 Oil rig in for repair in the Bay of Limassol

We have been to

Limassol

, locally known as Lemesos, a number of times. It is only a 45 minute drive from Pafos. As the most expensive city on the island, all the top class hotels are located there and there is excellent shopping. As it's a fairly new city by Cypriot standards, (it only came to prominence in the 12th century!), there isn't a lot to see and admire. Most of the old town with its Turkish bazaar and castle is a building site at the moment. All the roads in the tourist area have been dug up and there was little sign of them being reinstated while we were there!

In fact, digging up roads must rate nearly as high on the list of Cypriot national pastimes as playing Backgammon in the Tavernes! During our first few days here, we had huge difficulty finding the way back to the house because every day a different road was closed off for repair and there were diversions into unknown roads and areas. I kid you not!

But back to Limassol for a moment! It has the reputation of being very best "Party Town." on the island. So if its action and history of a different kind you are after, go to Limassol in September for the wine festival. (One of 3 festivals held each year). I gather its a wild and very unforgettable or perhaps forgettable experience depending on how much wine you imbibe!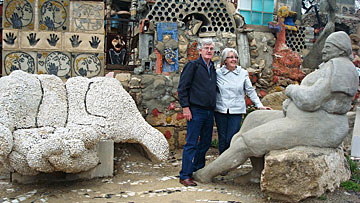 Carmel and Ken visit the Cypriot College of Art in Lempa

By the way, Cyprus does produce some excellent vintages. There are plenty of wine tours and trails for wine lovers with excellent wine at reasonable prices available form local wine shops.

The Russians have settled in Limassol in large numbers and apparently like to launder their money by investing in gambling establishments and topless bars etc.

It has also become the main commercial port of southern Cyprus since the invasion in 1974 when the port of

Famagusta

, just north of Larnaca, was made redundant and all commercial shipping had to transfer to Limassol. Many of the ships at anchor in the bay are awaiting entry into the port.

We were delighted to discover a Lidl supermarket there. It was the busiest Lidl's we have ever been in. Apparently the company has finally discovered Cyprus and are planning on opening more shops around the island in the near future. This will upset the local supermarket chain "Papantoniou" which have hundreds of branches throughout southern Cyprus. Food prices are cheaper than in Ireland and the quality is excellent. Eating out is also an awful lot cheaper than at ahome.

We have also taken side trips into the

Troodhos Mountains

where we hiked up to the

Kaladonia Falls

which were magnificent and to a nature reserve on the rather remote

peninsula of Akamas

which is not too far away from Pafos. We have been to the lesser towns of

Polis

and

Latchi

as well and to many archaeological sites we encountered en route to the different destinations.



Sailing in Cyprus


Part of our reason for coming here, was to check out the possibility of including Cyprus on a future itinerary with Safari. Sadly, that is most unlikely to happen.

There are few marinas and no safe anchorages to speak of. There is a new, much needed and much talked about

marina under construction in Limassol

but no one seems to know when, if ever, it will be completed. The two main sailing centres are in

Larnaca

and

Latchi/Latsi

in the Greek Cypriot part of the island.

Seafront at Latchi

There are others in the occupied zone in

Kryenia

and on the

Karpas Pensinsula

but if you once check into a marina up there, heavy fines may be incurred if you try to bring the boat south.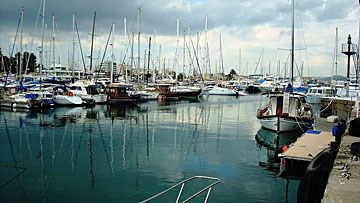 A section of the marina in Larnaka

When we visited the

marina in Larnaca

, we were delighted with it size and facilities and the overnight cost of

8.60 for a 42 ft boat was most attractive even if one had to pay a minimum of 3 nights even to come in for fuel! (An extraordinary way to make money, we thought!) But there are absolutely no vacancies. Even in the summer, berths are very scarce and there is little space for visiting yachts. The manager told us that he uses the outer wall for visiting, short-stay yachts but if the wind blows from the Northeast then it becomes untenable and the yachts have to put to sea.

That didn't sound too encouraging to us as the nearest marina is an overnight sail to

Latchi

on the northern coast of the island (but in the Greek Cypriot zone) We also paid a visit to the marina there. Whereas it is located in a most attractive spot, it is not a very big marina and looked quite exposed. It, too, was full with local boats and would have little space for visiting yachts. The port in Pafos is very small and mostly taken over by tourist craft. The marina in Limassol is in poor condition and doesn't welcome visiting yachts at all.

And that seems to be the sum total of the sailing possibilities in the southern part of Cyprus.
Ken and I have to admit to being really disappointed and somewhat surprised that sailing isn't a more popular sport here in spite of the guaranteed sunshine and the beautiful blue water of the Mediterranean.

A number of expats we have spoken to

keep their boats in Turkey

which has the best cruising ground of the entire Med and where prices are really affordable. They find a marina located near an airport or Ferry port because, as there are no flights from southern Cyprus to Turkey, you have either to go by car to an airport in the north or take a flight to one of the Greek islands-

Rhodes

is a favourite- and then a ferry across to Turkey. There are many ways to skin a cat, as they say!



Cyprus - an overview


I would recommend a holiday in Cyprus during the winter months to anyone seeking a cheap and cheerful break from the cold of the more northern climes. It's a great place for hill walkers, nature lovers, those interested in history and archaeology as well as sun seekers.

As January, February and March are off-season, there are great bargains to be had. You won't be lying out on the beach every day but you will get a tan just walking around and occasionally finding a nice sunny corner to sit in to enjoy the sunshine.

If you were thinking of a longer stay, there is a very well established expat community which welcomes newcomers with very friendly open arms! Great bargains are to be had renting villas or apartments for 6 month periods and if one were to consider investing in a property for oneself, there are lots for sale at the moment because of the economic downturn in the UK and Ireland. Wonderful deals can be worked out with any one of the myriad of Real Estate Agents which are found in every town alongside the local archaeological site! And to add icing to the cake, there are great tax breaks for those who wish to become expats- very tempting indeed!

Our experience of Cyprus and its people has been a very positive one and we are pretty confident that we will return one day.
---