Touring Northern Sardinia by Road
November 2010
Posted: 1/12/10



Safari winters in Sardinia


First of all, let me sympathise with all our compatriots in Ireland who are not only freezing from a cold snap unprecedented for November but also from an equally unprecedented economic hurricane which threatens to destroy our country for generations to come. We thought we were having a tough winter here in Sardinia on board Safari but both climatically and economically life is a real bed of roses here compared to Ireland!

As I have fallen seriously behind with my emails to family, fellow cruising friends and land lubber friends, I thought the best solution would be to send a general report of our life here in Sardinia with a sincere apology to all for not replying personally to the many emails we have received over the past month.



Alghero


A week after returning to Alghero on October 27th following a wonderful 5 week visit home, I found myself once more on the Ryanair direct flight to Dublin because an elderly relative of mine, Carmel Hutchin, had become ill and in fact died while I was with her in Ireland.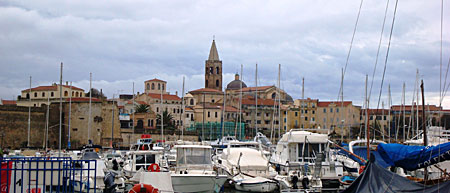 The cathedral spire in the Old Town in Alghero

On my return to Sardinia, the weather had deteriorated significantly with one fierce gale after the next blowing through. If a Libeccio is not screaming up from the Southwest, then a Tramontana will be hurtling down from the Northeast. After it finally blows itself out from pure exhaustion, the much dreaded Mistral will surely appear out of the N- Northwest and cause havoc for a few more days before it dies away and we all await the next round of exciting weather. I kid you not!


Another Storm on its way

This has been and continues to be the pattern of gales since the end of October. All the locals agree that these conditions are not normal for Sardinia in November but admit that it looks like the climate has changed and that these unfavourable changes are here to stay.

As these gales are frequently accompanied by torrential rain, life on board Safari is far from ideal. When the wind is not howling and the rain beating down, then the swell from a very agitated sea will ensure that the boats heave and squeak so much that sleeping in our cosy berths in the aft cabin is impossible.

All the boats are moored Mediterranean style with the stern attached to the pontoons with heavy springs which absorb the shock of the constant movement but the creaking springs kick up such an unholy racket that life aboard becomes most uncomfortable in particular in the dead of night.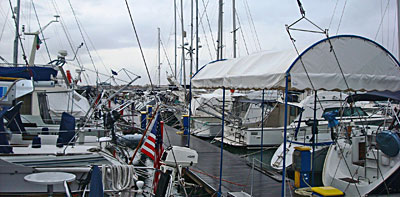 All the boats are moored Mediterranean style with the stern attached to the pontoons

Another huge frustration is that we have been unable to complete the recaulking of Safari's teak deck - a job that was supposed to keep us busily occupied until our next visit home in December. The constant rain means that the deck never fully dries out so we will have to await the sunnier and warmer days of Spring.

There are always jobs to be done on a boat so we have been getting through a list of small internal jobs while the weather outside is so inclement- so all is, in fact, not lost!

Our niece, Catherine and her boyfriend, Mark joined us last week for a weeklong holiday and really cheered us up. They were escaping from the climatic and economic doom and gloom of this current winter in Ireland and we were delighted to welcome them.

Given the unstable weather here, sailing was out of the question so we decided to explore some of Sardinia on land and what a rewarding few days that was. Even though most of Sardinia appears to be closed for the winter, the magnificent scenery with its multitude of wonderful archaeological sites are "open" to the odd stray tourist!

After a day or two visiting Alghero and its environs, we rented a car and off we went. As Sardinia lies equidistant from the Italian mainland and the Tunisian Coast and is a mere 12 miles across the water from Corsica, it is truly a cultural melting pot. However it does manage to retain its own identity with its own language and distinct customs in spite of also being unmistakably Italian.

( My 7 chapters of Teach Yourself Italian came in very handy as we toured around- I was actually understood by the natives! )

Having in the past been invaded by just about everybody, Sardinia is an archaeologist's wonderland. The Romans, Carthaginians and the Nuraghi to name but some, have all left their very distinctive marks which have been carefully nurtured and proudly preserved to this day.

Area Toured
Click Map for larger version



Palmavera, Fertilia, Capo Caccio


Our trip first took us to the Nuraghi village of Palmavera just a few miles outside Alghero on the road to Capo Caccio. In Fertilia, a small village across the bay from Alghero, we admired the remains of a Roman bridge. Then it was out to Neptune's Grotto cut into the towering cliff's of Capo Caccio to admire this wondrous cave complex which stands at the entrance to the Bay of Alghero.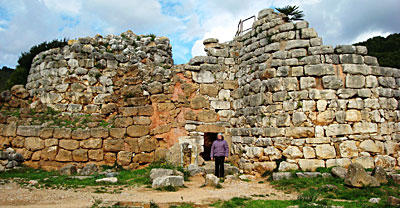 Stone structure in Nuraghic village of Palmavera, Alghero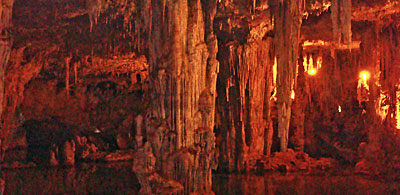 Some of the wonders of Neptune's Grotto



Porte Conto


While Catherine and Mark went climbing on an interesting crag, (they are both into rock-climbing) we paid a visit to the little marina in nearby Porte Conto to suss it out for a possible future visit - a bit exposed we thought with not enough water for Safari.



Sassari, Castelsardo


On day 2 we headed north to Sassari, Sardinia's second city after Cagliari. It has a wonderful old quarter dominated by a very well preserved Gothic cathedral. Then we visited Castelsardo on the north coast where we had been twice already in Safari. The new town is overlooked by a major fortress which is occupied to this day. The view out over the Bay of Assinara is stupendous. Castelsardo is also famous for it handcrafts in pottery and basket making.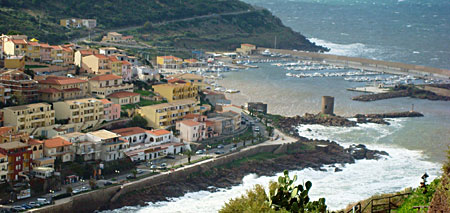 Marina at Castelsardo viewed from the Fortress



Santa Teresa di Gallura


From Castelsardo we headed to the island's most northern tip, Santa Teresa di Gallura, a thriving holiday resort overlooking the Straits of Bonifacio and from where ferries ply to and fro on the 11 mile stretch between Sardinia and Corsica. Once again we were interested in visiting the marina which looked pretty impressive giving good shelter to any yacht seeking refuge from the constant storms that plague this particular stretch of water.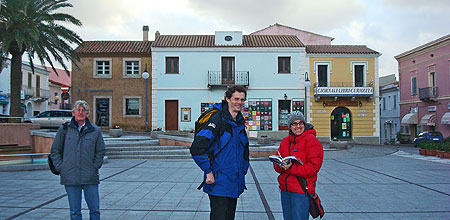 Our visitors with Ken in Santa Teresa di Gallura



Nuoro, Oliena


On day 3 we decided on a complete change and headed for the mountains over towards the East coast. After turning east at Macomer, we headed for Nuoro where we had lunch. There was a very rural feel about the town with little effort made to attract tourists. After a short postprandial walk which revealed little of interest, we headed off in search of the Nuraghic village of Tiscali which is rumoured to be situated near the village of Oliena. We never found it but instead enjoyed an hour long trek up the Monte Corrasi which forms part of the Supramonte mountain range. The views were tremendous and well worth the effort. There we came across shepherds huts which looked occupied-pretty rough living conditions for the animals never mind the humans!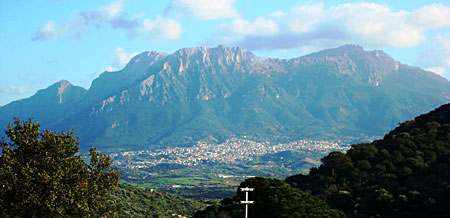 A view of the Supramonte mountain range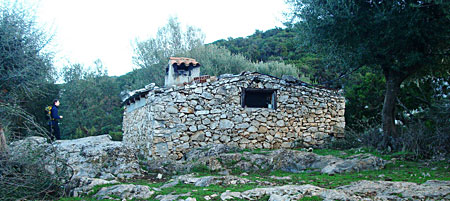 A typical shepherds's hut

Catherine and Mark talked of one day returning to find the "lost village" and to hike along the Gorroppu Gorge which is near the village of Dorgali and reputed to be one of Sardinia's most satisfying walks.



Cala Gonone


We then completed our sightseeing tour with a visit to Cala Gonone over on the East Coast. It is the best centre in Sardinia for rock climbing and I must say that the port, nestled at the foot of a huge granite wall of a mountain, looked pretty inviting as a future port of call for Safari. With the departure of Catherine and Mark for Ireland on Friday, November 27th, we were back to our boat routine of small repairs, reading, playing Bridge on the computer, learning Italian and going about the normal every day tasks of living. On their arrival in Dublin, they texted us to let us know that the weather was GLORIOUS in Sardinia compared to Dublin!


Sunset in Cala Gonone



Back in Alghero


Alghero is not the worst place in the world to be at the moment. It certainly beats Dublin! The town itself is interesting from a historic point of view but is also a thriving commercial centre with plenty of shops and people around. So we do enjoy our daily strolls around town. The little marina (it consists of 2 pontoons), is quirky. The facilities are basic but functional. The owner, Federico, when not in excitable Italian mode, is very friendly and really does keep a good eye on all the boats in his care. We hoped there would be other live-aboards around but alas, apart from an occasional short visit from one or two of the other owners, we are alone here.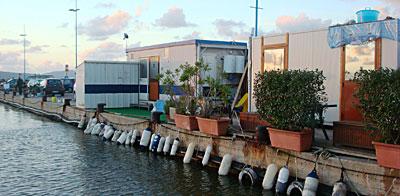 The facilities - not exactly the Ritz!

We have some exciting projects planned for the New Year but more about that in 2011. We will be heading over to France for a few days in December before flying back to Ireland for Christmas if the IMF hasn't decided to cancel it as further punishment for our Bankers' sins!

I am afraid Safari is soon going to be abandoned to the gales of Sardinia and to the tender care of Federico until early Spring when we will return to hopefully complete the work on the deck and take off for another of our amazing cruising adventures.
---