A pleasant interlude in Gandia, Spain
09/04/2010 - 09/06/2010
Posted: 12/06/10
Today is June 9th, exactly 2 months since Safari was offloaded at the docks in

Gandia

, thus commencing one of the more pleasant sojourns of our trip. We needed a break after our "Tense Moments" trip from Cuba to West Palm Beach anyway!

Like most non-Spaniards we had never heard of Gandia until we were told that Safari was going to be delivered there. We fished out the map of Europe and sure enough there it was, nestling just above

Capo de Nao

and the much better known town of

Denia

and some 30 miles south of

Valencia

.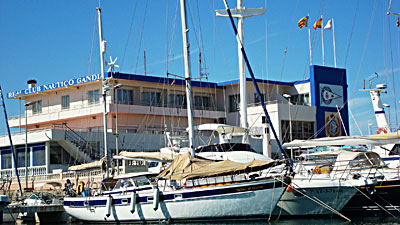 Safari berthed in a prime location at Real Club Nautico de Gandia

We had booked Safari into the

Real Club Nautico de Gandia

which is just across from the docks to give us time to draw our breath and sort out where next we wished to go. When asked how long we would be staying, we had to admit that we really didn't know. We didn't like to say that we were sussing out the joint! Now we have fallen in love with the place and the surrounding area and are finding it hard to say goodbye.



Ciudad de Gandia and la Playa de Gandia


There are 2 Gandias - la ciudad (city) and, on the coast, la Playa de Gandia which is about a 15 minute bus-ride away. So we have been enjoying the best of all worlds - seaside and historic town against a backdrop of some splendid mountains.

There is a superb beach about a 2 minute walk from the boat. Running along it is a great Promenade and cycling path. As it is a holiday resort for mostly Spaniards and French, it lacks the excesses of resorts like Benidorm which is a major point in it's favour for us. The holiday community consists primarily of older people and couples with young children. The 20 somethings head for the hotspots of Benidorm and Ibiza, TG.

The Borja family (more familiar to the world as the Borgias of Italy) have major connections here especially the more saintly branch of the family with St Francesca de Borja (1510) at it's helm. There are non-stop fiestas and cultural events going on to celebrate the 500 years since the birth of that great holy man. The Spanish thrive on a good fiesta or feria whatever the reason!



Public Transport in and around Gandia


The public transport system is marvellous and very cheap. This is very important for cruising folk who don't have cars at their disposal. A bus goes every 10 minutes to the nearby city which has a great Carrefour supermarket and a wonderful pedestrian zone with a most interesting historic centre.

From Gandia city, there is a regular train service to Valencia - a journey of one hour. Then just outside the Arrivals Hall of the Estacion del Norte in Valencia, there is a metro connection to the airport from where one can fly direct with Ryanair to Dublin during the summer months.

On a recent trip to London, I tested out the system and it worked very effectively. I never once had to resort to a taxi!

The Playa itself is not lacking in supermarkets and services. There is a Mercadona and a Carrefour Express to name but two. There are countless little Fruit and Veg shops where the most delicious produce can be purchased at really great prices. There is a reasonable range of eateries to suit all pockets. Also, there is a very good laundry, a number of hardware stores and a reasonable chandlery.



Boat maintenance facilities


Apart from the excellent facilities in the Club Nautico, (there are no washing machines, though) we have discovered that the Port of Gandia is the place to come if you want work done on your boat

The workmanship of Sebastian and his men in Varedero Puerto de Gandia is wonderful and is priced realistically as is the work of mechanic, Juan Moncho Vila who serviced our main engine and outboard. The hourly rate for work is about

30 /

35 which is a great relief after the rate in the US which ranged between $75 - $115.

As I mentioned in a previous epistle, the wooden toe-rail at the bow of the boat was damaged during the transportation. That entire section was replaced by Pepe, a wonderful man with wood who works for Sebastian. We were so impressed with his workmanship that we had the seats replaced in the cockpit (badly needed but not essential) and some new windows installed.



Recaulking the deck


We, ourselves, have been slaving away recaulking the entire deck. Consistent dry, warm weather is essential for that job so there is no way it could be done in our dear Old Emerald Isle! (Word has reached us, though, that the weather has been lovely at home for the past few weeks. Long may it last for all those recession-bound folk who cannot afford to escape to the sun this year)

But back to the caulking!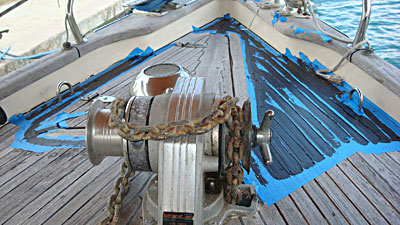 Let the recaulking begin! This little section represents about 8 hours work

Anyone who has ever recaulked even a tiny section of their boat will appreciate how labour intensive and how tough the job is. Ken and I share the work but I have to admit that the only way I can get up in the morning to face another day of scraping out old caulking and regrouting is to count up the amount of money we are saving.

The mathematician in the family (not me) has worked out that we have an entire

MILE

of caulking to do. I had hoped he was exaggerating but quite frankly it feels like about 10 miles at the moment.

Such a job would cost somewhere between

15,000 -

20,000 to have done professionally. That's what keeps me glued to the decks for as long as possible each day!

After 2 more days of work, we will have completed the section we set out to do while in Gandia and be free to head off on

our summer cruise

up through the Balearics, Sardinia, Corsica, Northern Italy and the South of France and possibly Tunisia on the way back down to Seville for the winter. That is of course if all goes to according to plan.



Enjoyable moments


But life has not been all work and no play for the Kavanaghs in Gandia. We have been to Valencia on a number of occasions to explore that architecturally lovely city. Cultural delights lurk on every corner - from the fantastic

Museum of Fine Arts

which ranks among Spain's best to the massive and utterly modern scientific complex of

Ciudad de las Artes y de las Ciencias

. A friend of ours joined us for the last week of May during which all work ceased. We became tourists for the week and thoroughly enjoyed ourselves.
| | |
| --- | --- |
| Main Post Office in the centre of Valencia | The Catherdral in the old quarter of Gandia |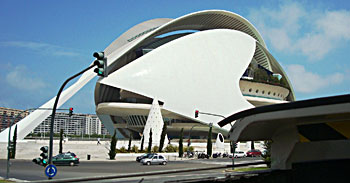 Modern Valenica - the City of Art and Science



The Real Club Nautico


I have to admit that we have been very happy and contented here working on the boat and enjoying the facilities of the club. The club itself is very active in hosting both sailing Regattas and Fishing competitions. There is a full restaurant and bar service, a lovely, friendly staff and even a dinner dance thrown in on Saturday evenings.

The only snag with the dinner dance is that the meal is served from 9.30 pm, the music starts at about 11.00 pm and continues until 3.00am - all a tad late for us OAPS!

The club, thinking they were doing us a favour, gave us a wonderful berth - right in front of the dining room window where the weekly dinner dance takes place. As there is no escape, we decided, early on, to join 'em because there was no way on earth we could beat 'em!



To conclude


The weather has been on the whole just glorious, lots of sun but not really too hot. There are generally some strong, gusty winds in the afternoon which is typical of the Med. There hasn't been too many storms since our arrival but strong winds and some showers have been forecast for the next few days.

We are hoping to be able to depart on either Sunday or Monday next and head straight for

Sa Dragonera

on the southwest corner of Mallorca which is 130 nm miles away - so it will involve an overnight trip.

We will be exercising extreme caution with the winds as we know from our reading and personal experience in 2007 that a no-wind situation can become a near gale in a matter of seconds here in the Med. The only good thing is that the strong winds tend to die off in the evenings and they don't blow for very long.

I will keep you posted as we make our way up through the islands and hope that you, whether cruising or not, will also keep me posted on your activities during the coming months.
---