Safari completes her Atlantic circuit going from Cuba
via West Palm Beach in Florida
to Gandia on the Costa del Azahar in Spain
Posted: 16/05/10
Many people, mostly fellow sailors, have told us that we are "living the dream" which is mostly true but there are times when little nightmares intrude. Our last few weeks on the other side of the Atlantic was one of those times.

I would like very much to tell you about our trip

from Marina Hemingway in Cuba to West Palm Beach in Florida

- a trip of some 300 nautical miles- so a mere 50 hours in terms of sailing but with the long list of near catastrophes and mishaps which befell us during this trip, we thought it would never end.

By the time we fell into our hotel bed in West Palm Beach at 2200hrs on March 20th with

Safari

finally bound for Europe on the yacht transporter, the

MV Statengracht

, we felt we had used up all our nine lives in terms of lucky escapes and tense moments.. If God had called us home at that point, I am not sure that we could have drummed up enough energy to go!



Tense Moment 1 - Trying to depart from Cuba


It all began with the weather in Cuba. They apparently had the worst February in living memory - much colder than usual with nasty cold fronts accompanied by some really vicious thunderstorms and winds blowing from the northeast every few days. Planning our departure became very fraught.

By February 18, we had received confirmation from Peters and May in London ( Agents for the Yacht Transporters, Seven Stars) that

Safari

had been provisionally booked onto the March sailing which would depart from West Palm Beach anytime between March 20th and April 5th. This would be subject to all paperwork having been signed and returned and the full cost paid in advance of sailing.

We therefore needed to arrive in the States in plenty of time to sort out the paperwork and organise the payment of $13,500 which we couldn't do from Cuba. So we immediately readied ourselves for departure as soon as a suitable weather window would present itself.

On March 7 we were still waiting.



Please Note:

As the potentially very dangerous Gulf Stream has to be crossed to reach the United States, getting a suitable weather window is imperative. We had therefore employed the services of the American meteorologist, Chris Parker. Chris emailed us that the wind would finally go round to the SE by Monday evening 8th March This was confirmed by other sources.

Two other yachts from Canada,

Dream Catcher

and

Migo

and ourselves decided to sail in company. We were going to get into the Gulf Stream and use the current to speed us on our way straight up to West Palm Beach arriving by March 10, thus giving us plenty of time to sort out all the details of the transportation.

The Canadians were heading for Miami - a slightly shorter trip. We decided to start the ball rolling with

Dream Catcher

checking out first at 1300, followed by

Migo

and then

Safari

.



Tense Moment 2 - The Cuban Visa Problem


When we arrived down at the checking-out dock at 1430 hrs, it was discovered that we had never paid to renew our visas to remain in Cuba at the end of our first month. Europeans may only spend 2 consecutive months in Cuba. There had been an administrative foul-up in our case. The cost of the visa was about

50 for the two us- payable only in Cuban dollars. As we had distributed all our remaining Cuban dollars to the workers in the marina prior to our departure, we had none left. They wouldn't allow us to disembark and hop up to the nearest Cadeca to change some currency. The other two boats had no option but to leave without us. A meeting was held by all the staff of the Guarda Frontera and after about an hour, they agreed to allow the Dock Master to change some Euros for us.

(I had visions of us having to recall all the tips we had just given out which amounted to a lot more than

50!) Although this doesn't sound tense now, it was at the time, as we were simply not allowed leave.



Tense Moment 3 - How reliable are weather forecasts?


By the time our visa situation had been resolved, the other 2 yachts had returned to harbour! This caused real consternation. The forecast had got it wrong. The wind still had a little too much north in it and the wave heights a few miles out were 8-10 ft. So a night - crossing of the Gulf Stream, with higher wave-heights, was out of the question.

The authorities had just completed checking out the 3 yachts. They had no precedent for this type of scenario. In other countries there would be no problem returning to harbour but this was Cuba! Eventually, after consultations with a large number of important looking executives, it was decided that we could either depart up to 1800 or return to our berths in the marina and be gone by 1200 the following day, March 9.

If not, we would all have to undergo the rigorous entry and exit procedures once again- utterly ridiculous and in our case utterly frustrating as we were about to lose yet another day.

At 0630 hrs the following morning,

Safari

and friends were ready to depart once again. We had all spent the previous evening studying weather forecasts and comparing notes and although the desired-for south easterly wind wasn't due to kick in until later in the day, a 10-15 knot wind form the E was forecast going SE later in the day. We all agreed that would be manageable.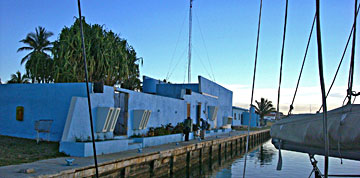 A last farewell to the check-out building
Havana to Key West




Safari

led the parade of the 3 boats down the docking canal at first light and with a minimum of fuss - just a quick boarding by 2 officials and one or two papers to sign, we were finally on our way past the damaged but visible Safe-Water Mark out into a flat calm sea.



Photo: The Safe Water mark minus its top portion
Tense Moment 4 - Davit cable snaps in mid Gulf Stream


As the wind was mainly from the east and we were heading north, we were able to hoist all the sails and rip along at a pleasant 6 knots until we reached the apex of the Gulf Stream when the speed increased to 9-10 knots. Wonderful! Even being hailed and questioned by the US Coastguard couldn't dampen our utter enjoyment of this sail.

Upon checking out our nationality and the port of registration of our boat, they allowed us to proceed, wishing us a safe trip. There is a very strict embargo on

American

yachts visiting Cuba which is enforced. All other yachts may come and go as they please.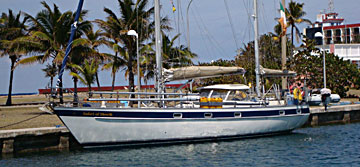 Safari

ready for departure from Havana - note outboard on dinghy

As the day went on, the wind increased to 20 knots and the wave heights went from 2/3 ft to 4/6 ft. The boat was well-heeled and taking the waves from the side when at 1600 hrs, there was a sharp snapping sound from the stern and lo and behold, one of the Davit cables had snapped and our recently purchased outboard motor and dinghy were dangling in the water. How stupid can you be? With all the hassle prior to departure, we had totally forgotten to take our new 4 stroke Yamaha outboard off the dinghy and secure it to the transom of

Safari

where it normally sits when at sea.

The constant bouncing around and weight of the outboard motor caused one of the Davit cables to snap. So the dinghy was upside down and the outboard was in the water being dragged along by the remaining cable. In the prevailing conditions, it was not possible to get them on board. Ken managed to attach more lines to the dinghy which meant we could tow it right side up but we had to reduce the speed of the boat to prevent the dinghy from flipping again, so we dropped the sails, turned on the engine and motored out of the Gulf Stream and decided to head for Key West. We alerted the other yachts to our problem. Because of the deteriorating weather conditions they, too, decided to alter course for Key West.



Tense Moment 5- Anchoring


By 1700 hrs we had the situation more or less under control and were heading for Key West and another tense moment! Progress was slow as the wind had gone round more to the north so we were motoring into it and into a strong current as well. We eventually arrived at 2315 hrs at the anchorage in Key West which is pretty shallow (6-8 ft and we need 7 ft!) and has notoriously bad holding.

The night was dark. It was difficult to see but with the help of extra lighting, we managed to drop anchor but it wouldn't hold. We tried 3 times in 3 different places but it still kept dragging. Our other friends couldn't help because they were anchored in a much shallower area with a better holding but we couldn't go there with our draught.

By now, I was exhausted. At 0100 hrs we called up Towboat US explaining all that had happened. A boat came out and led us through the narrow, unlit channel to the far side of Flemming Island where there was a mooring field. Before departing, the Towboat US man cautioned us to tell him now if we drew more then 7 ft - not very comforting! I was sick from tension when we finally tied on to a mooring ball and fell into our bunks at exactly 0300 hrs.



Tense Moment 6 - No room in the Inn


We got up after 4 hours rest to see if we could secure the dinghy properly and maybe save the outboard. We knew that all seawater would have to be drained out of it as quickly as possible if it was to be saved.

Our fellow sailor from

Migo

, Patrick, happened to be a marine engineer and arrived over to see if he could help. He took away the outboard to his boat. Then Brad from

Dream Catcher

helped Ken to rig up a temporary Davit line on which to hoist the dinghy. Finally the Sea- God Poseidon decided to give us a break. Patrick returned within the hour with a perfectly working outboard.

More bad weather was due to hit the Florida Keys the following day, so

Dream Catcher

and

Migo

decided to move into the mooring field and sit it out. We decided to take our chances in the relatively protected waters of the Hawk Channel and head for Miami, 24 hours away. From there we could reach West Palm Beach via the Intra-Coastal Waterway if necessary, allowing us to travel in any weather conditions.



Key West to Miami


So at 1400 hrs on Wednesday March 10 we set out from Key West up the Hawk Channel with a forecast of 10-15 knots from the SE hoping to reach Miami by early afternoon on Thursday before the next front hit.

As we motor sailed up the channel, the wind backed to the north so we found ourselves motoring against both wind and current at 3.5 knots. At this speed we would never make Miami ahead of the weather front and finding shelter along the way would be next to impossible once again due to our draught.

The Hawk Channel is also full of lobster pots so great care had to be taken in the dark to stay on the right track. We were following a course on the chart plotter and quite frankly by now tension was building aboard! At around midnight the wind finally changed direction to the SE but blew up to 25- 30 knots. Suddenly we were barrelling along with a big side-on sea. We rolled out a smidgen of jib and were doing a good 7 knots.

By daybreak, we knew the weather was deteriorating rapidly but at least we might make Miami in one piece before it got really bad.

I phoned

Miamarina

in Miami where we had stayed before. They told us they had no vacancies because a Boat Club had booked in for the weekend.

I was so stunned and begged so hard that the poor man who, thank God, had an Irish granny, promised to look into the situation again and phone us back. There followed a really tense 2 hour wait but he did return the call and said they would give us a berth for 2 nights as the Boat Club members were having second thoughts because of the bad weather which was on its way. Once again Poseidon seemed to be on our side.



(Very) Tense Moment 7 - The American Visa Problem


By 1600 on March 11 we were safely tied up in a berth in Miamarina - not quite believing that we had made it this far.

The final hours at sea were very hectic and quite frankly best forgotten. Suffice to say that

Safari

and those aboard her performed magnificently in mountainous seas and near gale force winds.

After a nap we called the US Homeland Security to let them know we had arrived in from abroad. When they heard we had been to Cuba, they asked us to report in person to the office within 24 hours and to bring along any contraband we might have on board.

We decided to get it over and done with before going out to dinner to celebrate our survival of the previous few days. We had booked a really nice restaurant where we had eaten before on a previous stop-over.

At around 1900 hrs, all dressed up in our best clothes, we took a taxi to the Homeland Security office bringing along 2 sacrificial bottles of rum. The official said we could keep the rum as he was just interested in inspecting our passports.

Horror of horrors! He announced that we were illegally in the US. Our American visas had expired on March 4 and we hadn't noticed. Once again how very, very stupid are we? How could we not have noticed? Fortunately, I was so exhausted from all the previous trials and tribulations and lack of sleep that all I could do was cry!

Yes, I just sat there and cried so much that the poor man became concerned for my mental health and became really nice and gentle. There was no further talk of Holding Camps and immediate flights back to Ireland-never again to be allowed set foot in the United States. Eventually he agreed to extend the visas to April 15 when we explained about the uncertainty of the actual departure date of

Safari

to Europe. We also convinced him that we didn't actually want to stay any longer in the United States.

We were so traumatized by our own stupidity that we just returned to the boat, cooked a sausage for dinner and went to bed.



Tense Moment 8 - our Berth on the MV Statengracht


The following morning, the weather was horrendous - the bad front had hit with a real vengeance. There was incredible rain, thunder and lightening and strong gale force winds. The way things were going, I was sure the boat would be struck again by lightening but it wasn't!

In spite of the inclement conditions, we were donning our off-shore gear to go to the nearest Internet Café to download all the documentation dealing with the transportation of

Safari

, when the Irish mobile rang.

It was Peters and May from London to tell us we had lost our place on the March sailing because no documentation had been received. We had been in touch with them every step of the way from Cuba keeping them abreast of our progress. They knew we were genuine customers. Their initial attitude was that we should enjoy the extra month or so in the US and be ready to transport

Safari

on the April 20-May 5 shipment.

"But we have to vacate the States by April 15." ( they were unaware of the visa problem)
"We can't leave our boat behind."
"We have endangered life and limb to get to West Palm Beach for this sailing".
"You know what we have been through trying to get here!"
"You never indicated that there would be a problem."

This was the very last straw. This camel's back was finally broken.

We knew that we hadn't a legal leg to stand on because no deposit had been paid. However, we will always be grateful to Tim Chetland of Peters and May with whom we had been dealing. He advised us to go ahead and download the documentation, sign them and get them back to him as quickly as possible.

Once again, incredible as it may seem, there was no wifi in Miamarina so we had to seek out an Internet Café in Miami. He also advised us to get up to West Palm Beach as soon as the storm had passed through and hopefully something could be done but there was less than a fifty/fifty chance.



Tense Moment 9 - Berthing in a strong current




Miami to Lake Worth (West Palm Beach)


On Sunday March 14, we set sail from Miami to Lake Worth where West Palm Beach is located - a distance of about 50 miles. We had a wonderful sail up and at 1800 hrs entered into Lake Worth.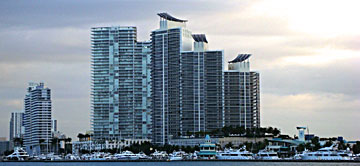 A parting shot of Miami

We then phoned

Riviera Beach Marina

where we had booked a berth and told them we would see them within 20 minutes. They replied that no staff would be available to help after 1815hrs as the office closes at that time on Sundays.

We asked them to please ask one dockhand to stay on as the current was pretty strong, the wind had got up to 26 knots and the depth of the water pretty marginal for

Safari

. Incredibly, no-one stayed back to help even though we were at the marina entrance by 1830 hrs. I have to say that this was very untypical of our experience of sailing in the United States where most people went out of their way to be helpful and friendly.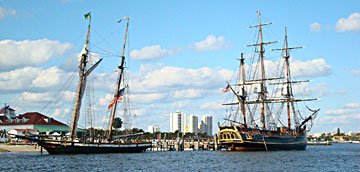 A nice view from our final anchorage in Lake Worth

The berths were not on floating pontoons like in Howth. There were 4 poles - two for bow lines and two for stern lines. Getting it right requires quite a bit of practise and we had none! What with the current, the strong wind and a very tight turning space and no help at all, we ended up wedged between the poles and a large workboat which was moored alongside. But for the help of a gang of New Yorkers who were partying nearby, we might still be there. However, no damage was done to either

Safari

or the workboat. So another lucky escape!



Tense Moment 10- It is not over yet!



Preparing

Safari

for transportation


Early on Monday, March 15, we got a call from London to say that we had our place back on the Yacht Transporter.

There then ensued a few very hectic and tense days getting the boat ready, organising Custom Clearance, getting a rigger to remove the triatic stay between the main mast and the mizzen (another $500 between the two), downloading the paperwork, signing it and faxing it back, and last but not least trying to pay for the transportation online.

Ken and Loadmaster slacken backstays to facilitate the lift

This was all very difficult (as bad as Cuba) as there was no fax machine available to us and the only place we could get a wifi signal was on the floor near the urinal in the Men's loo. I kid you not!

Also, AIB Sutton was most unhelpful even though there was an account with the actual money sitting in it. They still insisted we could only make payments up to a maximum of $5,000 per day which meant making payments 3 days in a row from the Men's toilet! All the paperwork had to be downloaded there as well. There was no Internet Café in the area and West Palm Beach was a $50 return taxi- ride away. The Marina office refused to allow us to use their Internet and fax facilities. It was they who told us about the wifi signal in the Gent's toilet!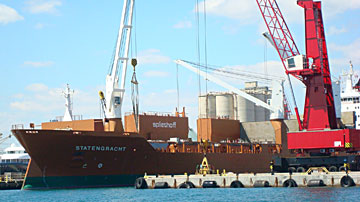 Transported from West Palm Beach, USA, to Spain on 'MV Statengracht'
It finally all got sorted and we left the marina at High Water on Saturday 20th at 1100 hrs and anchored in Lake Worth until we were called in by the loading master of the Statengracht at around 1830 hrs. It was 2100hrs before we could call a taxi to take us to our hotel in West Palm Beach. We had a quick bite to eat in a nearby

Ihop

fast-food outlet and fell into an enormous but very comfortable bed with a huge flat Screen T.V on the wall right in front of us. What luxury!

Our problems were unfortunately not to end with the departure of the ship.



Safari

arrives in Gandia, Spain





'MV Statengracht' awating entry into the Port of Gandia, Spain
When

Safari

arrived in Gandia, Spain, 20 days later, we were informed that the tow rail on both sides of the bow had been damaged during the crossing due to the over tightening of the hold-down straps. So once again, after clearing customs on this side (another

150), we had to find a Company to repair the damage and then deal with the Insurance claim. The repair took 3 days and was completed on 14th May - a wonderful job which is being partially covered by the Insurers.

At the moment we are happy to remain here in Gandia enjoying a few stress free and peaceful weeks before embarking on further adventures around the Med.
---