Exploring Cuba - January to March 2010
Posted: 17/04/10
Jan 20-27

- Marina Hemingway


We spent the week after our arrival in Marina Hemingway adjusting to life in Cuba, finding out how best to get around and where to buy basic provisions.

We also became acquainted with our neighbours in the Marina. All had arrived at Marina Hemingway from different parts of the world - one boat from the US, a number from Canada who had crossed like ourselves from the Florida Keys, another from New Zealand which had arrived via Mexico and yet another power boat which had come from Lanzarote via the Cape Verdes and Brazil to name but a few.

As the weeks rolled by, yet more boats arrived and departed whenever there was a decent weather-window. Some headed back across the Gulf Stream to the United States, others headed east for the Bahamas, others were heading for the Caribbean islands of the lesser Antilles between the Virgin Islands and Trinidad and yet others for the Cayman Islands, Mexico and Panama. All in all a fascinating group of people with great stories to tell.

The local yacht club hosted a barbecue each Friday evening (about

2.50 for a pork-chop supper) and all the "yotties" tended to congregate there, drink lots of mojitos and exchange sea-faring yarns well into the early hours.



Jan 27

- Pat and Sheila arrive


We were joined at Marina Hemingway by our friends Pat Larragy and his wife, Sheila from Ireland. Pat has been a member of HYC for many years. We had planned to meet up and explore Cuba together.

Sheila and Pat had spent their first week at a golfing holiday resort in

Varadero

about 85 kilometres further east along the coast. Their first week in Cuba was vastly different from our own. As all their drinks and meals were included in the price of the hotel, they were not obliged to scavenge for daily provisions as we were. But like ourselves, they were really anxious to get to know the "real" Cuba so off we went exploring as a foursome.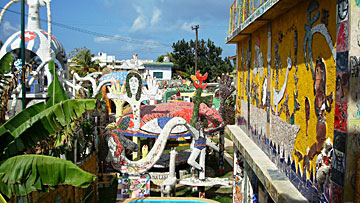 Jose Fuster's colourful garden in Jaimanitas




Jan 28

- Jose Fuster's Home- The Picasso of the Caribbean


We first of all took them to artist Jose Fuster's home cum studio in

Jaimanitas

near the marina, a visit which was thoroughly appreciated by Sheila who is a graduate of the National College of Art and Design in Dublin and who knows her art so to speak. We both purchased some paintings to the great delight of Jose himself who just happened to be at the house on that particular day.



We went into La Habana by bus and explored the crumbling beauty of that city in particular Habana Vieja or Old Havana.

The first thing that hits the eye in Havana are the old cars from the 40's and 50's (pre- revolution) which are now mostly used as taxis. We actually took a ride in a 1948 Buick.

One of Havana's many ancient taxis

We started our tour on Obispo Street which runs down through the heart of the old city. With its many musical bars, shops, restaurants and colourful crowds of people, a stroll down this street is an exciting experience in itself. It culminates in one of 4 magnificent Squares in Havana -

Plaza de Armes

which is reminiscent of the Left Bank in Paris with it's second hand book stalls.

One has to note, though, that most of the books are about the great heroes of the Revolution. Jose Marti, who was involved in the uprising of 1895 that ousted the Spaniards from Cuba and whose memory is revered throughout Cuba as the father of the revolution, Che Guevara and of course, the great man himself, Fidel.

Then came the

Plaza de San Fransisco

where the church of St Francis of Assisi is located and which is a venue for classical music concerts today.

Just prior to our departure in March we thoroughly enjoyed a concert of Beethoven's Sonatas performed to a half-filled church by 2 top-class musicians. It was a shame that such a wonderful concert was attended by so few. The cost was very low, 10 pesos for a Cuban and 10 CUCS for a non-resident.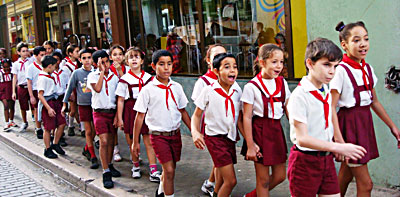 Happy school children on an outing in Havana


The reason for the small attendance was that hardly any money at all is spent on advertising in Cuba. News of such events seems to pass around by word of mouth with perhaps a poster of two on the door of the venue itself or in the area near the venue.

In fact there doesn't appear to be a PR industry in Cuba at all. Information on bus or train schedules, telephone numbers or lists of accommodation were simply not available. There is no way Cuba could be accused of adding to the destruction of rain forests to keep up with the world's use of paper The main posters in evidence were of Fidel (as a much younger man) celebrating 51 years of the Revolution.

Another wonderful church, Catedral San Cristobal dedicated to Christopher Columbas is to be found in the 3rd square we visited, The

Plaza de la Catedral

. Constant streams of musicians pass through this square entertaining the tourists throughout the day, many of them dressed as troubadors. We were delighted to be entertained while enjoying an ice-cream in the sunshine.

The recently restored

Plaza Vieja

which was originally the venue for Havana's slave market, is also worth a visit to admire the colonial style homes which frame all its sides.

Scattered amongst the many ruins are absolute architectural gems - buildings which have been carefully restored to their original state.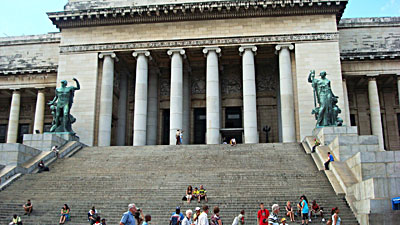 The Capitolio in Havana Cuba's seat of government


The Capitolio (Parliament), the National Theatre, the former Presidential Palace which now houses a history of the revolution are but a few which stand out but there are many former palaces and castles which have been converted into museums, art galleries, restaurants and hotels without sacrificing their architectural integrity.

Havana is an exciting city bursting at the seams with music and art to satisfy all tastes, but unfortunately if one strays from the area of Old Havana, one is met by dilapidated and decrepit buildings which look like unoccupied ruins but which in fact are home to thousands of Cubans.



Buying a train ticket


Towards the end of our day exploring Havana, we headed for the Railway Station to book tickets for a train-trip from

Havana to Santiago de Cuba

, a trip of some 800 kilometres right down to the

south-east corner of Cuba

.

Pat and Sheila had read about this Tren Frances or French Train trip in a coffee-table book entitled, "501 Must-Take Journeys". Based on the account in the book, we all thought we were going to be on a Caribbean version of the Orient Express. Talk about lambs being led to the slaughter!

Anyway, in Cuba visitors have to buy a train ticket at least 24 hours before travelling (Cubans have to apply for permission to travel 15 days prior to a train journey !). As the only train of the week was due to travel on Monday at 17.30 and this was Friday, we decided to purchase tickets.

At a cost of just 62 CUCs each for first class, we thought this was really excellent value for a 12 hour journey. However, we were disappointed that the journey would be undertaken at night thus depriving us of the scenery we had hoped to enjoy en route.



Jan 30 - 31

- Puerto Esperanza


We hired a car for the weekend - an expensive business in Cuba at about

75 per day for a standard car and headed off to visit the tobacco plantations in

St Juan y Martinez

outside the town of

Pinar del Rio

and the famed

Valley de Vinales

in the far west.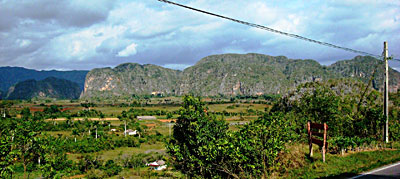 The Valley of Vinales
Our first stop was to be in

Puerto Esperanza

on the coast where we planned to overnight in a B&B or casa particular. The lady of the house was reputed to cook the best lobster in the area. Dora couldn't put us up but found us accommodation with a neighbour.
We ate at Dora's and met many members of her extended family. Although, they were all very welcoming and friendly and in conversation loyal to their country, it soon became evident that here was a community living in dire poverty.

Our clean but simple B&B accomodation

The four of us were quite shocked at the poverty of the homes into which we were invited. No words were spoken but our eyes could not deceive us. We became determined to help in any way we could.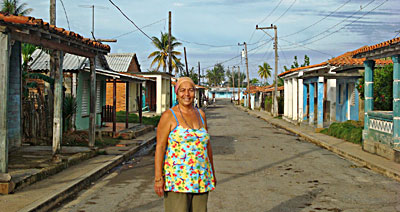 Our friend Sandra in Puerto Esperanza


We had established that clothing is very expensive in Cuba and with an income of just

8 per month, people have to choose to purchase food rather than clothes. So Pat and Sheila decided to leave most of their clothes with us when they returned to Ireland and Ken and I would add to that collection, hire a car for a day and bring the gifts up to the village before our departure from Cuba. This was duly done much to the delight and gratitude of the many recipients.



Vinales


After breakfast the following morning we headed down to the town and valley of Vinales. The small town itself is very old and very beautiful but also a major tourist centre.

The scenery was stupendous with the sheer Mogotes (conical shaped mountains) towering over the valley. There were fruit vendors at the roadside and fortunately we stopped and purchased some tiny bananas and fresh pineapples - the choice was pretty limited.

We all thoroughly enjoyed the trip from

Puerto Esperanza

down to

Pinar del Rio

where we hoped to stop for lunch but there were no inns open! Incredible as it may seem, there was simply no place to have even coffee and a sandwich. So after feasting on a few bananas each, we headed a little further west to the tobacco plantation country but it felt more like "bandido" country by the time we were finished.



St Juan y Martinez


As we approached St Juan y Martinez, home to the very best tobacco in the world, we were constantly and aggressively encouraged to visit different plantations. Men even barred our way on the road, banged the roof of the car and shouted at us to go to their particular plantation. We were so put off by their tactics that we drove quickly through a plantation and decided to buy our Cuban cigars in a shop near the marina! Why such a hard sell? Were tourists in short supply this year because of the worldwide recession? We simply don't know but found it very off-putting even a little frightening.

As we wanted to get

back to Marina Hemingway

at a reasonable hour to give us time to prepare for our mini-holiday on the Cuban Orient Express, we didn't make any detours on the return journey.



Feb 1 - 2

- An unforgettable train trip!


The train for

Santiago de Cuba

was due to depart at 17.30 from the main station in Havana. After the experience of not finding any place open for a snack the previous day in Pinar del Rio, I decided at the last minute to pack a picnic supper for the four of us just in case there was a hiccup with the food supplies in the dining carriage on the train. We were beginning to understand that unexplained and sudden food shortages were part of life in Cuba.
We packed clothes for a 4 night trip - just t-shirts, jeans and shorts as the weather was pretty hot. We threw in a few sweat shirts for the overnight on the train.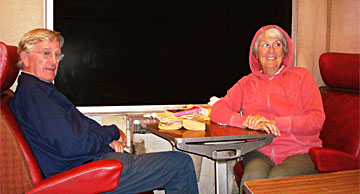 Carmel and Ken before lights out on the Cuban Express!


We duly arrived by taxi at the station and after having our passports scrutinized 3 times and all details written in long hand by each official, we finally boarded the train.

What a shock lay in store.

Not only was the train filthy, seats broken, doors between carriages banging open and closed with each movement of the train, some main doors clearly just about hanging on by rusty hinges, but it was also freezing cold and there was absolutely no water in the toilets whatsoever - neither in the toilet bowl nor in the wash hand basin. The stench was horrific.

The anticipated dining-car consisted of a conductress shoving a large plastic box though the carriage with her foot. The box contained a Cuban version of cola and some evil - looking ham rolls.

These were all snapped up by the locals who by this stage were snuggling down for the night under a collection of blankets, towels and heavy jackets because they were obviously aware of the extreme cold in the train.

The four Paddys, on the other hand, were frozen to the bone in their light t-shirts and sweatshirts but very grateful for the picnic that had been brought along.

As frost-bite was becoming a real threat in spite of us having put on our entire four day supply of shirts and tops, I tackled the conductress in my broken Spanish asking her to lower the air-conditioning. She summoned the assistance of a further 3 officials as I got louder and more fluent and determined. The final outcome was that the air-conditioning was lowered to an acceptable level.

This altercation was observed with great interest and some astonishment by the Cubans in the carriage. We got the distinct impression that complaining is just not done in Cuba. Appalling conditions like those on the train are just accepted as the norm.

At 2300 all lights went out and the train was plunged into near total darkness. No reading was possible. By now we had all had enough and decided to get off at the earliest possible opportunity. Also, panic was setting in at the thought of having to use the toilets during the trip. We simply had to get off!

There were only 2 stops. The first stop was at

Santa Clara

, a tiny, remote village, famous for its connection with Che Guevara but otherwise a total non-entity. It boasted one hotel and a hotel shuttle consisting of a horse and cart according to information received on the train.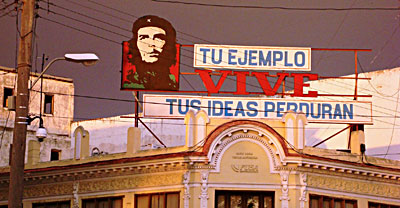 Reminders of Che are everywhere in Cuba


It also beggars belief that not one official on the train could tell us our ETA in Santa Clara but when we arrived there at about 0200, Sheila and I did a little reconnoitring and decided against leaving the train as the horse appeared to have retired for the night and we might find ourselves without anywhere to sleep.

The next stop was at a town called

Camaguey

which we reached at 0800 the following morning. To the utter consternation of the conductress in charge of our section of the train, we cut short our journey to

Santiago de Cuba

and leapt off the train vowing never again to set foot on a Cuban train for the rest of our lives.

Whoever compiled the book on the "501 Must-Take" journeys must have had a few too many mojitos before undertaking that particular journey! Also Ken worked out that the average speed of this "tren rapido" was 30 miles per hour and that the 12 hour trip from Havana to Santiago de Cuba would in fact have taken 21 hours!



Camaguey

We quickly found a nice, clean, cheap 'n cheerful hotel of the Islazul chain in Camaguey, where we spent 2 nights recovering.

The historic or colonial part of Camaguey was well worth visiting and we enjoyed a lovely meal in the recently restored Gran Hotel surrounded by its nostalgic 19th century décor. We also enjoyed a pony and trap taxi ride around the town.

There were very few cars - mostly bicycle taxis and ponies and traps and also very few tourists which meant that we got to experience life in a real Cuban town.

Pat and Sheila setting off by taxi in Camaguez


After negotiating the hiring of a car that we could leave back in Marina Hemingway in Havana the following Saturday, we set out to explore more of the island having fully recovered from the ordeal of the train journey.

We had decided not to travel further south to

Santiago de Cuba

as Pat and Sheila's holiday time was beginning to run out. So we headed west towards the wonderful colonial town of

Trinidad

which was designated a UNESCO World Heritage site in 1988. We spent a few hours wandering around the art galleries, old buildings and craft market in the town before heading further down the road to Cienfuegos.

We overnighted in another of the ISLAZUL chain of hotels along the way. It cost about

10 pp per night and that included breakfast and evening meal. The evening meal was pretty awful but the breakfast was quite good.


This was our day for

Cienfuegos

which is considered to be the nicest city in all of Cuba and we would definitely concur with that. Cienfuegos was a delight - an absolute "must" on the itinerary if you ever find yourself touring Cuba.

In the 19th century, it was settled by French émigrés and their influence is evident to this day. The town square is just magnificent. The ordinary houses are well maintained and painted in nice colours, unlike most other homes in Cuba.


The following morning we had a pilgrimage to make! As children of the 60's we simply could not leave Cuba without visiting the Bay of Pigs to see where history was or was not made depending on your point of view.



Playa de Giron in the Bay of Pigs


After a 3 hour drive over some pretty rough roads, we arrived at the

Playa Giron

, one of the landing spots in the failed Bay of Pigs invasion of April 1961. We stood and wondered what might have been had the CIA advisors not thought the coral reefs so obvious in the bay was seaweed. The landing craft broke up on the reefs and this contributed greatly to the failure of the invasion.

We then visited the Cuban museum commemorating the heroics of the Giron militia who so successfully repelled the might of the capitalist invaders.

I found it strangely moving to be in a place which had featured so prominently in the news for a time in 1961 when I was on the threshold of adulthood and becoming aware of world events.

After our museum visit we hightailed it

back to Havana

and to

Safari

who was patiently awaiting our arrival in Marina Hemingway.



Feb 6

- Ernest Hemingway Museum


As we still had use of the hired car we decided to dedicate Pat and Sheila's last day with us to Ernest Hemingway. We had already visited two of his favourite watering holes in Havana, the

Hotel Ambos Mundos

and

Il Floridita

. Now it was time to visit his house and his boat. We first of all drove out to Cojimar, east of Havana where he kept his beloved fishing boat,

Pilar

.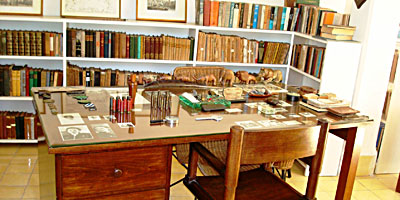 The desk where 'The Old Man and the Sea' was written


Then we headed off to

St Franzisca de Paula

where his estate lies. We had the services of a wonderful guide, Tatiana, who was a true scholar of Hemingway. She brought the house alive for us and we spent a most informative and enjoyable few hours in her company listening to stories about the great man's lifestyle and writings during his time in Cuba.



Feb 8

- Slán to Pat and Sheila


Pat and Sheila departed Marina Hemingway bound for Varadero and a few days sunshine and golf before returning to the Emerald Isle.



March 9

- Farewell to Cuba


We were to stay a further month in Cuba until March 9th - some of the time by choice and the final 10 days waiting for a weather window to cross back to the United States.

During that time we spent 100 hours recaulking the wooden deck on

Safari

as the mainly dry weather conditions were appropriate. We worked hard and completed about one third of the deck in that time. We hope to complete the job during the dry weather in Spain.

We also consolidated friendships with some Cuban families around the marina and with other boaters.



Cuba - My conclusions


My conclusion about Cubans is that they are poor but not happy. How could they be? They live a mere 90 miles away from one of the richest countries in the world. They feel deprived. They are prepared to work at anything to earn some money but the system will not permit them to do so. They live lives of quiet desperation which involves working at non-jobs in many cases. For some people the job consists of turning up for work one day a fortnight.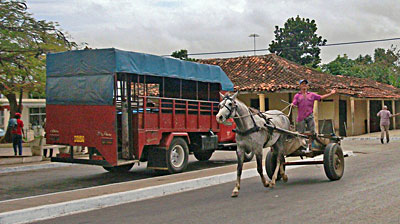 Public Transport - Cuban style!


Yes, they have basic health care and receive a first class education but that only heightens their awareness of the inadequacies of the system and thus adds to their frustration.

Their lives are controlled by the authorities. Travelling is both expensive and cumbersome, telephonic communications are kept more or less at local level and Internet is only available in hotels and even then it is heavily censored. The media is totally controlled by the government. Contact with the outside world is difficult.

The rousing revolutionary slogans exhorting the people to victory which are plastered all over the place, even in the smallest hamlets and towns are no longer relevant to the lives of a people who are struggling to put bread on the table and who spend a large portion of their lives queuing for basics.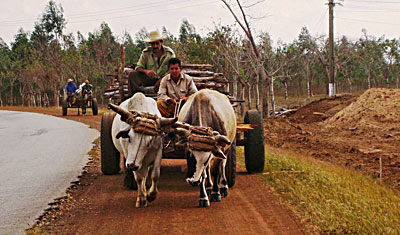 Farmers heading home after a hard day in the fields


The only real raison d'etre for most Cubans are Sport and Music. They love Baseball with a passion and fervour normally reserved for religion and they make wonderful music.



We departed Marina Hemingway on March 9 heading for West Palm Beach in Florida

from where

Safari

was going to be shipped back to the Med on March 20.
The schedule was tight, the journey at times challenging but that is a tale for another time.

Our six weeks living in Cuba had a profound effect on us. No matter how bad the economic situation in Ireland, no matter how reduced our personal circumstances due to the economic crisis, we have the health and freedom to go sailing wherever we please and that surely must number us amongst some of the luckiest people on earth.
---