Marathon to Marina Hemingway, Cuba




January 19th - 20th



On Tuesday January 19th at 12.25 pm after a 3 week wait for the wind to go round to the SE, a 24 hour weather window opened up and we set off from Boot Key Harbour in Marathon Key for Marina Hemingway in Cuba.

We had been waiting 3 weeks in pretty chilly conditions in Florida for such an opportunity.

It is a 24 trip from Marathon to Marina Hemingway heading down the Hawk Channel, which is inside the Florida Reef and thus gives protection from the worst of the winds and seas and then out past Key West which is the southernmost tip of the United States. At 1850 hrs we entered the shipping channel off Key West, hung a left and headed out into the Gulf Stream.

The promised wind from the SE had not materialised. There was a Northeast 5-10 which eventually became light and variable during the night. As the seas were only 2-3 ft we were able to motor across.

The course to steer for Marina Hemingway is 206 degrees but to offset the effects of the North- flowing Gulf Stream, we set a course of 225 dgs and adjusted as we went along. It became a little bumpy after 0400 hrs - just enough to put me off the bacon and egg buttie for breakfast but not enough to cause any problems.



January 20th





First sight of La Habana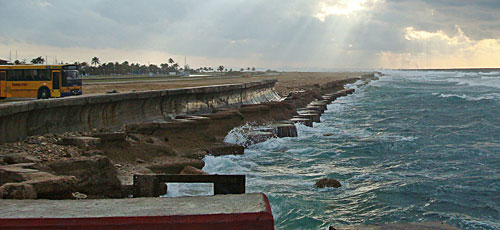 Breakwater at Marina Hemingway


Just before locating the Safe Water Mark outside the marina entrance, which was a challenge in itself, as the entire upper section was missing, we hoisted the Cuban courtesy flag and the Yellow quarantine flag as required.

At 12.30 on the dot we docked at the Guarda Frontera office at the entrance to Marina Hemingway and entered into the crazy world of Cuban bureaucracy.



A real Cuban Welcome



Firstly, I was not allowed to hop off the boat to assist with the mooring lines as I would normally do.

Then a doctor wearing a facemask boarded to check out our health. She asked if we felt well and on hearing that we were both in the pink so to speak, we signed the required forms affirming that we were free of all disease and her task for the day was done.

She was closely followed by 2 representatives from the agricultural sector to check that we had no undeclared pets aboard and to check out our fresh food supplies. Nothing was confiscated. They asked if we had any inducements for them. On receiving half a dozen bars of chocolate for their "grandchildren", they seemed happy enough with us. After completing and signing their forms in at least triplicate they departed.

Then "de heavies" arrived in the guise of 4 officers representing the Minister of the Interior .They carried out a search of the boat. They took away all our flares which would be returned on departure and collected up our GPS and Handheld radios. After taping them up, they left them on board but admonished us not to use them. Like their predecessors they had a whole bunch of forms to be signed by themselves and the skipper.

With 6 people in total clumping about a rather small space opening and closing presses, life was a little cramped on board! It was a small blessing that the sniffer dog, who usually accompanies them, was on his annual holidays.

All were wearing protective masks. At this stage writer's cramp was developing from signing so many forms and we were getting concerned about the world's supply of carbon paper! We were also pretty tired after the 24 hour passage and were looking forward to a rest in our cosy bunks.

Finally, a custom's officer boarded to make sure there were no illicit Cuban stowaways on the boat. At this stage one wonders where they could possibly be - lashed under the keel?

However, I must add that all the officials were extremely polite and courteous and even a little apologetic for the inconvenience they were causing.

4 hours later we were finally advised to take down the yellow quarantine flag and proceed on into the marina where more Cuban hospitality awaited! After docking towards the end of a long canal, an electrician was waiting to hook up our electricity. There were also 2 dockhands to take the lines. All required a tip of some sort.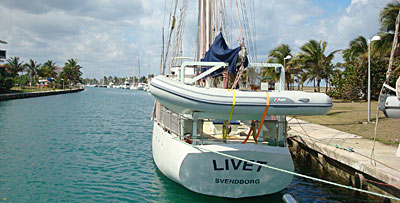 Main Dock in Marina Hemingway


Finally, the Dock master arrived and boarded to do more paperwork. He spent about an hour on board asking questions and filling in forms. Then he drove us in a golf cart to the nearest Cadeca (bureau de change) where we could get some Cuban money to pay the customs fee of 20 Cuban dollars or CUCs.

At 1700, we were finally free to go to bed for a much needed rest!



Exploring Marina Hemingway and its environs



Marina Hemingway is Cuba's flagship marina and is located just a short distance from one of Fidel's homes. It cannot be entered or exited in strong northerlies. It lies about 8 miles west of Havana and is a truly international rendezvous for yachts. During our 6 week stay, we met yachts literally from all over the world and that makes it a very exciting place to be even if the facilities are very much 3rd world and the restrictions most annoying. For instance, one may not enter or leave during the hours of darkness which adds an additional layer of difficulty to passage planning.

The Marina Hemingway complex consists of the marina itself, Hotel Acuario (which is not open to passing trade except for its internet facility, a few restaurants, and a 2nd hotel El Viejo y el Mar (the Old Man and the Sea) which houses Venezuelans who come to Cuba for medical treatment and is therefore not open to the public.



The Services



Hostels in the early 60's in Ireland sprang to mind on closer inspection of the marina. Everything was in need of a coat of paint. The toilet and shower facilities were very basic - clean but no toilet seats or paper. Only one of the toilets in the Ladies was actually working. Just one tap in all the wash hand basins had any water. There were no locks on the doors and there was a light only in the main area. Maintenance does not appear to be a big issue in Cuba.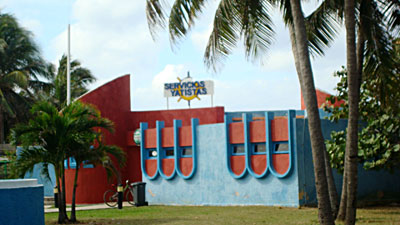 The facilities looking deceptively well


The showers had hot water but again only a trickle and all the shower heads had long since detached from the wall. The windows in the showers were fairly high up which was good for privacy but as most were without glass, it was pretty cold when the wind came howling through and that was a very frequent occurrence this February.

After complaining to the dock master, some of the toilets were repaired but that was all. The marina was totally overstaffed and they all seemed to job share. There were 4 dock masters who worked a rota.



Security



There were zillions of security staff who worked out of little huts along the dock. We initially thought they were there for our protection but soon discovered that in fact their main task was to prevent Cubans going aboard the yachts and possibly escaping. That is if they succeeded in passing through the main barrier at the entrance from the road. Then there was a second check before turning down the road alongside the berths. And finally there was layer number 3 - the security staff all along the dock.

No Cubans, even friends, could be invited aboard a yacht for a drink. Only workers with special work permits could come aboard to actually work.

Most people worked a 3 day week and were paid accordingly- about10 CUCS or

8 per month - not a living wage even for Cubans.



Sports Facilities and Supermarkets



There were tennis courts which had fallen into disrepair. There was a swimming pool with no water in it. There was a Ship's Chandler's which only sold wine, rum, eggs, yoghurts and toilet paper on some days. The other supermarket had lots of tomato puree, fruit juices, some tinned frankfurters and biscuits - a strange eclectic mix!



Anyone for tennis


We had come weighed down to the gunnels with tinned food anyway so we were not going to starve.

The dockage fee per night was about

15. Although the standard of the facilities was below most US and European standards, they were superior to anything we encountered in the islands of the lesser Antilles. Sourcing bread and fresh fruit and vegetables was a real daily challenge. No information was available. Its quite extraordinary really that there is a fulltime Public Relations Officer employed in the marina who has very little information about such vital matters as to where to buy basic foodstuffs.

We eventually discovered ways round the system but that took weeks coupled with my knowledge of Spanish which was a godsend! All efforts are made to herd the visitors/tourists in the direction the authorities want you to go in.



Communications



It was also incredible that the Marina had no outside phone lines or indeed facility to make an international call. Only local calls within the Havana area could be made. Personal laptops couldn't be used at all for accessing the Internet and the mobile phone was of limited use - no calls can be made out but calls can be received and text-sending worked.

Bear in mind that Marina Hemingway is advertised as the Number One marina in Cuba. The mind boggles at the state the others must be in!



The local area



Marina Hemingway is located between the towns of Jaimanitas and Sante Fe. By Sat 23rd we had sufficiently orientated ourselves with the transport system to consider venturing outside the marina complex. We had also decided that we would stay based in Marina Hemingway and explore Cuba by public and private transport. The thought of going through all the hassle of the paperwork which is required to enter and exit all ports or anchorages no matter how small or insignificant was too much. Also, we learned that a lot of the anchorages recommended in Nigel Caulder's book on Cruising Cuba were now off - limits for no good reason.

There were many tales from sailors who were forced to return to Marina Hemingway having been refused permission to enter various other ports or anchorages around the island. Some of them had even been ordered to leave in the middle of the night regardless of the weather conditions. We decided that this "nail-biting" type of cruising was not for us.

By now, we had also met a wonderful Canadian couple Brad and Maeve who were a fund of information about all aspects of Cuban life as they were annual visitors on their yacht

Sampathico II

.

They introduced us to the local areas of Jaimanitas and Santa Fe. They explained the duel monetary system to us. The pesos nacionales and the CUCs (Cuban convertible dollars). One CUC is worth 24 pesos. The basics like bread and fruit and veg could be bought with pesos but everything else was available only in CUC shops even for the Cubans.

Both Cubans and Visitors alike could use both currencies but as the Cubans earned so little, they would sell their mother for a few CUCs. It is a truly dreadful system but more about that later.

Brad and Maeve told us how and where to buy bread and fruit and vegetables and brought us on a walkabout of Jamantitas which was a really enriching experience. The housing looked very run-down but the people were friendly and welcoming.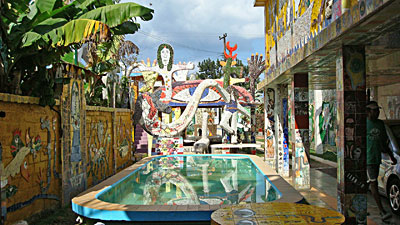 Jose Fuster's home in Jaimanitas


Best of all they introduced us to the work of the Cuban artist, Jose Fuster. Fuster's work has been exhibited all over the world. So it was a wonderful privilege to visit the extraordinary home of the "Picasso of the Caribbean" (as he is known) and buy some of his works.

We soon discovered that behind the daily, colourless, impoverished drudgery of life in Cuba, there lies a wonderful wealth of culture in their Art, Music, Dance and Architecture. We also discovered a country of great natural beauty alongside the most distressing poverty.

Irish friends, Pat Larragry (HYC)and his wife Sheila were due to join us for a 10 day visit later in the week. When they arrived, we set off exploring Cuba with them which was an absolutely wonderful experience. I will tell you all about that amazing experience in the next instalment!