At Boot Key Harbour, Marathon, Florida Keys
14th December 2009 to 11th January 2010
| | |
| --- | --- |
| Click Map for larger version | Click Map for larger version |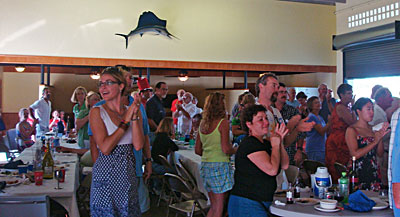 Applauding an excellent Christmas dinner- note the attire!
Weather-bound in Marathon



As I write this there is a "wind-chill" advisory in operation. This means that the temperature is expected to drop below 35degrees, Fahrenheit today- 32degrees is freezing point. Last night it went down to an all time low of 19 degrees F with Northerly winds gusting 35-40 knots. Not a pleasant scenario at all here in south Florida where it is supposed to be in 80's.

Cold-weather shelters have opened up throughout the Keys, the locations of which are frequently announced on the Weather channel. As many of the poorer homes lack any form of heating, this unprecedented cold snap is causing a lot of hardship and suffering in the community but prompt action is being taken.

On board

Safari

, we are grateful for our cockpit tent which keeps the worst of the wind and cold at bay and also for our Ebersbacher heating system which keeps us pretty warm and cosy. The thermals and bed socks are also helping. So family and Friends in Ireland, don't be too envious - sunny Florida, how are ye!

Well, given that we are all prisoners of the weather at the moment, I thought I would take some time out to describe our life here in Marathon as part of a real "live-aboard" community.

According to the Marina Office, we are the first Irish yacht to visit Boot Key Harbour. It seems pretty incredible to us that we should be in such a ground-breaking role! Anyway, as I have already mentioned, just like the rest of our compatriots in Ireland, we are weather-bound. As front after nasty front passes over Florida, we are forced to stay in harbour and dream of sunnier days to come and hopefully balmier nights in the tropics in Cuba.

The near-freezing temperatures here since New Year are the coldest on record. I know it is not comparable to the big freeze in Ireland but the conditions are nevertheless unprecedented for this part of the world.

One big difference between the weather in Florida and Ireland is that there is some respite between the fronts. On Friday , the temperature was in the low 70's so everyone had a chance to go ashore and do laundry, stock up on provisions and take showers before the next front hit on Saturday which is due to last until late Monday next.

As there is no central heating in the showers, only the very hardy venture over to shower during the cold weather. Going ashore in icy conditions in a choppy sea and in a small very wet dinghy is also not so attractive!



The Mooring field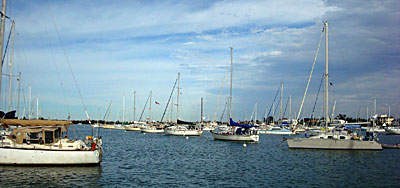 A small section of the Mooring field

Clouds gathering - an evening shot of the Mooring Field >>

In spite of the inclement weather however, the whole experience of living as part of an American "live-aboard" community is a very interesting one.

There are about 260 boats on mooring balls here in the mooring field at the moment. They could be divided into 3 categories.

The permanent residents whose boats are recognisable from the thick weed attached to the waterline. Many of them are quite eccentric people. One gets the impression they dropped anchor way back in the 70's and just stayed on. Some of them congregate each day under the"Tree of Knowledge", consume many beers and solve lives' problems well into the wee hours.

Then there are the seasonal visitors, mostly from Canada and New England. They have come to escape the very harsh winters of their home States and they stay until April or May when the hurricane season begins.

The 3rd group could be described as transients like ourselves, sailors who are on their way elsewhere - mostly to the Bahamas, Mexico, Guatemala, Panama and of course Cuba ( non-Americans only).



The Facilities in Marathon City Marina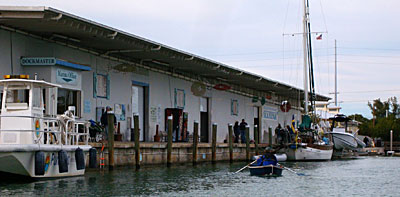 Marina Office with mobile Pump-Out station
There is a small marina but the main area of operation is the mooring field. The marina office is run by very helpful and friendly staff. There are quite a number of rules and regulations but they are enforced in a good humoured manner.

The facilities are basic but great - all a boater could desire. Hot, clean showers and toilets, weekly pump-outs, well-maintained and secure dinghy docks, a secure area to leave bicycles ashore (the most popular mode of transport), excellent laundry facilities, a hobby room where one cruiser is currently building a wooden dinghy. All this for only

80 per week. Its great value indeed - the very best value we have encountered in our travels to date.

Locally there are a number of big supermarkets, a West Marine chandlery and every kind of repair service a yacht could possible need.

There are also various organised activities. Tomorrow for instance there is a talk on "Healthy Living Aboard" over at the marina (if we can get across). On Wed last there was a talk on cruising to and around Cuba - given by a Canadian (of course). It is also possible to attend yoga classes and play softball and tennis on community courts which are part of the City Marina complex.



The Cruisers' Net



Each day commences at 0900 with the Cruisers Net on VHF 68 which is run by the cruising folk themselves. New boats are welcomed to the harbour with a Welcome Pack - a bag containing detailed information about the community here and all it has to offer the visitor. Departing boats are wished Bon Voyage.

There is an Announcements and Question section so that everyone knows what is going on in the harbour and where to get help if it is needed. The other morning a man was looking for the loan of a special nail clippers for a cat! (There are lots of pets on board). There is an excellent Buy, Sell Trade, Give-Away section were one can off-load unwanted gear and also acquire equipment at great prices.

Starting from Wednesday next, there will be a "Meet and Greet" potluck over in the marina building. Everybody brings along a dish and also, as they so quaintly put it, "your own silverware". You sit down together and have a meal- a great and very inexpensive way of meeting the neighbours.



A little about the Keys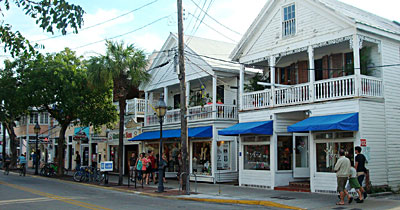 Duval Street, Key West
There is also a bus service throughout the Keys which is great. We have taken trips to Key West, the southernmost of the Keys, to Isla Morada, famous for its natural beauty and Key Largo of Humphrey Bogart fame.

The Keys are also known as the Conch Republic. Apparently, so many Americans who didn't wish to be drafted at the time of the Vietnam war, ended up hiding out in the Keys that they considered creating a new Republic which would be independent of the United States - the Conch Republic.

It quite obviously didn't come to pass but life here in the Keys is lived at a different pace altogether from the rest of the United States. It is simple and unsophisticated. The cuisine in the local restaurants could be best described as "home-spun" - the Philly Steak sandwich, burgers and ribs feature strongly as does all manner of seafood. No meal is complete without a huge helping of Key Lime Pie - a much sweeter and "goohier "version of lemon meringue pie.

There is a Play House and a Picture House here in Marathon. A comedy "Silvia" is currently showing at the Play House- $18 per ticket and the movie "Sherlock Holmes" is the current film - $6 per ticket - super value in both cases.

US 1 is the Highway that runs all the way down through the Keys from Miami to Key West. Some parts of the Keys are often only as narrow as the width of the Highway itself and there are endless bridges joining up all the Keys. For instance, the Seven-Mile Bridge joins Marathon to Big Pine Key and so on. There are no cities as such - just stores, offices, banks, restaurants and small motels dotted along the Highway. There are no high-rise buildings whatsoever in sight.
Laid-back living in the Keys



Life is lived at a wonderfully relaxed pace and time just seems to evaporate.

We start our day having breakfast while listening to the Net. Then we generally go ashore to shower (if its not too cold!), do laundry and socialise. Then it is time for lunch. Sometimes we enjoy a light lunch at one of the many little restaurants - average price $5 per head!

Then we head off for a cycle to the shops or over to visit the Gulf of Mexico on the other side of the road or we sometimes take a bus ride to another Key.

Our trusty steeds !
We generally have dinner on board in the evening followed by a DVD and that is generally followed by a session reading the Irish Times online and keeping up with the Crosswords. We read a lot as well. There is a great bookstore in town and also a book exchange in the Marina.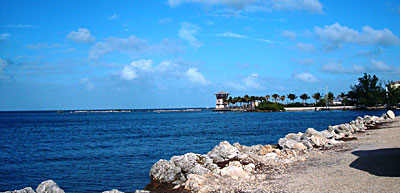 The Gulf of Mexico - a stone's throw away !
Changed Priorities



It is truly amazing how one's priorities change.

The 3 most important things currently in our lives are the Honda generator, the dinghy with it's outboard and the VHF radio.

The generator so that we can generate enough battery power to run lights and the fridge and use the computer. We can use our computer onboard as there is wifi coverage in the mooring field. It is slow, erratic but usable.

The dinghy which is our life-line to the mainland and to a social life. We pop over to other boats in our dinghy and of course go ashore. It is important to have a good outboard motor which we thankfully have.

The VHF radio for the Net, Weather forecasts and for keeping in touch with our new cruising friends.

We have been here since Dec 14th. The plan had been to spend Christmas here and New Year in Havana. Marina Hemingway in Havana awaits us and we would love to be there but the weather has other plans!

As soon as an appropriate weather- window opens up we will undertake the 90 mile trip. The complication is not the length of the journey but the crossing of the Gulf Stream which can only be undertaken when all the conditions are right. Hopefully, this will happen soon but as the slow, peaceful pace of life here takes a firmer grip, we are happy to be patient and wait and see what "manana" has in store for us.

Here's hoping that we get away soonish to Cuba and that the "Big Thaw" begins soon for all our snow-bound family and friends in Ireland.

It just remains for me to wish all of you who have read this log a really happy and peaceful Christmas and a more prosperous 2010.

Carmel & Ken


Safari of Howth



EMail: carmelveronicakavanagh@yahoo.ie
---