Morehead City


For this reason we were forced to spend 10 days in Morehead City marina - prisoners of the weather, our deep draught and the tides.



Morehead City to Southport


We finally escaped at 2120 hrs on Friday 20th November and set sail across Onslow Bay to the Masonboro Inlet which we hoped to enter with the flood at daybreak and then travel about 20 miles along a fairly deep stretch of the ICW to Southport which is the last halting post in North Carolina. By doing this, we avoided going outside Cape Fear with the very treacherous off-lying Frying Pan Shoals.

Our first "night" sail of the season was successful and all went according to plan with us arriving in the marina in Southport 14 hours later at high water. It was crucial that we arrive one hour either side of high water otherwise we would not have been able to get into the marina with our draught. This scenario was to repeat itself constantly on the way down.

Southport was a delightful stop-over but the weather was getting increasingly colder and extra blankets had to be used at night. We were really anxious to get further south so we decided to do a 48 hour non-stop leg down to Florida, by-passing the temptation of stopping over in South Carolina and Georgia in favour of warmer climes.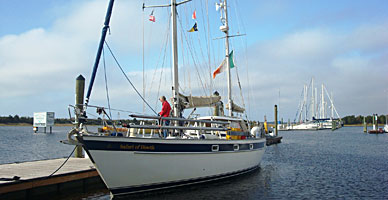 Safari

berthed in Southport, North Carolina



Southport to Fernandina Beach


On Monday 23rd, the weather forecast was favourable- an easterly 15-20 knots going down to 10-15 during the night. Off we set for 2 days and nights. All went well until we were off Brunswick, Georgia at about 0400 on the second night when a bad squall hit. We had to endure heavy rain and strong squalls until our arrival in Fernandina Beach at 0900 - very wet and uncomfortable.

On our arrival at the marina, an unforgettable Irish welcome awaited us from "Kinvara", a yacht owned by an Irish emigrant from Kinvara, Co Galway , Peter Bugg, who had never before encountered a yacht flying the Irish flag during his 20 years of sailing up and down the East Coast of America. As we were trying to dock in blustery winds, he was standing on the bow of his boat waving a huge Irish flag and shouting greetings in our native tongue!

We were immediately invited to Thanksgiving dinner on board the following day. So we had a super very first Thanksgiving celebration in the United States with turkey and all the trimmings.

We were thrilled to have reached Florida but very surprised at the huge chimneys belching thick smoke into the heavens as we made our approach into Fernandina Beach where we expected to find golden, sandy beaches and palm trees and no rain! Later we discovered that our compatriot, Michael Smurfit, was the owner of the paper mill with the smoking chimneys. As they are the number one employer in this very prosperous town, any negative comment would have been most unwelcome. So we kept quiet!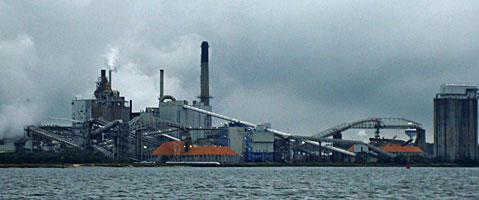 A Smurfit Paper Mill busy at work



Fernandina Beach to Jacksonville


Our new friends persuaded us to sail in company down the ICW on Friday the 27th towards the famed St Augustine - a distance of some 66 statute miles. We checked with Towboat US, of which we are members, and were assured that we would get through the Waterway with care. How wrong they were! After running aground 3 times - all in mid-channel, carefully following the electronic chart - (we had to be towed off once by Towboat US), we decided to abandon the ICW once we reached the deep waters of St John's river and hung a right for Jacksonville a few miles upriver.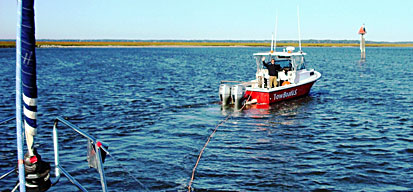 Towboat US coming to the rescue

This was a fortuitous decision as we managed to get a berth in Arlington Marina, a very small, down-market marina on the wrong side of town. (The "facilities" were in an abandoned house!) It was Festival weekend in Jacksonville and we were lucky to get tied up anywhere. The town centre was an affordable taxi-ride away and I must admit that we had a brilliant stop-over here.

The highlight of the Festival was the Parade of Lights on the river followed by a superb fireworks display. ( Eamon Markey - eat your heart out!) About 60 boats participated in the procession -one more dramatically lit up than the next. We joined the thousands of people along the riverbank to admire the spectacle and applaud the efforts of the boaters. The atmosphere was pure magic.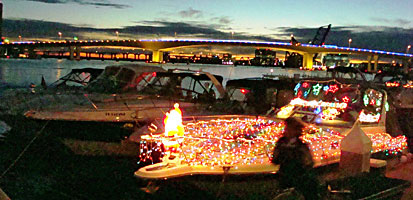 Getting ready for the Parade of Lights in Jacksonville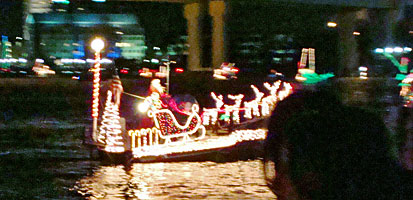 Santa arriving for the Parade of Lights



Jacksonville to Mayport


On Nov 30th, a magnificently bright but bitterly cold morning, we headed downriver to Mayport at the entrance to St John's river to position ourselves for the sail down to St Augustine. We averaged 8.5 knots on the way down because of the strong ebbing current. What a sail!

Mayport is basically a naval base so there were lots of restricted areas along the river on the approach which were patrolled by serious looking military aboard speeding RIBs with heavy machine guns on the bow. We kept well clear of them - no photos - not even a wave - in case it might be misinterpreted - just sailed past as inconspicuously as possible.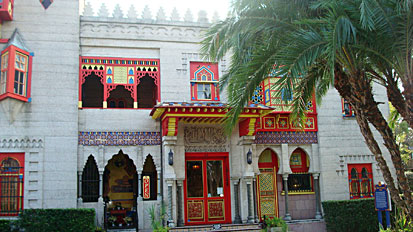 The Villa Zorayda in St Augustine showing Spanish - Moorish influence



Mayport to St Augustine


After an overnight in Mayport, we departed on the 30 mile trip to St Augustine. All went well and we tied up at the City Marina and proceeded to enjoy a few days in this delightful mediaeval town of Spanish origins which is home to many great golf tournaments. We had the option of anchoring but as it is recommended to deploy 2 anchors because of the very strong current, we decided to keep things as stress free as possible by going into a marina.

St Augustine is so different from any other town we had visited in the United States with it's mediaeval architecture, cobbled streets, quaint buildings, little bistros and cafes - a real taste of Europe but also a very popular holiday destination for Americans.

All major institutions in the town are named after Henry Flagler, the founding father of Florida who was one of the first northerners to promote Florida as a winter vacation centre and who spent some of his vast fortune building a railroad system which connected all the Florida Keys to mainland America. The railroad has since been replaced by a Highway which runs all the way down to Key West at the southernmost tip of Florida.



St Augustine to Fort Pierce


The weather was gradually getting warmer. I had finally left off the bed socks and the thermal vest and was beginning to take the shorts and T-shirts out of mothballs in anticipation of warmer days to come. On the day of departure from St Augustine, an impatient skipper, who had decided not to wait for slack water, T-boned into the back of his neighbour as the current caught his bow.. The loud, ensuing crunch sounded expensive - a timely reminder of the power of the currents in these parts.

We departed the City Marina without incident at 0930 to coincide with slack water and the opening of the Bridge of Lions which allowed us to exit St Augustine into the Atlantic Ocean once again and set sail for our next destination, Fort Pierce, which was an overnight sail away. There was 10-15 knots from the west which made conditions very pleasant. The wind died towards evening and we had to motor for the second half of the journey.

The water inside the Fort Pierce inlet is pretty shallow and we were delighted when the Pelican Yacht Club agreed to give us a berth for a few nights. A cold front was on its way up from the Gulf of Mexico so we needed to stay in harbour for a few days. We were the first ever Irish yacht to enjoy the facilities of the Yacht Club in Fort Pierce and what a beautiful club house it was, too. We dined there on the Saturday night and enjoyed an excellent meal.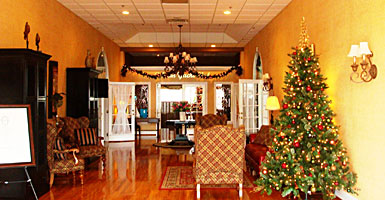 The Pelican Yacht Club, Fort Pierce, Florida



Fort Pierce to Miami


After sitting out a couple of days of really foul weather, we finally headed out for Miami, a 100 nm passage from Fort Pierce. We ended up getting caught out in some unexpected bad weather. This happens to all sailors at some time or other and our turn had come! In short, we had to endure 9 hours of very nasty conditions which culminated in us straying into the Gulf Stream (going the wrong way) at about 2300 hours in what was a very black night - a very uncomfortable experience! The original weather forecast was for 15-20 knots from the Northeast going down to 10-15 and dying off during the night. As the night progressed, the conditions worsened reaching Gale force. We took a decision to come in and hug the coast in spite of it being a lee shore. It was a good decision as the sea was much calmer a half mile off shore and we were able to continue motoring down towards Miami until calm descended at circa 0300. When day broke, there was a thin layer of fog hovering over the skyscrapers of Miami but visibility was more than adequate for us to make our approach through Government Cut into the very safe port of Miami and to a comfortable berth in Miamarina right in the heart of downtown Miami.



Miami


What a wonderful surprise awaited us. We had no idea what to expect and were thrilled to find a marina we could afford, people who couldn't have been more helpful and more kind and a city that was really quite beautiful with its skyscrapers and wide boulevards. It also boasts "People Carriers" an overhead light rail system which transports people to all the important locations in the city- free of charge. Spanish is the language spoken on the streets and the cafes and stores were full of tourists served by Spanish speaking waiters and waitresses. Had we strayed into some South American city?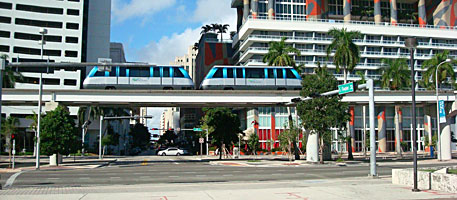 Miami's answer to the Luas and free!

We ended up staying a week, thoroughly enjoying the hospitality and company of fellow yotties, Marty and Hernan, owners of the most magnificent sailing boat we have ever seen "Oceanaire". They not only entertained us on board but drove us all over the city on sight-seeing tours and to fabulous restaurants to celebrate Ken becoming a senior citizen! Our stay in Miami was truly memorable.


Miami Skyline



Miami to Marathon Key


Finally, on Sunday 13th December, we departed Miami heading further south for Marathon in the Florida Keys. We had heard that this was a great place for boaters. The overnight passage of 96 miles was very smooth. As there was little wind, we motor-sailed and arrived off Boot Key harbour in time for the 0800 high water. We entered with caution and picked up a mooring ball in the vast mooring field and entered into what is an idyllic world for live-aboards.

At

10 per night, which includes use of all the facilities at the marina, it is superb value. The marina manager and his wife are even hosting a free Christmas dinner for all the customers. It certainly will be a change from our usual Christmas in Dublin. There is a public transport system (unusual for rural America) and there is even a special place to keep our bikes on shore. We intend to really enjoy ourselves here in the warmth of the Florida sunshine-most days it is in the 80's but it is not always sweetness and light when it comes to the weather here.

While having breakfast this am, we listened to today's forecast which warned of severe thunderstorms, water spouts and possible tornadoes in this general area. As there was no sign of panic among the natives, I carried on enjoying my muesli! We plan to stay here until the New Year and then hopefully head for Cuba (approx 200 nm away) early in January.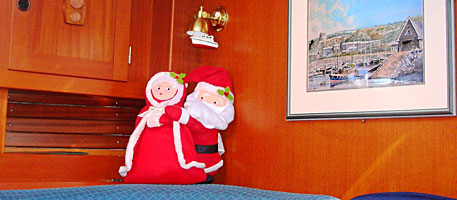 It just remains for me to wish all of you who have read this log a really happy and peaceful Christmas and a more prosperous 2010.

Carmel & Ken


Safari of Howth



EMail: carmelveronicakavanagh@yahoo.ie