In the Canary Islands
16th October 2007
On August 27th at 0800 we

departed Quinta do Lorde Marina

in Madeira,

bound for Lanzarote

. There was just about enough wind to hold the sails, otherwise a bright beautiful day was followed by the most peaceful night I have ever spent at sea. A near full moon shining brightly in a cloudless, star-filled sky meant that it never really got dark (I was delighted as I guess you have gathered by now that I am not at my happiest in the dark!) We motored steadily through the night and throughout the following day. We had the sea more or less to ourselves - only 2 targets passed during the entire 50 hour journey!

The second night wasnít quite so idyllic. The moon didnít get a chance to show itís brilliance through the thick cloud and the stars remained hidden from view.

As we approached Lanzarote

at 1030 the following morning, we were on the alert for the infamous Wind Acceleration Zones when rounding the bottom corner of the island. Suddenly the wind went from zero to 25 knots and away we galopped on mizen and genoa - we had already dropped the mainsail.

By 1130 we were comfortably installed in a berth

in Marina Rubicon, near Playa Blanca,

in the south of the island. It is a superb marina in a lovely location and to our delight the cost per night was

22 inclusive of reduction for weekly stay and as Arc participants.

As this was our first time ever to visit the Canaries, we were really looking forward to seeing at first hand what nearly every schoolboy and schoolgirl in Ireland seems to have already experienced! The Canary islands in general seems to be a very popular holiday destination with the Irish all year round. Even our 14 month old granddaughter, Sophie has already had a holiday in Fuerteventura!

Over the following 3 and a half weeks we became very well acquainted with

Lanzarote

. The previousely unheard of place-names like Arrecife, Tias, Teguise, El Golfo, Puerto del Carmen, Puerto Calero became as familiar to us as Fairview, Sutton and Howth! The wonders of foreign travel!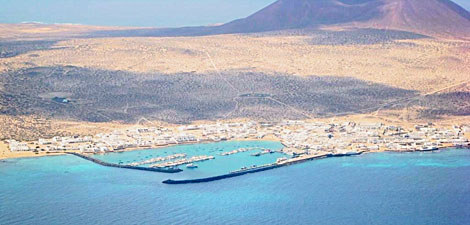 Caleta del Sebo on Isla Graciosa viewed from Mirador del Rio
While there, we welcomed our friend, Antje Lund, from Germany on board who joined us for a week. Although Antje is not a sailor, she adapted to shipboard living like a woman with some serious seafaring ancestors! We also had a great 6 hour lunch on board with some Irish friends, Pat and Tommy Healy who were holidaying in nearby Puerto del Carmen. We hired a car and visited all the tourist attractions on the island. Lanzarote should be renamed Cesar Manrique island ! Manrique, architect, artist and sculptor (1919-1992) was born in the capitol, Arrecife - not a town that would feature on my list of winners of Irelandís "Tidy Towns" competition and impossible to find oneís way around either by car or on foot!

His presence is felt everywhere on the island. He has bequeathed an artistic heritage to Lanzarote in the shape of the buildings he designed and the places of great beauty he created with the help of mother nature. Also his paintings and sculptures are very visible and very beautiful.
†
His former home is now a museum, the Cactus Garden was designed by him as was the Mirador del Rio in the north of the island which provides magnificent views down onto the Island of Graciosa, the Jameos del Agua, a series of water chambers one of which is vast volcanic cave that has been converted into a 600 seater auditorium.

He also designed the cafť in the Nature Park of Timanfaya which is home to the volcanic craters, the principal one being la Montana del Fuego or Fire Mountain. The scenery here was truly breathtaking with its many volcanic cones and black lava plains.
†

Cactus Garden - Lanzarote
He shaped the islandís architecture not just with the above mentioned developments but his influence is still seen to this day in the design of ordinary dwelling houses. No house may have more than 3 storeys - all doors and windows must be painted in one of just 3 colours - green, navy blue or brown to blend in with and complement the natural landscape.

Some people might salute him for this - there are no skyscrapers blighting the horizons of Lanzarote- but Iím afraid I donít! I found that the towns and villages with their cube-shaped houses lacked character and quaintness and warmth. One soon loses hope of ever coming across a little architectural gem just waiting to be found around the next corner. The sameness of everything coupled with the rather bleak, black, barren volcanic landscape left me feeling chilly in spite of the heat from the sun.

But Cesar Manrique left a far more important legacy to the islanders in my opinion - he guaranteed them an economic future! All of his 7 beauty spots are on the "Must-See" list of every tourist. So taxis, hired cars, coach tours, restaurants are all in huge demand in order to visit the different locations. Then there are the entry fees which average 8 per person per visit. Donít misunderstand me, the attractions are well worth visiting - we were truly impressed but what a clever man to have organised employment for so many thousands of people for years to come ! That has to be his main legacy to the island.

As the days ticked past in Marina Rubicon we came to know some other "Boat people" and each day yet another boat bound for the Atlantic Crossing in November checked in. We were delighted to make the acquaintance of Kevin and Marion Pender who own a sister ship to Safari. They are also enjoying retirement on their boat,

Jilliana

which is based in Kilrush at home.

Our immediate next door neighbours were also Irish - a group of merry Limerick men who plan to cross the Atlantic on their yacht,

Gull

They had to head back home and will return in late November to depart with the ARC. Another neighbour, Andy, who had a fascinating old wooden boat

Alice of Penryn

was most helpful to us and he, too, is planning to cross to the Caribbean this winter.
Our stay in Lanzarote wasnít all fun and games though. On the evening of Sunday 16th September, while strolling along the seafront promenade, Ken was attacked and hurt by a passing rottweiler.

He was lucky that the owner at least had him on a lead and pulled him off before his teeth had a chance to tear the skin.

As we had recently had our Tetanus and Hepititis shots for the Caribbean, the doctor allowed Ken home after a careful examination. He is still bruised but healing.
†

Happy to be arrested any time by these guys!
†
From the moment we set foot on Lanzarote our war against the invasion of cockroaches on board began in earnest. No cardboard is taken on board, all fruit and vegetables are washed in a little bleach before going into the presses and street shoes have to be removed before coming into the cockpit. Cockroach eggs can be carried on the soles of the shoes! Itís a nuisance but a very necessary price that has to be paid for living in this gorgeous climate!

Also while in Lanzarote we consulted with a marine man about a possible problem with the starter-motor. On his advice we had a new engine- starting battery installed and were then advised to come down to Gran Canaria to talk to the Volvo Penta people here as Las Palmas is the main marine centre of the Canary islands. All the other islands are forced to import everything from here.

So we heeded his advice and

headed down to Las Palmas

on Sunday 23rd September arriving in the marina the following morning after a cracking sail through the night in a 20 knot northeasterly. The starter-motor has been taken away by the Volvo Penta team and we have also booked an engine service with them. The chandleries here are superb and are stocked with everything one could possibly want to buy and at very reasonable prices. Las Palmas is definitely not on any "Rip-Off" list like our dear old Emerald Isle! Its even cheaper than mainland Spain. It is a city of 400,000 people - not a holiday destination. We had planned to go to Tenerife from Lanzarote but will have to shelve that plan for the moment.

We have been here in Las Palmas ever since. Our visitors have been and gone. It was great to see my sister June and both of my brother-in-laws, Frank and Patrick. Its always lonely when visitors depart for home but we had a great time together and they were able to supply much needed support and comfort when life became very complicated for Safari of Howth and itís owners! But now all our problems have been solved and we are back on track again to cross the Atlantic which is scheduled to happen on November 25th.

I admit that I might not be wearing my rose-tinted glasses at the moment but apart from the great services here in Las Palmas, I am not too impressed with Gran Canaria so far! However, I will update you all on my "Gran Canaria" experience at a later date!

Muchos besos.
---