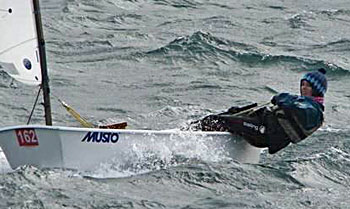 Erica Ruigrok - End of Season - 2009
 
The 2nd Leg of the IODAI Optimist Trials 2010 was held in Dun Laoghaire last weekend (1st - 3rd May) as part of the Mitsubishi Youth Championships. Congratulations to Erica Ruigrok who sailed consistently well to secure a team place on the European team which will travel to Poland in July.

Congratulations also to Robert Dickson, Fergus Flood, Richard Hogan and Aoife Hopkins who also secured their places on the U-12 squad which will travel to Weymouth for the UK Nationals.

Conditions remained very challenging for the 2nd leg of the trials. Some sailors were hopeful of some more breeze, as was forecast, but that failed to arrive. Indeed, conditions were similar to the light winds experienced at the 1st leg in Lough Derg.

 
Yet again a days racing was lost due to the lack of wind on the first day with the sailors parked out on the water for over 4 hours with little hope of a start. Sunday and Monday brought light northerly breezes which shifted regularly and were patchy across the course. Indeed, only 8 boats finished the second race on the Sunday as the wind died half way up the final beat. Overall, 6 races were sailed in Dun Laoghaire making a total of 13 races for the 66 entries.

RCYC dominated the top of the scoreboard with 4 of their sailors in the top 5.
Peter McCann (RCYC) won the overall trials event.

Craig Campbell took the decision to cut his losses following the 1st leg and has moved on to the Topper fleet. We wish him every success.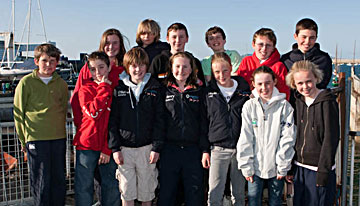 The Under 12s - 2010
 
For Robert, Richard and Aoife this was their first ever trials. It is a tough event and the standard required to achieve a team place cannot be underestimated. However, the experience gained by our U-12 sailors at the trials this year will stand them in good steed for the rest of the season in the Junior fleet and indeed for next year's trials.
Overall Results
1st
Peter McCann
(RCYC)
2nd
Seafra Guilfoyle
(RCYC)
3rd
Patrick Crosbie
(RCYC)
 
16th
Robert Dickson
(LRYC/SDC/HYC)
18th
Erica Ruigrok
SSC/HYC/RSC
19th
Fergus Flood
(HYC)
23rd
Richard Hogan
(HYC)
41st
Aoife Hopkins
(HYC/NYC)