Mirror Westerns 2005 - Mayo Sailing Club
9th / 10th July



62 Mirrors participated in the Mirror Westerns sailed out of the magnificent new Mayo Sailing Club facilities in Rosmoney, Westport last weekend.

Blessed with the first real blast of summer, magnificent scenery (Croagh Patrick overlooks the race area), warm sunshine and good winds, PRO David O'Brien gave the fleet 3 excellent races on Saturday out in Clew Bay beyond the lighthouse, well into the Atlantic Ocean with white water and swell to boot.

The parents, fortified with coffee and buns, took the opportunity (or some of them anyway!) to climb Croagh Patrick, do their various indulgences, pray for certain victory for their young sailors, and sip the refreshing pints that they justly earned by their exertions. The same weekend, a group of climbers set out to climb Croagh Patrick 7 times in the 17 hours of daylight, good luck to them, getting to the car park at the foot of the mountain was exercise enough for most of us!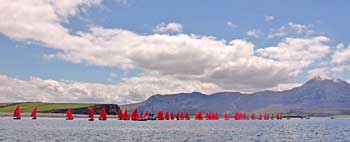 Whatever about the prayers (and the climbers), the racing on Saturday proved very close with lots of places being swapped both up and down wind depending on speed and tactics. Philip McGlade with Paul Martin (both from RCYC) took

Race 1

in some style, Philip just back into the boat after the leaving cert and already showing good form.

Fred Gilbert and Conor O'Brien (from Malahide and Howth/Lough Derg) followed in 2nd with Charles ("Woo") Kearney and Craig Martin (of RNIYC) in 3rd. The big guns were out there and on form with hot competition from Sligo, Skerries, Lough Derg, RNIYC and Howth/Sutton close behind.



Race 2

went to Simon McGrotty with Melissa Daly (from Skerries), recent winners of the Southerns (and also 4th in UK Nationals) with Ross Kearney and Adam McCullough (of RNIYC) showing the form that gave them 2 regional events already this year in 2nd, and 3rd went to Fred Gilbert and Conor O'Brien showing great consistency.



Race 3

, after a few false starts, was sailed in calmer conditions, and again brought out a very close race with all the big guns and a few new ones to the fore. Fred and Conor showed their consistent form with a win, followed by Woo and Craig in 2nd and cousin Ross Kearney and Adam McCullough in 3rd. Stephen Brown and Tim Rafferty of Lough Derg were a close 4th. Now all the big guns had some good results.



At the end of 3 races

Fred and Conor held a narrow lead but, with 6 boats all within 8 points of each other just behind, the championship was wide open and Sundays racing would tell a lot once a discard entered the equation.

Mayo Sailing Club, in simply beautiful surroundings, hosted a great BBQ for competitors and parents alike. This is heaven and a well kept secret, well worth a visit by land or sea. The new clubhouse provides the perfect setting with a large open club room and deck area upstairs and changing rooms and storage downstairs. Plans are afoot for an extension to provide dinghy and engine storage and further develop this great site.

Sunday emerged as a real cracker, but with no wind. PRO Dave O'Brien eventually started racing inside the islands where a decent sea breeze had settled down and got another excellent race in despite the long wait. With a dying wind and steady high pressure one race was all that proved possible and this gave plenty of opportunity to balance out the scores.



Race 4

was won by Simon McGrotty and Melissa Daly with Ross and Adam a very close 2nd and Bernard Lee with Karl Mackey from Lough Derg showing great form to take 3rd. Bernard and Karl are just graduated to the Gold Fleet and are names to watch for the future. Colm Malone and Diarmuid Fahey for Skeeries took 4th with another of the big guns, Alan Blay and Ross Harte from Sutton in 5th. Lots of new faces, an OCS for Fred and Conor, it was going to be very close.

In the end,

Fred and Conor won the Westerns with 6 points

from Simon and Melissa on 7 points getting 2nd after a tie break with Ross and Adam. Woo and Craig were 4th and Philip McGlade and Paul Martin 5th. Fred and Conor are both popular and worthy winners.

The

Silver Fleet

was won by Rachel Guy and Michael McLoughlin (from Lough Derg and host club Mayo SC), by a 1 point whisker from Cian Gallagher and Ruairi Davis (of Sligo) with Peter and Andrew Collings in 3rd.

The

Bronze Fleet

was won by Orlaith Cotter and William Murray of RCYC, Orlaith knows all about winning from her time as crew to Philip McGlade, with Luke Henderson and Freya Ronan from Sligo in 2nd and Shane Murphy and Aoife O'Connell of RCYC in 3rd. Best local boat went to Lisa Mullee and Cumhai Quigley who will hopefully now get on the circuit.

All in all a very successful event, run by one of the best new clubs in Ireland, and in magnificent Mayo on a bright and beautiful sunny weekend, what more can anyone ask for!

With 3 winners over the 4 regional events, with very close fought results in every race and every regatta, the Mirrors go forward to the

Nationals in Skerries (July 21st to 24th)

and thereafter to the Mirror Worlds in Ostersund Sweden in early August. Competition is hot and everything is still there to be won ... let the battle commence!