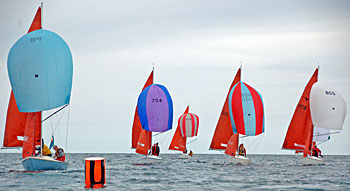 The Squib UK East Coast Championships were held over the weekend of 25th - 27th May at Bridlington, East Yorkshire. Howth Yacht Club was represented by Emmet Dalton and Tim Concannon, sailing Klipbok. Klipbok was the first Irish boat ever to travel to this event and received a very warm welcome from the Royal Yorkshire Yacht Club ( www.ryyc.org.uk ).

Bridlington is a tidal fishing harbour which looks like a small version of the old Howth. The resident Squibs are kept in timber stalls to keep them upright when the plug is pulled. This has the effect of looking like the start of a Grand National! Surrounding the harbour is a collection of eateries, souvenir shops, B&B's and amusement fairs.
 

 
The entry was space-limited to nineteen boats, three of which were National Champions and six other sailors who regularly make up the top ten.

The racing got underway on Saturday and three races were run. Brian and Jenny Riley from Lowestoft came out leading at the end of the day with a convincing 1,1,3 scoreline. Emmet and Tim scored a 10, 9, 9 leaving them tenth overnight. The positions remained unchanged as Sunday and Monday were blown out but a trip to Scarborough and some pints and pie softened the blow.

Ordinarily, tenth in a fleet of nineteen would be a disappointment. However, with such a high quality fleet and the infrequency that Irish boats compete in the UK, it was felt that a good effort had been made. The pace was definitely there and a number of the fast helms made reference to the fact. Some fundamental Squib sailing techniques need to be fine-tuned but it bodes well for the speed of the Irish boats travelling to the Nationals in Abersoch at the end of June.

This weekend coming (1st and 2nd June) sees the Royal North of Ireland Yacht Club hosting the Squib North of Ireland Championships. Details can be found on www.rniyc.org. The usual excellent event in Cultra is expected.