Results (Excel) >>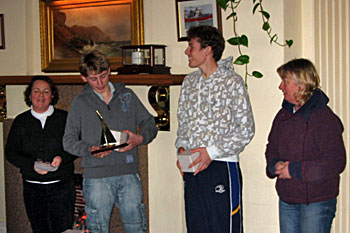 (L-R) Alice Kissane, Cian O'Regan & Mark Boylan (winners)
and Lucille Bradfield, President 420 Class.
Photo: Richard Kissane
 
On 29th & 30th November, HYC hosted the final 420 event of the season. Fifteen boats competed for the Ulster Championships, representing clubs from Cork, Dublin and the North. There were a number of HYC sailors in action including, Tim O'Laoire, Diana Kissane, Scott Flanigan, Luke Malcolm, Ali Dix and Holly Campbell.

Three races were scheduled for Saturday but heavy fog caused the abandonment of racing after one race in 8 knots of breeze. The weather on Sunday was fine and in slightly fresher winds, three races were completed which allowed for a discard in the results.

The event was won by Cian O'Regan of Kinsale YC and Mark Boylan of Skerries SC with Tim O'Laoire and crew Brian Kelleher finishing third. Diana Kissane and crew Hazel O'Neill finished fifth and also took the first girls spot. Scott Flanigan and Luke Malcolm were sixth with Katie Gambier Ross and Ali Dix second in the silver fleet. The HYC sailors have benefited greatly from the recent 420 training weekends in the club with Olympian Ger Owens as coach.

A sailing supper was enjoyed by the sailors and parents in the club on Saturday evening. Many thanks to the parents who contributed ribs, the committee boat and who volunteered their time to make this event a success.