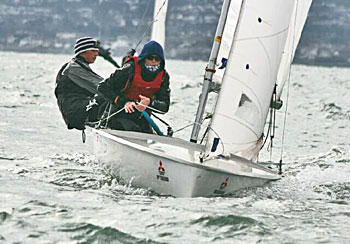 Patrick Crosbie & Grattan Roberts
 
The ISA Mitsubishi Youth National Championships 2012 were held in Dun Laoghaire on 12th - 15th April. The four day event had 296 entries from 10 countries including Ireland. Arguably the most competitive class was the 420s, which included medallists from the 2011 Continental or World 420 Championship in each of the first 4 boats and another 11 crews who had competed at international events.

The event was also the culmination of the nomination process to represent Ireland at the upcoming ISAF Youth World championships in Dunlaoghaire this July. HYC crew Robert Dickson and Sean Waddilove were one of two boats that had already gained their international qualification in the UK. The second boat was that of Patrick Crosbie and Grattan Roberts of RCYC. In effect, who ever beat the other on the water would go to the ISAFs.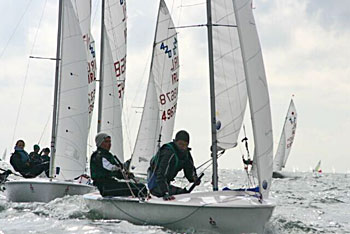 Fergus Flood & Nicky Delamere
 
After 2 days of racing the two crews were on equal points. However, the RCYC crew opened up a significant points gap in the heavier wind conditions of the 3rd day that could not be closed.

Thus the ISA Mitsubishi Youth National Championship Boys 420 Gold Medalists were Patrick Crosbie and Grattan Roberts from RCYC, who finished in 8th place overall. They were closely followed by Adam Hyland and Bill Staunton, RStGYC/SSC, in 9th and Robert Dickson and Sean Waddilove from HYC in 13th.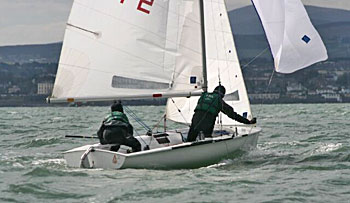 Robert Dickson & Sean Waddliove
 
The ISA Mitsubishi Youth National Championship Girls 420 Gold Medalists were Lizzy McDowell and Orlagh Thompson from MYC in 14th Place. They were followed by Kate & Allana Lyttle RStGYC and Lucy Burrows & Laura Gilmore from Strangford LoughYC/Donaghadee SC.

The 26 boat 420 Class was won convincingly by Junior European Gold Medalists Guillaume Pirouelle and Valentin Sipan from France. They were followed in second place by Ladies European Silver Medalists Jennifer Poret and Louise Chevet and Ladies World Champion Annabel Vose with Kirsty Urwin as crew.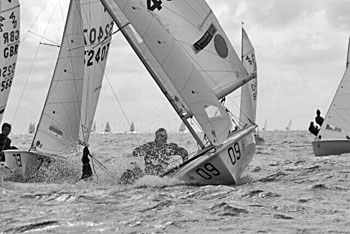 Testing the water
 
Whilst the visitors dominated the top of the results sheet, the Irish crews all sailed really well and there was close racing throughout the fleet in every race. Given the youngest sailor is still only 12 and the majority of our sailors are under 16, the future looks bright for the class. HYC crew Fergus Flood and Nicky Delamer also competed in their first major event together and were 10th Irish boat.Irish boat.

The ISA Mitsubishi Youth National Championship was also the first leg of a trial series for the team to represent Ireland at the 2012 Junior European Championships at Riva Del Garda in Italy in August. The trials series will conclude with the Connacht Championships in Galway Bay Sailing Club on 6th & 7th May. The Irish International 420 Class Association will be sending teams to the British Nationals in Torbay as well as the Junior Europeans. Coaching and support will be provided at both events with funding from the ISA and Irish Sports Council.

Full results >>